I bought Seagate Technology (NASDAQ:STX) back in June 2012 while the stock was trading around $23. At that time, it was clear to me that STX was a great bargain. The company was showing many positive aspects:
#1 An aggressive dividend increase strategy paired with a low payout ratio.
#2 A Massive repurchase program ($2.5B) fueled by a low price earnings ratio.
#3 The stock had dropped severely after its dividend cut in 2009 and had clearly solved its problem three years later.
For two years in a row, I selected STX to be part of the best dividend stocks for the year. I was very enthusiastic when I bought the stock and had clearly made the right choice back then. But after looking at their latest financial results from May 1st, I'm starting to wonder if it's not time to cash out my profits and run. If I wasn't sitting on a comfortable paper profit, I don't think I would buy more shares right now.
Is STX the Perfect Value Trap?
I read similar comments around the web saying Seagate Technology was the perfect value trap: low P/E ratio, good dividend yield and cash to back it up. While several dividend stocks are trading with P/E ratios over 15, STX is still under the bar of 7. This sounds like the perfect bargain. Think twice: the problem is that sales might not keep up.
After a surge in sales during 2012, we now see the first sign of weakness with this first quarter (see chart).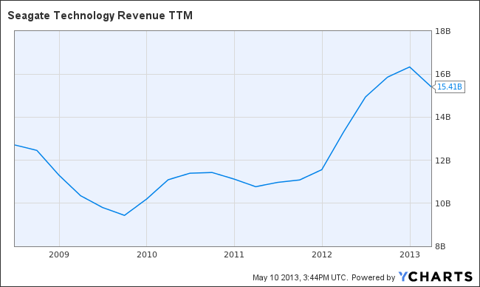 The above chart is not too bad as the sales could bounce back the next quarter. What worries me is the Year-on-Year sales growth trend: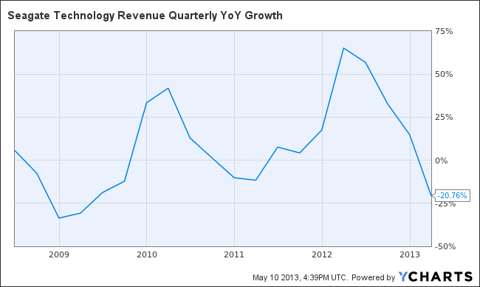 Seagate not only saw its sales head downhill as the PC business is slowing, it is giving away market share as well. Management estimates its hard drive share will drop 2% to 41% compared to an increase in share for Western Digital (NYSE:WDC). Most importantly, STX revenues dropped by 21% during the last quarter while WDC surged by 24%.
Seagate is in the smallest oligopoly possible sharing 85% of the market with Western Digital. It makes the hard drive industry margin relatively safe but it also makes your only opponent highly dangerous in a case where it develops a better product than yours (just think of what Apple (NASDAQ:AAPL) did to BlackBerry (BBRY)).
In other words, Seagate Technology sales are weakening not only because its main market (HDD) is slowing down, but it also slowly being devoured by a competitor. What happens when you are evolving in a mature market that could eventually fade away and your competitors are clearly hitting your sales? You are most likely to cut on expenses to keep your company afloat. Guess what, STX has already started to cut expenses.
Such practices will cleverly hide Seagate Technology's major problems and will provide cash flow temporarily and leave it with sufficient earnings to keep the dividend at a high level. But the sales won't increase and the reduction of expenses might lead to lesser R&D improvements. In technology, this is something you can't afford to let happen.
The P/E ratio will most likely stay lower and the stock will keep attracting new investors thinking it's an undervalued stock. As a bonus, they will promote so-called healthy dividend payouts to wait until the stock surges. As I said, that's the perfect value trap.
What's the Future?
Many investors worry about the eventual death of hard drives. Many customers are switching to mobile devices and even Thorsten Heins, CEO of BlackBerry , claims the death of tablets. This means the future might lie in a super powered smartphone that includes all possible applications and the ability to be connected to a larger screen for work. Therefore, the need for both PCs and tablets would be close to none.
Seagate Technology is well aware of this potentially apocalyptic scenario for its company. This is why it has concentrated its effort on mobile storage systems and cloud computing. While some people think cloud computing will put the final nail in the STX coffin, I think it can be their best hope to survive.
STX's experience in storage is impressive. They have been around forever in this industry and their capacity to build reliable and effective storage is definitely a core factor in their business model. Companies will always need a way to securely store their information regardless if they are going mobile, cloud or if they keep their old PCs.
Recent sales in cloud computing services have been a point of encouragement for Seagate as its sees its business slowly shifting from hard drives to a new business model. STX is developing hybrid SSHD to compete with the high cost of SSDs which are more efficient but too pricey. It's a good idea, but Western Digital started before them. The company is also introducing more powerful storage solutions with their Seagate HAMR that has the largest storage capacity by miles compared to classic HDDs. Here again, WDC has its own product to compete (HGST helium-filled technology). The future will tell us which technology is the best advancement for the storage industry.
The eternal fight for STX will be decided by its capacity to innovate with more powerful storage solutions in the cloud business. So far, it has showed its creative power and the company seems to be on the right track… as long as the technology advancements reveal to be as promising as we thought.
Final Call on STX: Bullish or Bearish?
Considering the current value of the stock and its past appreciation, I'm holding on to my shares of STX for the moment. I think there is an interesting bet to take that Seagate can evolve its business model according to the storage industry's future. The key question is if the company will be able to move fast enough to follow the technology trend? According to my dividend growth model, STX still qualifies as a buy. When I look at the past 5 years of data, it is showing me a strong history. It's only a matter of knowing if this story will continue further.
A year ago, buying STX was a no brainer. Today, I would definitely be more careful if I had missed the train. I would definitely wait for a pull back when I will sell my shares and you can buy them!
Disclosure: I am long STX. I wrote this article myself, and it expresses my own opinions. I am not receiving compensation for it (other than from Seeking Alpha). I have no business relationship with any company whose stock is mentioned in this article.