The narrative is in full swing. The US is on the path to recovery, Europe is a mess, Japan's Abenomics is working and China may be slowing down. This week features a number of pivotal data points that will either confirm or reject this storyline. What drives the FX markets is not so much what happens, but what happens relative to what is expected to happen.
This narrative is reflected in the upcoming GDP numbers published this week, with Germany forecasted to grow at a slower place, the EU to bottom out and Japan to see a formidable increase.

I'll dive into each of these GDP prints in further detail, but first to the beginning of the week and China's Industrial Production and Retail Sales Numbers. Both of these numbers are published by the National Bureau of Statistics of China, and therefore ought to be viewed skeptically, but both are forecasted for a strong rebound reversing steep declines.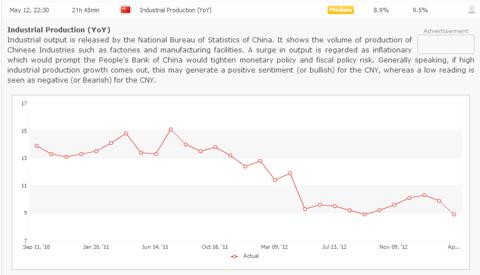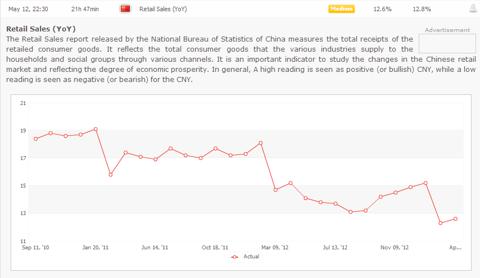 A strong print in the industrial production numbers would substantiate China's import and export numbers. These are being looked at skeptically due to divergences between China and neighboring countries data. For instance, see the graph below of China's exports to Taiwan versus Taiwan's imports from China.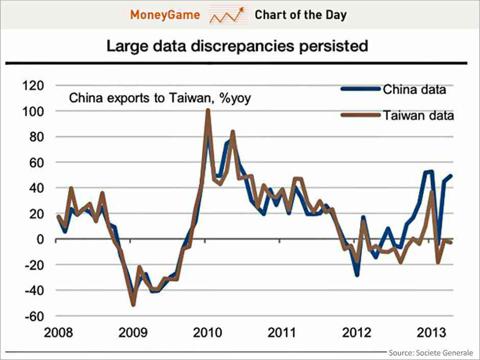 The incentives and constraints for Chinese data collection agencies differ greatly from their counterparts in Taiwan and other developed nations, therefore it is entirely plausible that China's numbers are being manipulated. This issue is that by the time it is discovered, it will be too late, therefore if the story line is being dictated to be positive in China, these strong export and import numbers may be followed up with strong industrial production numbers, despite what the facts on the ground actually are.
If there are strong industrial production numbers, look for a rebound in the AUD (NYSEARCA:FXA).
The morning of May 13th US retail sales numbers hit the tape, with a slight improvement from -0.4% to -0.2% forecasted.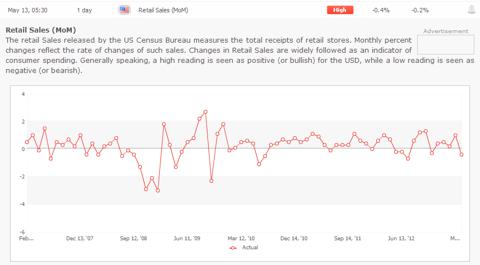 A strong number will reinforce the US recovery storyline and likely drive US equities higher. In 2010 and 2011 May's numbers were worse than April, but April's numbers were strong those past two years. Interestingly, these poor May retail sales numbers reflect what the market did in both those years, fulfilling the "sell in May and go away" cliché.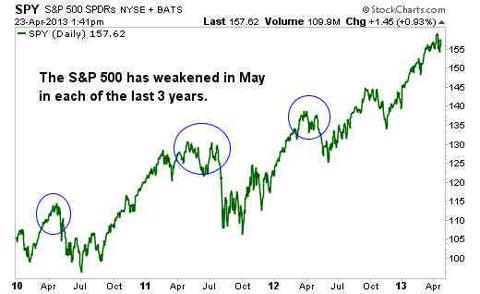 With expectations of -0.2% for retail sales, expectations haven't been set out of reach, which is interesting given the S&P500 (NYSEARCA:SPY) bullish price action. If there is a big miss, I expect it to be bullish for the USD (NYSEARCA:UUP) in the traditional flight to safety respect.
I have a short position in the AUDNZD right now, so I'll be watching the retail sales numbers coming out of New Zealand later that day. Expectations here are low with retail sales forecasted to grow at 0.8% QoQ compared with 2.1% last QoQ, but the NZD has been bulletproof prior to the intervention by their central bank and the recent job numbers were strong, leading me to expect a good print here.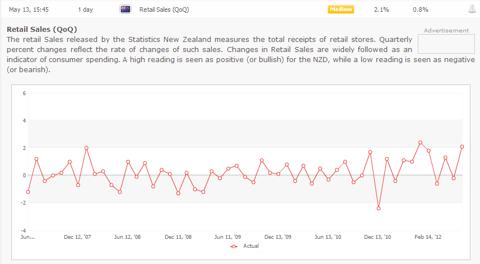 The day finishes off with a German Consumer Price Index (CPI) report, which is critical for EU monetary policy going forward. If Germany continues to see CPI fall, it opens the door for more EU intervention, perhaps unconventional measures if Draghi is game for it.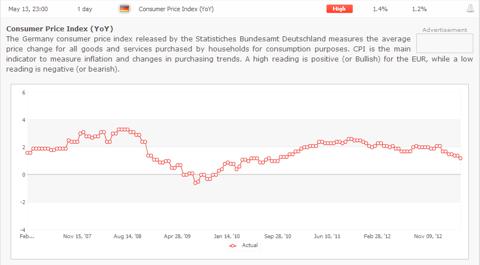 The YoY trend is down, and expectations are for German CPI to continue trending down.
May 14th will provide further information as to what options are on the table for the EU with Germany's GDP print. YoY and MoM, Germany's GDP has been trending down much like their CPI. Again, if this continues, look for intervention from Draghi.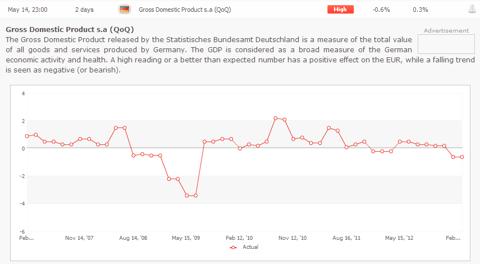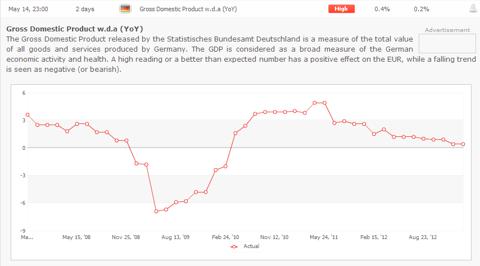 Of course, the EU wide GDP number later in the day will also be indicative of what is to come from EU policy makers, but I'd put more weight in Germany's numbers, as they hold the purse strings.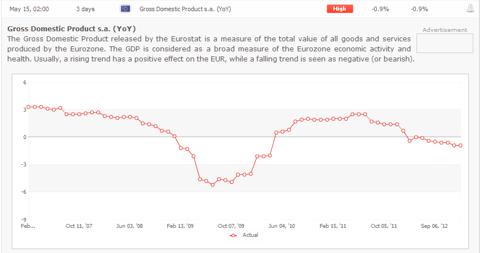 I don't have any inclinations as to how positive or negative GDP numbers will impact the EURUSD. I see them as having the potential to affect the EURUSD either way. Positive numbers could drive the EURUSD higher signaling an EU recovery, or lower by diminishing the prospect of central bank intervention. In recent times, at times good news is bad news, and vice versa.
I continued to be fascinated by the Abenomics experiment going on in Japan, and with each passing data point, more information is revealed as to the consequences of monetary policy on such a revolutionary scale. The afternoon of May 15th features Japan's GDP numbers and expectations are high with expectations for growth from March's 0.2% YoY GDP to 2.8% YoY. There was a big spike in GDP last May which was before any intervention by the Bank of Japan, and with the positive trade numbers as of late, Japan may continue to shine.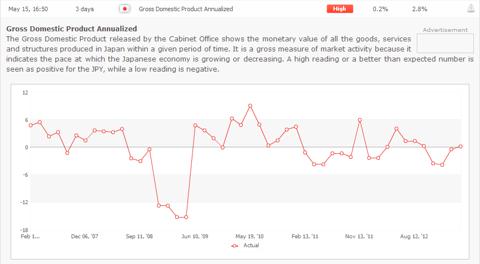 Having traded the USDJPY intermittently since 80, I'll by shorting the Yen on any Yen strength, especially now that Japanese investors are becoming wary of the Yen, as indicated by the Japanese becoming net purchasers of foreign bonds.
May 16th provides an update on the US housing recovery with building permits and housing starts being released. This has broad implications for the US economy as a whole. I still find it ironic that the best response that could be devised to an asset bubble was to re-inflate that asset bubble. In any event, housing ETFs have taken off with housing prices.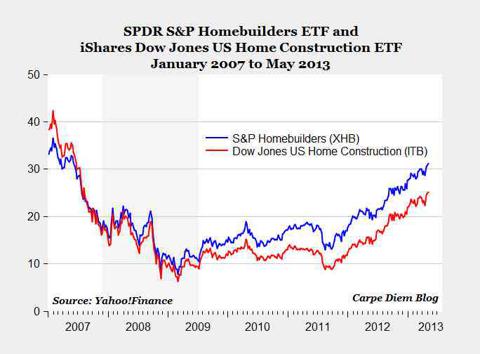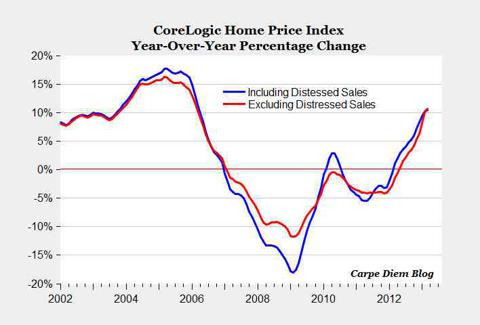 Building permits are forecasted to rise slightly and housing starts are forecasted to fall. Neither have widely high expectations, so as long as there isn't any major reversal, these numbers should assist in the SPY's grind higher.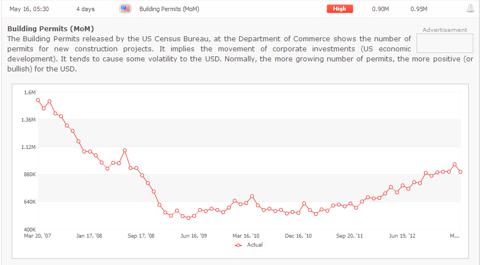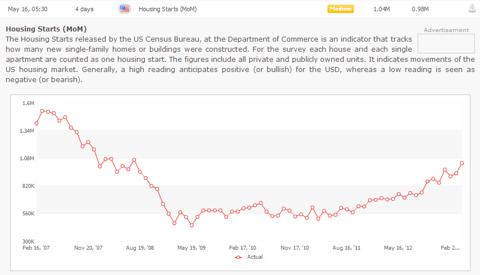 Continued strength in the US will benefit their largest trading partners' currencies the most, namely the USDCAD (NYSEARCA:FXC) and the USDMXN (NYSEARCA:FXM).
Two more numbers to watch in the US will be the Consumer Price Index (YoY) and Initial Jobless Claims. The CPI trending down will prevent any early curtailing of QE programs, and initial jobless claims will look to continue its impressive run as of late.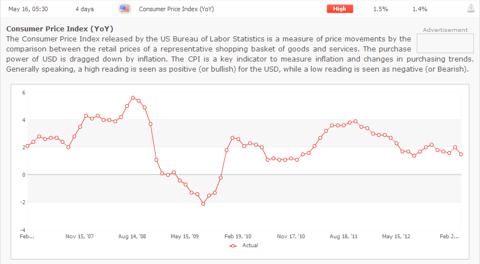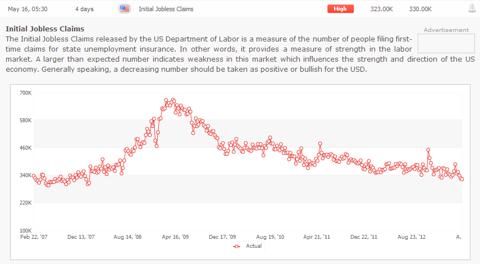 The difference between EU and US CPI is especially stark and demonstrates the impact of the two different monetary policy paths pursued. While the EU will potentially be battling deflation in the near future, the US's CPI has stabilized and hasn't entered a downtrend.
Of these two, the largest impact for FX markets will be the CPI print. If for some reason it reverses and trends up, it will raise concerns about the continuation of QE. The mere mention of curtailing QE by Fed directors has caused sharp USD rallies and SPY declines in recent weeks.
May 17th Canada's CPI numbers are released, which will have a major impact on the USDCAD. I've been surprised by recent CAD strength, as it broke out of an upward channel towards parity, although did reverse somewhat late last week.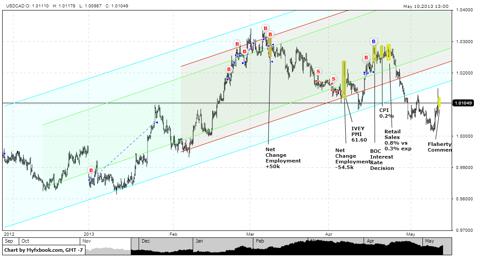 If CPI ticks up, there will be speculation of a rate hike by the Bank of Canada, especially in light of the housing and household debt numbers which are garnering more and more attention from Canadian policy makers. If there is a high CPI number, look for the USDCAD to move back to parity.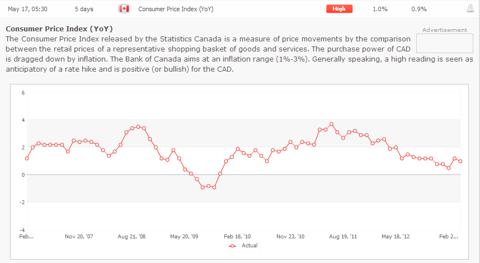 Last up is the Michigan Consumer Sentiment Index, which started to deteriorate in May the last two years driving the sell in May pullbacks. With the SPY's inevitable correction coming at some point, much like retail sales, a poor consumer sentiment number has the potential to erode much of the confidence as of late.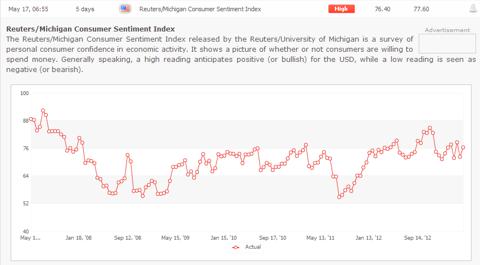 This week will either confirm or reject the commonly held beliefs about the economies of the world. If Germany sharply reverses its downtrend or the US data doesn't confirm the recent bullishness, look for sharp reversals in FX markets. In addition, consumer sentiment and retail sales numbers were part of the May sell offs during the past two years, making these numbers important to watch. In Asia, all eyes will be on China and confirmation on its oddly positive import and export numbers as well as Japan's monetary experiment. One could imagine that if China's slowdown turns into a so called "hard landing", or Japan doesn't achieve the GDP growth that is theoretically supposed to accompany money printing, there will be repercussions for Asian currencies.
Disclosure: I am short FXC, FXA. I wrote this article myself, and it expresses my own opinions. I am not receiving compensation for it (other than from Seeking Alpha). I have no business relationship with any company whose stock is mentioned in this article.
Additional disclosure: I am actively trading the FOREX market and may be either long or short the currencies discussed at the time of this article's publication. To see a complete list of my open FOREX trades in real time, visit mcnultycapitalmanagement.com/ or see trades in real time on twitter at twitter.com/seanbmcnulty