An old investment principle goes something like this: "The rate of return sought by the investor should be proportionate to the amount of risk he / she is prepared to accept." I respectfully see things a bit differently. I believe that investment returns are more or less dependent upon the amount of work the investor is willing and able to put into it.
Shorthand, instead of "Return is driven by risk," I offer that, "Return is a function of intelligent effort."
Before going further, I must point out that I am not suggesting that there is no correlation between returns and risk. Nor am I suggesting that sound investment analysis is guaranteed to generate superior returns. Finally, I am in full agreement with the statement that those unwilling to accept risk should be content with low investment returns.
In this article, I will develop the notion of risk and return in conjunction with my opening thesis; then offer three examples that I believe support the thesis. My views are my own, and they are certainly open for considerable debate and discussion. I have utilized liberally Chuck Carnevale's F.A.S.T. graphs to express several points found below.
Risk / Return and the Small Investor
Casual investors and commentators are in general agreement with various investment "safety" axioms. Here are a few:
U.S. Treasury notes are safer than equities
Preferred stocks are safer than common stocks issued by the same company.
A diversified portfolio of bonds is safer than one common stock
Accordingly, conventional wisdom goes on to say the returns associated with riskier securities may be better, but the investor must accept a great chance for loss of principal:
The returns on common stocks may be better than debt securities, but so is the risk of capital loss
Preferred stock dividends provide generally superior income returns versus common stock dividends, with less principal risk
A diversified portfolio of high-yield debt instruments should offer greater and more reliable income returns, with less risk to capital than a single common stock.
I believe these statements are generally accurate, but can be dangerous because they are so readily accepted as universal truths. General accuracy, when determining investment risk and return, is unacceptable. It's a lazy man's path. Perceived risk can be significantly mitigated by investor diligence, thereby driving returns up; even when purchasing what is normally considered "more risky" securities.
Indeed, I admit I tend to be skeptical of the easy answers. Nonetheless, I submit the thoughtful investor must understand and analyze each and every security in which he / she invests to fully appreciate the underlying risk and reward profile. In far too many cases, investors' failure to question the conventional risk / reward profile has led to deep losses; often catching them by surprise.
In the next section of this article, I will highlight three examples that attempt to demonstrate the following:
A common stock may offer a far superior risk / return profile than "iron clad" government backed debt: the stock has a higher yield and greater safety of underlying principal
A preferred stock may have more underlying investment risk, with only marginally long-term income prospects than the common stock of the same issuer
A single common stock may be safer and provide superior income versus a diversified portfolio of high-yield bonds.
CASE ONE: United States Treasury 10-year Notes versus Aflac (NYSE:AFL) common stock
Thesis: Aflac common shares offer investors better prospects for the long-term preservation of capital than the government T-Notes, while providing a significantly higher income yield that is not only safe, but the spread is very likely to widen. It is probable the investor will enjoy significantly higher returns with lower risk by owning AFL shares.
Background
U.S. T-notes: Currently yielding approximately 1.8 percent, T-notes are backed by the full faith and credit of the United States government. Interest and principal repayment is considered effectively risk-free. The notes are liquid. Security owners may generally buy or sell Treasury notes in the secondary bond markets.
Aflac Incorporated common stock: The company's business is supplemental health and life insurance, via two primary subsidiaries: American Family Life Assurance Company of Columbus, which operates in the United States and Aflac Japan.
Corporate financial strength is rated AA- by Standard & Poor's and A+ by A.M. Best.
The common stock trades at $55 a share, and yields over 2.6 percent. Aflac has earned a spot on the Dividend Aristocrat list: this means the company has increased its dividend to shareholders for over 25 years in a row. The payout ratio is currently about 22 percent.
Analysis
Despite the apparent safety of U.S. Treasuries, I suggest, that on balance, the risk and reward for these securities pales in comparison with Aflac common stock. I offer several reasons for this opinion:
While T-note principal risk is nil if held to maturity, there is considerable interest rate risk associated with current notes given the ultra-low interest rate environment induced by the Fed. Interest rates are near an historic low. It is probable that rates will increase over the next ten years. If so, the underlying principal value of the notes will fall as the rates rise. Selling the notes before maturity could involve selling at a loss.
The interest rate on the ten-year note is so low that it would take very little principal loss to eclipse years of interest payments.
However, holding the paper to maturity may be just as bad. In the likely event interest rates rise over the next ten years, note holders will be saddled with a 1.8 percent return on their investment. The purported capital safety is offset by the elimination of any upside potential. The investor is essentially guaranteed his / her principal and interest income: but nothing more. The erosion of capital that is tied up for years in a sub-market yield, and the resulting investment opportunity loss is insidious and is likely to pummel real returns.
On the other hand,
There is principal risk when investing in AFL common stock. However, the financial strength of the company makes significant loss unlikely. Indeed, Aflac just weathered the most serious financial dislocation since the Great Depression; yet the board of directors raised the dividend annually throughout the crisis.
While there is never a guarantee of future dividends, the mere fact that the AFL board has increased the dividend for over 25 years running should be of considerable consolation. The payout ratio is low: therefore bolstering the expectation of not only future dividend maintenance, but routine uplift.
As with many financial institutions, an increase in interest rates or inflation does not preclude poor performance. If anything, it augments it. I contend that unlike T-notes, Aflac stock has less interest rate or inflation risk. Nevertheless, the current dividend yield is over 71 basis points better than a 10-year note, and has a high likelihood of improvement.
Aflac stock is historically undervalued. Over the past fifteen years, this stock has traded with a normalized P/E ratio over 17x. The current P/E is 9x. Earnings have grown at 14 percent per year over the past 15 years. Analysts project diluted EPS to continue to grow in the high single digits going forward. The following F.A.S.T. graph paints a vivid picture.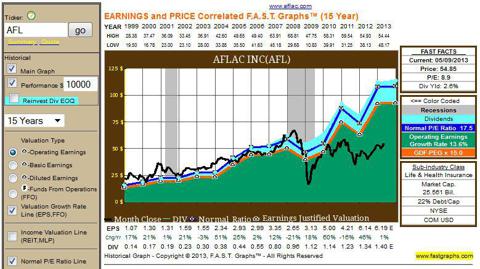 courtesy of fastgraphs.com
AFL price and earnings have correlated for many years. After the severe financial downturn in 2008-2009, earnings more than recovered from depressed pre-2008 levels; but the stock price has lagged far behind. It seems a reasonable assumption that at some point within the next ten years that price and earnings, coupled with a more historic multiple, will harmonize once again.
For readers seeking a more detailed analysis of Aflac common stock, you may find an article of mine published by SA editors here.
Summary
U.S. Treasury notes are considered safe, but they really are not really "safe" at all. The investor risks considerable principal erosion due to inflation, opportunity loss in the way of poor interest rate return, or both. Avoiding such consequences depends upon interest rates and inflation increasing at some point over the next ten years. Aflac common stock is a financially sound institution with a long history of dividend payments. The shares appear to be undervalued. My view is that the interest rate / inflation risk for the T-notes is much greater than the share price and dividend risk of AFL stock. Yet the common stock has a higher yield, and contains more upside potential. T-notes have little to no upside.
Additional note to readers: I purposely selected a fixed-rate ten-year T-note for comparison. If one uses the iShares Barclays 20+ Yr Treasury Bond ETF (NYSEARCA:TLT), the risk / reward is skewed even more toward the common stock. In a rising interest rate environment, such an ETF does not even afford the investor safety of principal. The share price will fluctuate with interest rates; the security owner may never recover his / her principle in a sustained period of higher rates: a potential disaster for an investor seeking the "safety" of government back debt.
CASE TWO: U.S. Bancorp Preferred Stock Series G versus U.S. Bancorp (NYSE:USB) common stock
Thesis: Over the next several years, U.S. Bancorp common shares are poised to provide significantly more upside return with less risk than the Preferred Stock Series D shares offered by the same company. Despite preferred stock issues being generally considered safer and offering a better income stream than common shares, USB-N may provide neither.
Background
U.S. Bancorp Preferred Series G shares: U.S. Bancorp, 6.00% fixed / floating rate Depositary Shares have a liquidation preference of $25 per depositary share, redeemable at the issuer's option on or after 4/15/2017 at $25 per depositary share plus declared and unpaid dividends, and with no stated maturity. Non-cumulative distributions of 6.00% per annum will be paid quarterly through 4/15/2017 to holders of record on the record date. From 4/15/2017 distributions will be paid at a floating rate per annum equal to three-month LIBOR plus a spread of 4.86125%. The dividends are non-cumulative and if the board of directors does not declare a dividend or the company fails to pay a dividend declared by the board for any quarterly dividend period, the holder will not be entitled to receive any dividend for that quarterly period and the undeclared or unpaid dividend will not accumulate. A more complete summary of the rules governing these securities is found here.
The shares currently trade at about $28.50, thereby yielding 5.3 percent.
U.S. Bancorp common stock: Minneapolis-based U.S. Bancorp is the 5th-largest commercial bank in the United States. The company operates banking offices in 25 states, and provides a comprehensive line of banking, brokerage, insurance, investment, mortgage, trust and payment services products to consumers, businesses and institutions. It is one of the best capitalized and conservatively managed banking institutions in America. USB provides investors with top-tier returns on capital and assets versus competitors.
The common trades at approximately $33 a share and has a forward yield of 2.8 percent. However, the dividend has grown from $0.20 in 2010 to an annualized $0.78 a share today.
Analysis
The preferred shares have a coupon dividend rate of 6 percent, but are currently yielding less than that since the securities are selling above par.
While safe, the dividend payout on the preferred shares has no chance for change before 2017. At that time it could go up or down contingent upon the LIBOR rate. This interest rate uncertainty is compounded by the call feature in the preference shares.
The call feature means that if called away, at the issuer's discretion, the liquidation value will be $25.00 per share. If purchased at today's market price, the investor risks about $3.50 of capital upon redemption; or over two years of dividend payments. U.S. Bancorp has the right to redeem the shares in less than four years. On the other hand, there is little chance for capital appreciation. The dividend will not be increased, and since interest rates are unlikely to go much lower, it would appear investors have little incentive to further bid prices up.
While unlikely, the issue is governed by a non-cumulative dividend feature. If dividends are suspended on these shares, the bank is not obligated to "catch up" on them before declaring dividends on the common stock.
Let's look at the USB common shares.
The current forward dividend yield is 2.8 percent. However, it's been increased 290 percent since 2010. This is because the bank had been forced to cut dividends in conjunction with the 2008-09 financial crisis. Since that time, USB has rebounded to become one of the best-capitalized banks in America.
Bank management has routinely stated the dividend target is 30 to 40 percent of annual net income. Wall Street estimates diluted earnings will grow at six percent a year. If so, the bank will earn nearly $4 per diluted share by 2017. A midpoint payout ratio of 35 percent suggests a dividend of up to $1.40 a share, or a yield-on-basis for current investors of over four percent.
Based upon historic multiples, the common stock appears unusually undervalued. Over the past twenty years, the normalized P/E ratio has been 16x. It now stands at 11.5x. Earnings have completely recovered since the financial crisis, but the stock price has not followed along. The F.A.S.T. Graph found below illustrates these facts:
courtesy of fastgraphs.com
Looking ahead, the following F.A.S.T. Graph plots projected future earnings over a broad range of P/E multiples. If one accepts the consensus Wall Street 2017 EPS forecast of $3.87, and places a 15x multiple on the shares, an investor could reasonably come to the conclusion that the USB common share price may rise to $58 a share by 2017. In the absence of another financial meltdown, the same investor may determine the chance of significant share price depreciation is relatively low. I've circled these key points in the chart below.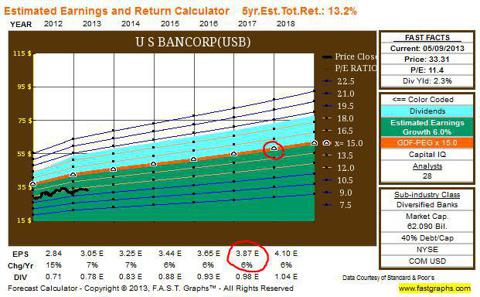 courtesy of fastgraphs.com
Seeking Alpha editors recently published an article I wrote about U.S. Bancorp detailing the fundamentals and valuation in considerably more depth here.
Summary
Despite the view that preferred shares provide higher income and more principal safety (as they are senior to common shares in the event of corporate bankruptcy), U.S. Bancorp Pfd G shares are neither safe nor cheap. Trading above par, the investor risks serious principal loss in the event the shares are redeemed at par; such an event can happen in less than four years and may be driven at the sole discretion of the issuer. Furthermore, the shares offer zero upside dividend potential until at least 2017. Even at that time, the rate could be adjusted up or down. Capping off the unsuitability of this "safe" offering, the dividends are non-cumulative. It's the worst of all worlds: the limiting characteristics of a bond, but a junior standing to debts instruments offered by the bank; and a current bid price above par value. Awful.
The common stock of this well-capitalized bank affords the prudent investor the strong probability of significant improvement in earnings, leading to stated increases in the dividend. In addition, there is the follow-on expectation of far greater capital appreciation based upon the foregoing given a reasonable assumption of a return to more historic P/E multiples. I submit that USB common stock has the propensity to increase yield-on-basis to at least four percent; and potentially increase underlying share price 60 to 90 percent in four years. The shares are cheap: the stock trades today at the very low end of its ten-year P/E range.
CAST THREE: SPDR Barclays High Yield Bond ETF (NYSEARCA:JNK) versus Royal Dutch Shell common stock ADRs (RDS.A / RDS.B)
Thesis: Conventional wisdom says that bonds are safer than stocks and a professionally managed, diversified ETF is safer than a single common equity. However, the SPDR High Yield Bond ETF has high interest rate risk, and this security group trade is crowded. Royal Dutch Shell stock is undervalued, unlikely to experience significant long-term capital loss under any reasonable scenario, and offers a dividend yield that is now greater than the JNK income yield. Therefore, Shell stock affords the investor greater current yield and a greater probability for long-term preservation of capital.
Background
SPDR High Yield Bond ETF: This ETF seeks to provide investment results that correspond to the price and yield performance of the Barclays Capital High Yield Very Liquid Index. The Index includes publicly issued United States dollar denominated, non-investment grade, fixed-rate, taxable corporate bonds that have a remaining maturity of at least one year, regardless of optionality, are rated high-yield using the middle rating of Moody's, S&P, and Fitch, respectively, and have $600 million or more of outstanding face value.
The current share price is $41.80. The Index the fund attempts to mimic now yields just under five percent.
Royal Dutch Shell common stock ADRs: Royal Dutch Shell is one of the five international Super Major energy companies. The company operates on a truly global scale. Businesses primarily include integrated exploration, production, transportation, distribution, and marketing of crude oil, oil products, natural gas, LNG and chemicals. Shell is an exceptionally well-capitalized company. It operates with a debt-to-equity ratio of 16 percent and a debt-to-assets ratio of 10 percent.
The ADR share price is now $69. Dividends are paid quarterly. The current forward annual yield is 5.2 percent.
Analysis
The JNK has a track-record of good management and diversification within its space. However, yields on sub BBB- corporate bonds have recently hit all-time lows.
At the same, time investors have piled into junk-bonds: it's a crowded trade. This has forced the ETF shares to transact at a small premium to the underlying assets beneath them.
Even though diversified, the interest rate risk for this fund is very high. At such time interest rates rise (and they will at some point), yields will increase; however, the underlying share price will move rapidly in the other direction. This will place investor capital at significant risk. Given the fund status, a "rush to the exits" could further accelerate losses. The offering now trades at a slight premium to assets. It doesn't have to.
Conversely, Royal Dutch Shell shares have the following attributes:
Despite being a single, non-diversified common stock, Shell is conservatively run, backed by an enormous asset base, and possesses an outstanding balance sheet. The chance of corporate default is negligible.
The current 5.2 percent forward yield is actually higher than that of the aforementioned junk bond fund. Of considerable interest to the diligent investor, the Shell dividend is very likely to increase. The company has an outstanding record of consistent, though modest, dividend increases with no dividend cuts. Payouts have averaged an increase of over four percent a year for the past five years. Senior management has a stated intent to continue to increase the dividend with a clear plan to run for cash and improve overall shareholder returns.
The shares are undervalued despite a recent run-up from $63 to $68 a share. Based upon historical multiples of cash flow, the shares appear to offer reasonable upside potential and very little downside risk. A one-year target price of $82 is defensible. Historical evidence indicates there is limited downside. Here's a F.A.S.T. Graph that highlights much of the aforementioned: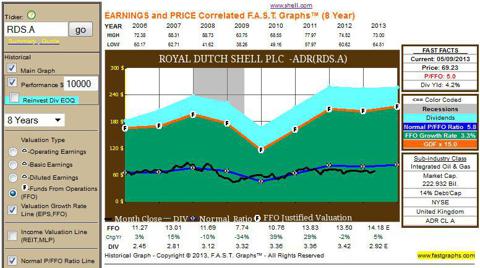 courtesy of fastgraphs.com
Readers may find a recent article published by Seeking Alpha editors about my views on Royal Dutch Shell stock here.
Summary
The intelligent investor can purchase common shares of Royal Dutch Shell today with a forward yield that is greater than a diversified portfolio of non-investment grade bonds. Yet the underlying company is one of the best capitalized and strongest international corporations in the world. Energy industry shares have been neglected of late, and therefore appear to offer investors with a longer view a handsome return. Junk bonds are now a crowded trade; rife with those chasing yield. Interest rates are at historic lows, and while the spread between U.S. Treasuries and junk bonds is acceptable, the absolute yields are at an all-time low. An increase in interest rates, part-and-parcel to more robust economic activity, portends considerable risk to these securities. Indeed, improved economic activity is more likely to increase the share price of Shell stock.
The RDS single-issue shares are actually safer, cheaper, yield more, and have far more capital appreciation and income upside return potential than the SPDR High Yield Bond ETF. The fund, while diversified and well-managed, combines higher risk and lower probable returns.
Conclusion
For today's small investor, the quest for higher returns AND lower corresponding risk than conventional alternatives is not only possible, but probable. It requires considerable homework, due diligence, lateral thinking, critical analysis, and patience. Indeed, it also requires the willingness to actively seek and compare alternatives.
Please examine each investment carefully before placing your hard-earned capital into it. Good luck with all your 2013 investments.
Disclosure: I am long AFL, USB, RDS.A. I wrote this article myself, and it expresses my own opinions. I am not receiving compensation for it (other than from Seeking Alpha). I have no business relationship with any company whose stock is mentioned in this article.
Additional disclosure: I hold a position in the PHIYX high-yield mutual fund.