Nokia (NYSE:NOK) could be about to catalyze upwards this week in the move we've all been waiting for. Over the next few days, it's about to introduce several exciting new entrants into its Lumia line-up, which will generate significant positive press coverage. This will help provide a welcome boost to Nokia investors who are well used to a roller coaster ride watching the stock. It will also make good on the promise of Nokia CEO Stephen Elop to give us "...a season of new product introductions" made in the Q1 2013 earnings call. So let's take a look at what to expect, starting with the first device due to hit our shelves on Thursday (5/16/13), the Verizon (NYSE:VZ) Nokia Lumia 928.
Verizon Nokia Lumia 928

The Nokia Lumia 928, announced online on Friday 10th May, is very much what the 920 should have been in its first incarnation. It is a Verizon-specific derivative of the Lumia 920, taking on board all of the lessons Nokia has learned in the last 6 months. It thus has similar specifications but has sliced away some of the puppy fat of the 920, reducing the weight from 185g to 162g. It also improves on other functionalities such as switching over to a Xenon flash. I have a really good feeling about this phone for a number of reasons.
The biggest is that Verizon, Microsoft (NASDAQ:MSFT) and Nokia are all committed to heavily marketing this phone. We can thus expect to see the Lumia 928 sell considerably more than the AT&T (NYSE:T) exclusive Lumia 920 has done so far in the U.S. This will repeat Verizon's performance in outselling the Lumia 920 with its mid-range exclusive Lumia 822 over the last 6 months, as can be seen in the following chart.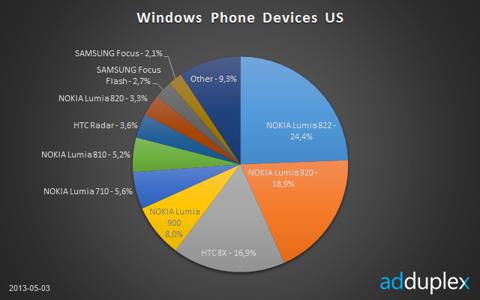 This chart is a very useful snapshot, which allows us to perform a number of interesting calculations.
Using Nokia's last two earnings releases, which take into account the influx of WP8, we can calculate with a reasonable degree of accuracy the tallies for the WP8 phones listed. If you're non-statistically inclined, please feel free to skip the following paragraph and join us at the table further down.
Taking into account that Nokia sold 1.1 million phones in the U.S. and Canada in Q4 2012 and Q1 2013, we can reduce this tally by 0.1 million to factor in feature phone sales. We do not need to reduce this further, as with an ASP of $252 in the last quarter, we can assume most NOK sales in the U.S. are Lumias. We reduce another 0.1 million to factor in Canada. Considering the fall off in demand from Q4 of 0.7 million, to Q1's 0.4 million, it is thus appropriate to add 0.1 million to take into account the month of April. Factoring in WP7 device sales and WP8 devices such as HTC's (OTC:HTCKF) 8S and Samsung's (OTC:SSNLF) Ativ S, which are not listed, it is appropriate to take another 0.2 million off to account for them. The above listed WP8 sales therefore total 0.8 million, allowing us to compile the following table.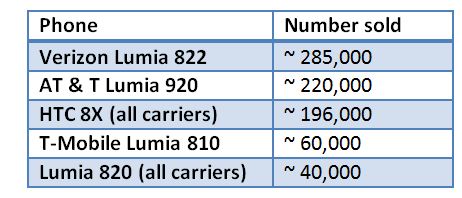 Now, the actual Lumia sales volume is not impressive. One can also see why T-Mobile (NASDAQ:TMUS) has already discontinued its Lumia 810. It is simply uneconomical for it to maintain a unique variant specially designed for it if it fails to sell. What I do find impressive and why those above statistics are vital is that Verizon is really committing itself to sell the Nokia Lumia range, as evidenced by its relative success with the Lumia 822.
When we take a look at Google Trends for the U.S., we see that in terms of mind-share, the Lumia 920 exceeds Lumia 822 press coverage by a factor of 6. Yet, when it comes to actual sales, Verizon is ensuring its sales reps are converting people to Windows Phone where it matters: at the purchase decision-making point.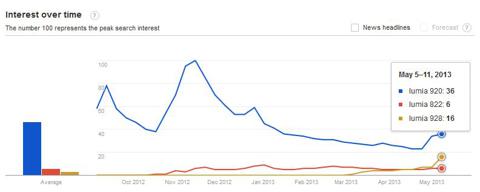 So, when we take into account the prestige of having a true flagship brings to advertising, I have a feeling the Lumia 928 will do a great job in capturing media interest, which will then translate into serious sales for Nokia. With Verizon selling 7.2 million smartphones in the last quarter, I think it would be a reasonable assumption to make that it will try to get at least 10% of this share to give us circa ~750,000 sales per quarter. This will also be really helped by the fact that even though it will be marketed as a flagship, it will cost only $99 subsidized, the same as the Lumia 822 upon launch.
So why do I think that Verizon is firmly committed to selling the Lumia 928? This goes directly back to its ASP. With Nokia utilizing mainly the same internals and with advances in production efficiency, I believe this will be a cheaper phone to produce than the Lumia 920 was at launch. This will make its cost price to Verizon particularly compelling when we take into account the average Apple (NASDAQ:AAPL) iPhone 5 costs Verizon ~$700. This can be estimated based on the iPhone range having an ASP of $613. If we remove the older models from the mix, it is a reasonable assessment to make that the iPhone 5 costs Verizon ~$700. We do not know the ASP for the Lumia 920, but we do know it ranged from being sold at $450 by AT&T to around $600+ in Europe at launch. It is thus a reasonable estimate to believe the Lumia 928 will cost Verizon ~$500.
This will mean the Lumia 928 will cost Verizon around 40% less than the iPhone 5, and will hence be considerably more profitable for Verizon. Of course, convincing customers they will benefit is a different proposition entirely.
From now and especially from May 16th, we can thus expect to see a barrage of advertising in the media as well as strong efforts by Verizon sales to push this phone. Within a couple of weeks, I am also hopeful that the Google trends graph will show more interest in the U.S. for the Lumia 928 than for the Lumia 920.
London's Global Media Event - May 14th
The Lumia 928 will not be the only big Nokia story this week, however. In fact, it won't even be the biggest. On Tuesday (5/14/13), Nokia is conducting a global media event in London. There are a lot of rumors flying around as to what we will see at this event. It is best therefore to start off with what we can be reasonably sure will happen.
Nokia Lumia "EOS"

It is highly likely we will see the announcement of a global flagship WP8 camera phone currently codenamed "Eos". This will be a follow-up to the stellar 41-megapixel Nokia 808 Pureview. The original 808, which launched in February 2012, certainly caught the technology media's imagination, but was sadly stillborn being based on the Symbian platform. With a year's worth of product improvements, it is reasonable to expect something that will be even more special. Combined with increasing brand awareness of the Lumia line, I have a feeling that this phone will gain even more mind-share than the L920 ever did.
I originally thought that this phone was going to be a niche product back in January. However, I now have a feeling that this phone will be designed as the global Nokia flagship. With the ability of its camera, it will provide Nokia with an unquestionable competitive advantage in the marketplace against the likes of Samsung's Galaxy S4 and the iPhone. It is, of course, unreasonable to expect it to actually sell more than its chief competitors. However, as NOK shareholders, we can confidently expect it to far outsell its direct forebear, the Nokia 808, as well as the Lumia 920. I think it is reasonable therefore, to expect this to sell around 1 million plus per quarter. This is however dependent on the number of carriers that come on board. I have a strong suspicion it will be AT&T exclusive in the U.S. and possibly Vodafone (NASDAQ:VOD) specific in the UK. These carrier exclusives can work if the operator is properly incentivized such as in the case of Verizon's Lumia 928, however, where the ASP is the same as the iPhone or its other competitors, I am doubtful if this is the best strategy.
Other Possible Announcements on May 14th
The rumor mill has thrown up a lot of potential device launches alongside the EOS, which I will briefly run through below.
Lumia 625
International Business Times is reporting Nokia may announce a mid-range "phablet" on May 14th. This is possible but doubtful. I do not think Nokia would launch a ground breaking camera phone and a firmly mid-range niche device at the same time.
Lumia Tablet
Tom's Hardware discusses the prospects for a Nokia Windows RT tablet launch here. I personally do not like the mentioned specs and suspect that they have leaked from either a prototype or a killed project. I believe Nokia switched from producing a Windows RT tablet to a Windows 8 tablet, which is probably not yet ready for production. This would make sense considering the mediocre sales of all launched Windows RT devices so far. Therefore, I think it is quite unlikely we will see a RT tablet unveiled on May 14th.
Lumia "Catwalk"
I think the "Catwalk" has a very strong chance of being introduced on May 14th. This will no longer be the global flagship as I thought it would be in January. I think this phone will be a global variant of the Lumia 928. It will thus have a lower ASP than the "Eos" and serve as an effective replacement to the Lumia 820. This device will be priced competitively and we can expect to see it on most global carriers, including T-Mobile U.S. I believe Nokia will have sales targets exceeding the Eos for this phone and want it to sell at least 1.5 million per quarter. We do not know what Nokia will launch alongside the Eos on Tuesday, but it is most probable it will be this as the most complementary device. It is also highly likely to be the featured device in this teaser advert shown on British TV Sunday night.
Conclusions
At the start of the article, I mentioned Nokia's share price was akin to a roller coaster. Since September 2012 when the Lumia 920 was launched, it certainly is a quite apt comparison.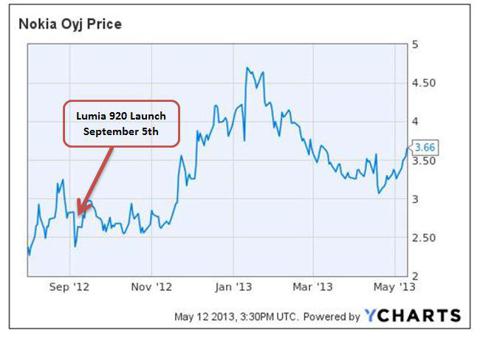 When one sees that broader overview, it does seem to be that we are experiencing an upswing, which should hopefully continue over the coming months. However, as many NOK shareholders will remember, around 15 minutes into the presentation at the grand unveiling of the L920, we saw a massive sell-off on very high volume. The price did rapidly recover over the coming weeks, but it is certainly an experience to bear in mind. It is very difficult to judge if something similar will happen on May 14th. I certainly hope not, but I do expect to see a great deal of short-term volatility around this week. Of course, over the medium term, like most NOK shareholders, I expect a decent appreciation in price to $5+. I also expect this week's device unveiling and roll-outs to set the right tempo for Nokia's recovery back into profits and regaining a healthy share price.
Disclosure: I am long NOK. I wrote this article myself, and it expresses my own opinions. I am not receiving compensation for it (other than from Seeking Alpha). I have no business relationship with any company whose stock is mentioned in this article.