As operators continue to turn in exploratory test results for the Lower Three Forks in the Williston Basin, the outlook for this new exploration frontier in the Bakken looks increasingly inspiring. This earnings season has already yielded two major announcements, one by EOG Resources (NYSE:EOG) and one by Continental Resources (NYSE:CLR), both very positive (EOG's remarks -- discussed further in this note -- were sufficient to provide a noticeable uplift to the Bakken-focused stocks on the day of the company's earnings call). Even bigger catalysts are on the near-term horizon.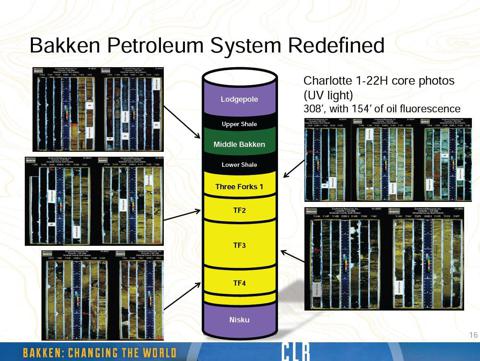 (Source: Continental Resources October 9, 2012 Investor Presentation)
While the total number of publicly disclosed exploratory wells in the Deeper Three Forks is still less than a dozen - a miniscule number given the scale of the Bakken play -- the results have nonetheless been very convincing and, for this early stage in the play's evaluation, are nothing short of spectacular. Big IP rates demonstrated by some wells are certainly positive and welcome news. Even more important are the play's structural characteristics that are being gradually confirmed by drilling results:
Comments from operators suggest that the lower benches of the Three Forks likely act as independent reservoirs and therefore provide a source of incremental reserves (something that could not -- and still cannot -- be taken for granted given the very early stage of exploration effort and lack of data on potential well interference among adjacent producing intervals).
At least in some areas, the lower Three Forks benches may offer stronger productive potential than the Middle Bakken or the upper Three Forks and, therefore, may substantially expand the play's "core" drilling inventory. This aspect is particularly important. If Deeper Three Forks failed to yield top-tier economics, additional drilling inventory, even if significant in size, would end up at the end of a long development queue and would make little economic difference for the play and provide no uplift to stock valuations. On the other hand, if the deeper benches prove to be the source of incremental sweet spots -- early indications suggest that this may indeed be the case -- value and stock impact may be quite significant.
The second bench of the Three Forks formation may be productive over a vast areal extent alongside the first bench.
Almost all of the wells announced to date have shown strong IP rates and cumulative production figures that compare favorably to wells in the Middle Bakken and upper Three Forks in the same location (of the announced results, only one well result in the third bench drilled by Continental at the far western flank of the play may fall short of "commercial" strength).
While many more tests are clearly needed to further evaluate the Deeper Three Forks potential, at the very least the results to date have shown no disappointments. The read-across is particularly positive to operators with positions in the central over-pressured part of the play. Stocks that may provide significant exposure to the "Deeper Three Forks" theme include QEP Resources (NYSE:QEP), Kodiak Oil & Gas (NYSE:KOG), Continental, Whiting Petroleum (NYSE:WLL), Hess Corporation (NYSE:HES), and Oasis Petroleum (NYSE:OAS), just to name a few.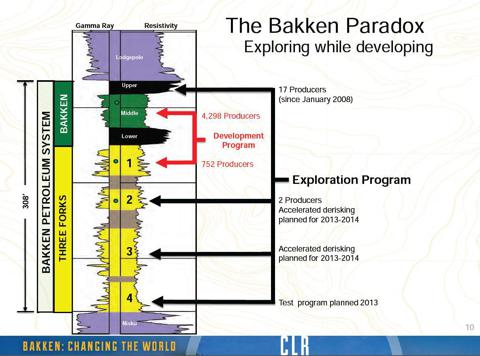 (Source: Continental Resources October 9, 2012 Investor Presentation)
EOG River View 03-3130H Well Results
Perhaps the strongest Deeper Three Forks result to date has been delivered by EOG Resources. EOG disclosed its first exploratory well in the second bench of the Three Forks in its Antelope Extension area as part of its first quarter results earlier this week. The River View 03-3130H well came online producing 3,150 barrels of oil per day - an outstanding result. Even more notable is EOG's comment during the conference call:
The Three Forks and Bakken results on our Antelope Extension acreage continue to look strong, and we are particularly excited about the potential of the Three Forks second bench. Early looks indicate that this target may have better potential than the first bench and the Bakken phase in this area. We plan to test the third bench of the Three Forks in this same area next year.
Will the second bench take over from the Middle Bakken and TF1 as the most productive target interval in certain areas in the Bakken? While still early to say, such conclusion certainly cannot be ruled out.
Continental Resources' Results
Continental continues to lead in the Lower Three Forks exploration effort. The company has committed to a 22-well exploratory program in 2012-2013, which is testing the productive extent of the lower benches.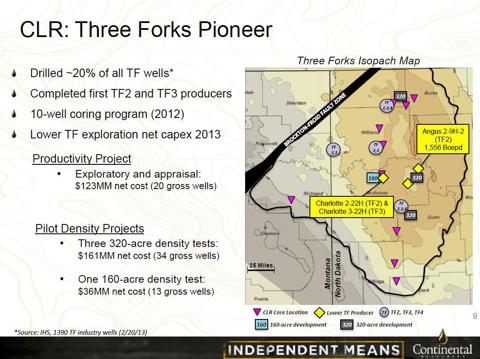 (Source: Continental Resources' March 18, 2013 Investor Presentation)
In its press release earlier this week, Continental disclosed three recent Lower Three Forks completions -- 2 new second bench wells and 1 additional third bench well. The wells are significant step-outs from the earlier announced Charlotte wells. According to Continental, the new wells are performing in-line with similar Middle Bakken and Upper Three Forks wells in the surrounding areas.
The Barney 2-29H-2 well, a second-bench test well located in Williams County 16 miles north of the company's Charlotte pad, had an initial flow rate of 1,075 Boe/d.
The Stedman 2-24H-2 well, a second-bench test also located in Williams County, on the western flank of the play near the North Dakota and Montana border and 35 miles northwest of the Charlotte pad, flowed at an initial rate of 1,030 Boe/d.
The Stedman 3-24H-3 well, a third-bench test drilled off the same pad, had initial one-day production of 465 Boe/d. The rate is clearly on a low side and may be a result of deteriorating rock quality in the third bench towards the western edge of the play. Still, the well is a success as it validates the extent of the third bench productivity -- the well is located almost in Montana, and is performing in line with Continental's Montana Middle Bakken wells. Another important good news, the "sister" second bench well (the Steadman 2-24H-2, above) tested very strongly. This fits Continental's geologic model in that the third bench well is acting completely independent of a second bench well in the same area, suggesting that the two benches are in fact separate reservoirs.
Inclusive of these three wells, Continental currently has six producing operated wells in the lower benches with average initial production rates of approximately 1,170 Boe/d. Continental commented that on average, these six wells are performing in-line with typical Middle Bakken and Three Forks first-bench wells in their respective areas and fit within the company's 603 MBoe EUR type curve for North Dakota.
Continental also provided an update on the performance of its three earlier test wells which all show continued strong flows with commercial cumulative production volumes.
The Charlotte 2-22H well, a second-bench test located in McKenzie County, has produced 116,000 Boe over 18 months.
The Charlotte 3-22H well, a third-bench test, has produced 55,000 Boe over 5.5 months.
The Angus 2-9H-2 well, a second-bench test located 27 miles northeast of the Charlotte pad, has produced 53,000 Boe over 2 months. Updated peak rate for this well is now 2,100 Boe/d (the Angus 2-9H-2 was initially reported to flow at 1,556 Boe/d over a 24-hour period; subsequently, the rate continued to increase as the well cleaned up). The well was in fact Continental's second strongest well during Q1 (second only to its Middle Bakken "sister" well, the Angus 3-9H, which tested with 2,200 Boe/d).
The tenor of Continental's commentary with regard to the Deeper Three Forks outlook during the earnings call continued to be very confident:
We are very encouraged with our results and the results of others out here. I think there's about 6 additional wells out there that have been tested in the second bench, along with ours. And so we're starting to see the footprint of productivity in the second bench starting to expand very quickly.
Other Industry Deeper Three Forks Results
Continental's remark regarding another six successful Deeper Three Forks completions to date suggests that the pace of exploration is accelerating. One of those wells is likely EOG's Antelope Extension test discussed above. Another is likely the Sunline 11-1TF well that Continental revealed during its Analyst Day presentation in October of last year.
The Sunline 11-1TF well was a highly successful second bench test operated by ConocoPhillips (Continental is a non-op partner in the well) that had a 24-hour IP rate of 1,330 Boe/d. The well produced 85,000 Boe in its first six months and was assigned EUR of 696 MBoe (the well's EUR exceeds Continental's type curve average).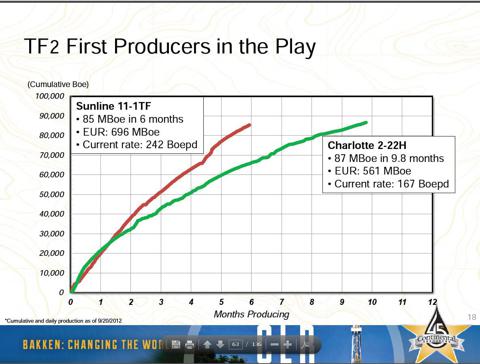 (Source: Continental Resources October 9, 2012 Investor Presentation)
Is The Second Bench's Success A Fait Accompli?
It certainly feels that way. Even before any optimization, early TF2 test results have been consistently strong, despite the enormous footprint of the tested area. This is not a complete surprise of course -- the first and second benches are fairly uniformly developed across the Basin. Continental's comments -- which are substantiated by the company's ten-well core program and the quickly expanding well control -- convey confidence in both the commercial productivity and extent of the TF2 play.
The third bench potential, with only two completions announced to date, is clearly less confirmed with drilling results at this point. Nonetheless, the first TF3 test which was drilled by Continental on the Charlotte pad, has performed strongly, with ~55,000 Boe in its first 5.5 months of production, certainly a strong and very encouraging result.
Continental commented:
As you go out to the west and head towards the edge of the basin, we're starting to maybe see the reservoir quality of the third bench become a little more variable. And that fits our geologic model. We anticipated that more centrally located in the basin, you're going to see more continuity in the third bench. And as you move out to the flanks, you start picking up some more anhydrite and you get some things that basically degrade the quality of the reservoir in some areas.
Continental should provide results of its first two tests of the forth Three Forks bench in its Q2 operating report. Over two months ago, on the previous quarter call, the company indicated that it would have TF4 results "within 30 days." The delay is a bit disappointing. However, while success of the TF4 evaluation would be nice to have, demonstrated productivity of the TF2 alone would already be a significant breakthrough.
A Wave Of Deeper Three Forks Results To Roll In Later This Year
The second half of this year will likely see the list of Deeper Three Forks results grow dramatically (investors may wish to get their note pads ready).
Continental has many more Deeper Three Forks results on their way. Six Deeper Three Forks wells are currently completing (including one TF2 test, three TF3 tests and two TF4 tests); four additional wells will be drilled before the end of the year (all of which are TF2 tests). The tests are spaced very far apart and span Divide, Dunn, McKinsey and Williams Counties. The distance between the northernmost wells and the southernmost wells is 80 miles, while the east to west span of the tested area is about 50 miles.
Continental's comprehensive evaluation program - which includes 22 exploration wells across all the four Three Forks benches -- is designed not only to demonstrate the extent of the productivity of these zones, but also show that these individual second, third and fourth benches are acting as independent reservoirs and will contribute incremental reserves to the overall play. So far, the results are positive. Continental commented:
We're encouraged with the results we're seeing at this point, saying that we're seeing these zones evidence that they're acting independently…
Other operators are also ramping up significant evaluation programs:
Kodiak will likely have important second bench test results to report towards the end of this year: the company will likely drill several TF2 wells a part of its two comprehensive high-density pilots.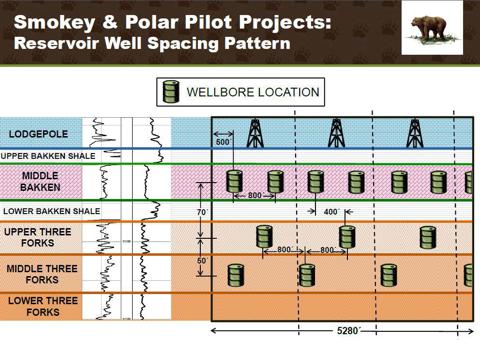 (Source: Kodiak Oil & Gas May 2013 Investor Presentation)
Oasis Petroleum has announced plans to drill six Deeper Three Forks pilot wells in 2013. The evaluation program should include "cores and high resolution logs across acreage to evaluate potential of lower TFS benches."
Whiting Petroleum may include some Deeper Three Forks pilot wells in its exploration program in 2013.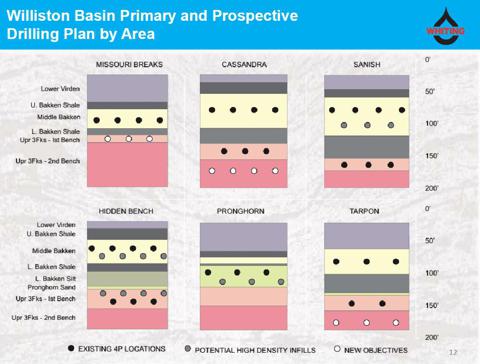 (Source: Whiting Petroleum April 2013 Investor Presentation)
Major Oil companies, Super-Independents and some private operators active in the Bakken (Exxon, Statoil, Conoco and Marathon) certainly have expertise, balance sheets and incentives to push ahead with their own Deeper Three Forks programs, however those companies rarely shed light on specifics of their operations.
Conclusions
Early exploration results in the second bench of the Three Forks formation are very encouraging. Deeper Three Forks is quickly moving from a geologic concept to operating reality.
One should expect the greatest impact to stock prices during the play's de-risking phase (2013-2014), as resource potential of this new powerful dimension of the Bakken play becomes increasingly real. Following early success by Continental and other operators, evaluation activity in Deeper Three Forks is accelerating. A fresh wave of test results which is expected during the second half of this year -- from Continental and several other operators -- may provide a catalyst for Bakken-focused stocks. Some existing wells may come off confidential status, contributing to the news flow.
However, to have a material impact on stock prices, operators need to deliver well results from the lower benches that would be in-line or better than the Middle Bakken and upper Three Forks wells in the surrounding areas -- clearly a tall order.
Bakken-Focused E&P Stocks
My medium- and small-capitalization Bakken-focused stock universe includes:
Continental Resources
EOG Resources
Kodiak Oil & Gas
Newfield Exploration (NYSE:NFX)
WPX Energy (NYSE:WPX)
Oasis Petroleum
QEP Resources
Whiting Petroleum
Enerplus
SM Energy (NYSE:SM)
Northern Oil & Gas (NYSEMKT:NOG)
Triangle Petroleum (NYSEMKT:TPLM)
My large-capitalization Bakken-focused stock universe includes:
Disclaimer: This article is not an investment recommendation. Any analysis presented herein is illustrative in nature, limited in scope, based on an incomplete set of information, and has limitations to its accuracy. This article is not meant to be relied upon for investment decisions. Please consult a qualified investment advisor. The information upon which this material is based was obtained from sources believed to be reliable, but has not been independently verified. Therefore, the author cannot guarantee its accuracy. Any opinions or estimates constitute the author's best judgment as of the date of publication, and are subject to change without notice.
Disclosure: I have no positions in any stocks mentioned, and no plans to initiate any positions within the next 72 hours. I wrote this article myself, and it expresses my own opinions. I am not receiving compensation for it (other than from Seeking Alpha). I have no business relationship with any company whose stock is mentioned in this article.