Ark Restaurants Corp (NASDAQ:ARKR) owns and operates 19 restaurants and bars, 22 fast food concepts and catering operations in the USA. This is a short article outlining why they are an interesting company to put on the buy list. It needs to be said, this is not a chain that can roll out their concept or brand nationwide and enjoy terrific growth of their franchise. They chose not to build up brands and instead operate under trade names that suit the unique locations they prefer. The reason that I want to highlight this small company is that in recent years they have faced numerous challenges and adversity (aside from those posed by the general economy) and it's possible they have dealt with the majority, and free cash flow will enjoy a significant uptick in the next two years.
Difficult Times for Ark Restaurants:
In 2011 the company faced non-recurring expenses in the amount of $500,000 recorded in the quarter ended December 31, 2011 related to the resignation of the Company's former President.
In 2012 the company was negatively effected by Hurricane Sandy because of its businesses located in New York, Atlantic City, NJ and Washington, DC and the losses associated with the closure of its properties Red and Sequoia located in New York, NY as a result, totaling approximately $900,000 which includes approximately $256,000 of assets written off that were destroyed as a result of the hurricane.
In march 2012 the company signed a lease on a property in New York and started Clyde's but it experienced huge pre-opening expenses because the permits were very much delayed going through the city process. The company meanwhile had full staff there for months, thinking the permits would be issued any day. The CEO admitted in the earnings call they completely miscalculated that. Clyde's is now open and the CEO stated there probably would be a slight loss or slight positive cash flow from Clyde's, that, as opposed to a $ 1.8 million operating loss last year.
What's the Good News for Ark Restaurants?
March 12 of this year Ark Restaurants entered into a long term agreement with New Meadowlands Racetrack to provide food and beverage services for the new racing facilities that are being constructed. That means some growth will materialize over the next 1-2 years.
On February 6 Landry made an offer for the company of $22 a share. This is discussed in this article on Seeking Alpha. Even though for a business that operates in the same industry there may be some synergies, this still indicates there is significant value in Ark Restaurants. The offer and management shrugging the offer off implies confidence the offer was too low, and either confidence the offer will be upped in the future or the stock will more accurately reflect the business value.
Management's considers the bid: "inadequate, not compelling and not in the best interests of Ark's shareholders taking into account, among other things, the Company's future prospects and the ability of the Company's experienced management to operate and grow the Company's business."
The lease on the property of Clyde's that is situated in Manhattan was secured in 2009 for $35 / square foot. Management reported a property only 1 block south for the same amount of space recently went for $75 / square foot. Numbers by DTZ, a global property provider, seem to back up that $35 / square foot is a very advantageous deal. The best part is that this is a long term lease until 2029.
The company also expects some insurance proceeds from damages to assets caused by Sandy, as well as compensation for business interruption insurance because their properties in New York experienced significant downtime. To be clear, the CEO does not appear to expect this to add a great deal to earnings.
In the Q1 2013 Earnings call the CEO also reiterated that they have acquired some of the partnership interests of the variable interest entities that the company owns in Florida. These are investments in the 2 Hard Rock Casinos. This will have significant positive going forward according to him.
The company has only a small amount of long term debt and is in good financial condition.
Important operating costs seem to be under control. COG's and SG&A appear to be kept in line by management, over the last two years, an important step in expanding margins.
Valuation of Ark Restaurants
Trading at a P/E (NYSE:TTM) of 16 the company is not cheap at first glance, yet given all the information indicating significant earnings growth in 2013 the multiple of 16 becomes much less threatening. There is also the book value of about $10 / share and the recent offer by Landry of $22 a share to add some insurance on the downside. Given current earnings the valuation may be in line, but given the prospects of earnings increasing significantly, the stock is worth more.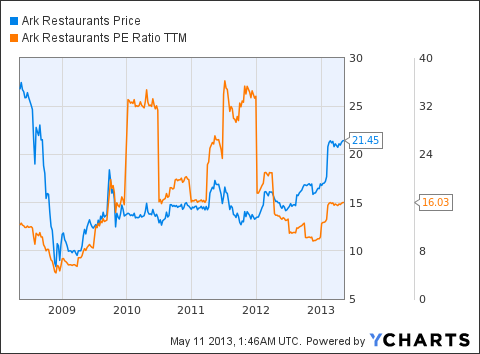 Conclusion
Investing in Ark Restaurants is a bet on management turning the company around in the next two years and being able to grow earnings (by avoiding huge expenses, increasing margins, opening a modest number of new restaurants). If they succeed in doing that, and it appears plausible they could, earnings could be surprisingly good and consequently more investors will discover the opportunity. While waiting for management to turn the restaurant business around, you can enjoy a nice quarterly dividend (about $1 annually) on the side.
I think Ark can rise to $30 in one or two years if management is able to execute a turnaround like described above. If that happens, I will re-evaluate but when the price of this stock more accurately reflects it's intrinsic value, I would exit because I don't think this is a business to own for life with sustained high growth. Owning the company as a dividend stock, is another story.
Disclosure: I have no positions in any stocks mentioned, and no plans to initiate any positions within the next 72 hours. I wrote this article myself, and it expresses my own opinions. I am not receiving compensation for it (other than from Seeking Alpha). I have no business relationship with any company whose stock is mentioned in this article.