3D Printing is a hot topic, and many of the companies in the space have recently seen their shares rise more on expectations of future profits than because of their current fundamentals. Along with this rise, there has been a great amount of investors upping their stakes on the short side, and in most cases, these bets have added up to a large amount of the companies' float.
Following this short interest helps investors quickly identify stocks that have fallen out of the markets' favor. For smaller companies, like the ones in this article, this can be especially important because they are more susceptible to a short squeeze. Below I have highlighted the short interest of 3D Systems (NYSE:DDD), Stratasys (NASDAQ:SSYS), ExOne (NASDAQ:XONE), iRobot (NASDAQ:IRBT) and Proto Labs (NYSE:PRLB), all companies that stand to benefit from 3-D printing.
Presented below in order of days to cover (greatest to least)
3D Systems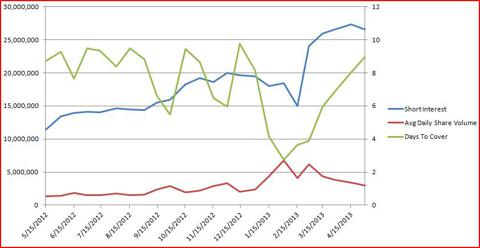 The short interest for 3D Systems went down slightly to 26.5 million shares but, at the same time, days to cover increased to 8.97 on lower trading volume. Shares of 3D Systems are up from the bottom of their most recent pullback (in March - $30 per share) and trade near their 52 week high at $43.92. The short interest in this $4 billion dollar company accounts for 30.94% of the 85.75 million share float.
Stratasys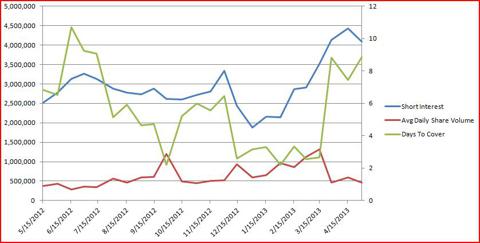 Similar to the short interest in 3D Systems, the short interest for Stratasys moved down to 4.085 million shares while the days to cover moved up to 8.84 days. The highest reported short interest was 4.427 million shares and the current shares short are over two times larger than the year end low of 1.883 million shares. Short interest represents 13.21% of the company's 30.91 million shares float. Stratasys is scheduled to report its first quarter earnings on Monday, May 13th.
ExOne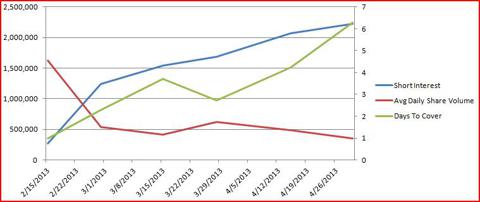 ExOne currently trades for $42.22 per share and has a market cap of $535 million. Short interest in ExOne grew close to 50% since the end of March and was most recently reported at 2.2 million shares. Days to cover was 6.27 days on an average daily trading volume of 354 thousand shares. ExOne's short interest of 2.2 million shares is 30.21% of the company's 7.36 million share float. ExOne is scheduled to report its first quarter earnings after the bell on Tuesday, May 14th.
iRobot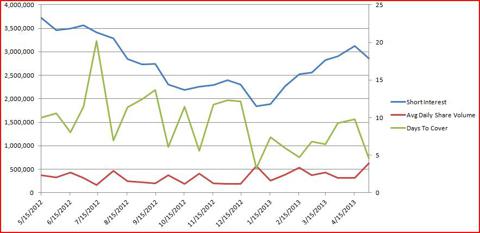 I have included iRobot because the 3D printing space is developing and the company recently applied for a 3D printer patent. Short interest for iRobot moved down to 2.858 million shares at the end of April. Days to cover was at 4.583 and the average daily share volume was 623 thousand. iRobot has a market cap of $877 million and the 2.858 million shares short represents 10.8% of the company's 26.45 million share float.
Proto Labs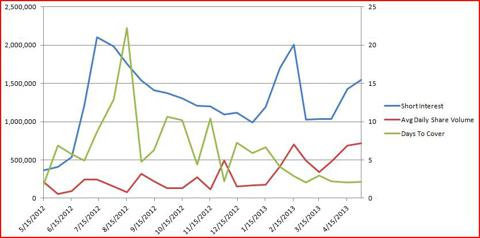 Proto Labs also does not manufacture 3D printers but does stand to benefit from the machines because it is a 3D printing service provider. Short interest for Proto Labs has slowly inched up from its year-end low and was up to 1.548 million shares at the end of April. Days to cover was at 2.14 and the average daily share volume was 720 thousand. Proto Labs has a market cap of $1.38 billion and the 1.548 million shares of short interest represents 9.23% of the company's 16.77 million share float.
Short Interest = number of shares sold short.
Days to Cover = number of shares sold short divided by the average daily trading volume.
An increase in the short interest and/or days to cover is a bearish indicator that may be caused by a fundamental business change, bad news, or a short sellers bad investment. This information is supplementary to a more thorough business analysis and should not be acted upon alone. This information is only provided and should only be viewed as a monitor for new events and trends. Rethinking and monitoring your investments is just as important as acquiring them!
This data was compiled from information NASDAQ releases twice a month, follow me for updates! If there are any other companies you would like added to this list, please let me know via message on SeekingAlpha.com.
Sources:
Number of shares float was found at YAHOO! Finance
Short interest information was found here.
Disclosure: I am long DDD. I wrote this article myself, and it expresses my own opinions. I am not receiving compensation for it (other than from Seeking Alpha). I have no business relationship with any company whose stock is mentioned in this article.