By Jamie Moye
Within the next three months, certainly before the end of August, some poor soul is going to find himself in the hospital with a broken back, facing a future life as a paraplegic. With essentially no hope of a cure from currently available medical treatments, this individual will agree to participate in a groundbreaking new clinical study that could help heal his devastating injury and usher in a whole new paradigm of medical treatment for a variety of illnesses and injuries.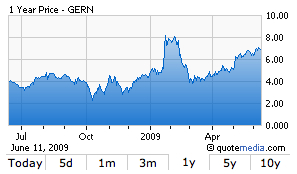 Geron Corp. (NASDAQ:GERN) is the first company to receive U.S. Food and Drug Administration (FDA) clearance for the world's first clinical study of a human embryonic stem cell (hESC)-based therapy in humans. The phase I trial is primarily designed to demonstrate the safety of GERN's GRNOPC1 in patients with "complete" American Spinal Injury Association (ASIA) grade A subacute thoracic spinal cord injuries (essentially a severance of the spinal cord resulting in complete loss of motor and sensory function below the break). However, if that first recipient of GRNOPC1 starts wiggling his proverbial toes the world's entire medical community, as well as Wall Street, will take notice.
Such a toe wiggle would undoubtedly spark a large spike in GERN's share price (currently at about $7), which would likely be followed by extreme volatility for months, if not years, to come as GRNOPC1 winds its way through the FDA approval process, and investors mark every toe wiggle, as well as any hint of a possible side affect or bureaucratic delay.
Will we see a toe wiggle?
Preclinical evidence as highlighted in GERN's 21,000 page FDA Investigational New Drug application suggests that we will, as numerous animal studies demonstrated "significantly improved locomotor activity and kinematic (movement) scores" after treatment. And if thousands of rats with broken backs were able to wriggle their toes and more after being injected by GRNOPC1, it would seem likely that a similar response will be seen in humans. The animal studies also demonstrated no evidence of toxicity, tumor formation or mortality in the receiving animals.
So, what is GERN worth?
Right now, about $7.
OK, so what is GERN worth if GRNOPC1 works?
"Priceless" would argue the 50,000 or so people worldwide who suffer crippling spinal cord injuries every year.
"Nothing without FDA approval" would argue Wall Street.
All right, what is GERN worth with an FDA approval of GRNOPC1?
To date, the company has not offered up any plans for how much it might charge each patient for the treatment, and part of the answer probably lies in how patients fare in the clinical studies–i.e., what level of motor and sensory function return patients gain from the treatment. Thus any effort to put a treatment cost on GRNOPC1 would be a stab in the dark, but given that there are no current medical options for severe spinal cord injuries, the price will undoubtedly be high.
Let's turn out the lights and throw a knife or two: The average cost of repairing badly torn knee cartilage averages about $12,000 and the costs of repairing a broken heart can soar far above $100,000. Fixing a broken back is certainly worth more than fixing a knee, but may not be as valuable as fixing a heart (that is unless you're considering this while pondering life in a wheelchair).
So, at the potential low end of the scale, Gern's treatment might warrant a cost of $30,000 per patient. Using this figure, and estimating that a conservative 50 percent of spinal cord injured patients opt for the treatment, would result in annual revenues of $750 million. Up the treatment cost to the higher end of the scale, at say $60,000, annual revenues with 50 percent of the potential patients would be $1.5 billion. Not too shabby for a company with a current market cap of about $600 million.
If GRNOPC1 shows promise early on then it could receive fast-track designation by FDA and see approval as early as 2012. By using a 6X sales ratio to the conservative $750 million revenue projection, we obtain a valuation of $4.5 billion, or about $50 per share. By using the less conservative $1.5 billion in revenues, we can get a valuation of $9 billion, or about $100 per share.
But the Geron story doesn't end with GRNOPC1, as the company has numerous other therapeutic products under development.
In the hESC field GERN is also actively studying the use of stem cells for the treatment of heart disease, Type 1 Diabetes, Osteoporosis and Osteoarthritis.
GERN's heart disease treatment, GRNCM1, is furthest along in the pipeline, and undergoing preclinical studies in animals. The stem cells are designed to replace damaged heart cells and and grow into healthy heart muscle tissue. The approach has been demonstrated in mice, in which stem cells were injected into mice hearts and successfully engrafted and improved the left ventricular function. The company is currently conducting preclinical testing in larger animals.
The company has successfully derived insulin-producing cells from stem cells and injected them into diabetic mice, which demonstrated a response to high levels of glucose in their blood and extended their survival. Small animal studies are continuing.
GERN's research into developing stem cell therapies for Osteoporosis and Osteoarthritis is in the initial stages of small animal testing and further advancement of these products will depend on how well the treatments work in repairing bone and cartilage damage.
Along with being the leader in the stem cell therapeutic arena, GERN is the leading biopharmaceutical company in the development of cancer-fighting therapies based on telomerase. Telomeres, located on the ends of chromosomes, act as "molecular clocks" for cells, and the human enzyme telomerase can reset these clocks. While not a cause of cancer, GERN and other researchers determined that telomerase is abnormally activated in all cancer types, allowing cancer cells to replicate indefinitely and thereby enable tumor growth and metastasis. But the researchers also discovered that inhibiting telomerase activity can kill cancer cells.
GERN has telomerase inhibitor treatments undergoing FDA Phase I trials for the treatment of solid tumors, non-small cell lung cancer, breast cancer, multiple myeloma and chronic Lymphoproliferative disease in humans. Initial results have shown an inhibition of telomerase and is helping the company determine optimum dosing for the ongoing trials. The company is conducting FDA Phase II trials on a telomerase cancer vaccine (designed to teach the immune system to recognize and fight cancer cells) for acute myelogenous leukemia. Thus far, the company has reported that these trials are demonstrating a strong safety profile and robust immune responses.
The successful advancement and FDA approval of any one of these treatments would be as valuable as an FDA-approved stem cell spinal cord injury therapy. Thus, the potential valuation of GERN could be up to 10 times that considered when examining the potential value of the spinal cord therapy alone.
And the Geron story does not end with these treatments, as the company also holds an exclusive license to the nuclear transfer technology patents that allow animal cloning, and owns Roslin Bio Med, the commercial subsidiary of the company that cloned Dolly the sheep, the world's first cloned animal. Under a joint venture with Exeter Life Sciences, Inc., GERN in 2008 formed ViaGen, Inc., which will manage and license the broad portfolio of animal reproductive technology intellectual property rights. Among the commercial applications expected to be offered are cloning for desired genetic traits, such as disease resistance, improved meat quality or yield, an increased milk production. This commercial application may come into play sooner than many think, as the FDA ruled in 2008 that meat and milk products from cloned animals are safe to eat. As this is such a relatively new field, not to mention controversial, the author will not attempt any stab in the dark valuation estimates.
GERN has telomerase licensing deals with Merck & Co. (NYSE:MRK), and with Sienna Cancer Diagnostics. The company has no debt and enough cash in the bank to run its trials and research for the next two years, by which point it should be earning some revenues from ViaGen and from its licensees.
Without any FDA approvals placing a value on its products, and thus the potential value of its stock, it's truly like throwing knives in the dark, but the potential value is so astronomical that this stock must have the best risk-reward ratio in the field of biotech.
Disclosure: Long GERN