Overview
BNK Petroleum (OTCQX:BNKPF or BKX on the Toronto Stock Exchange) recently caught my attention for one simple reason: the company sold a portion of its assets for significantly more than the market capitalisation of the entire company net of its debt. The assets were sold to XTO Energy (a subsidiary of ExxonMobil, XOM) for US$147.1 million, which included rights to all of BKX's interests in the Tishomingo Field (Ardmore Basin, Oklahoma) excluding the rights to the Upper Sycamore and Caney formations. The sale closed on April 21, 2013 (press release here).
After paying back all outstanding bank debt, the transaction leaves BKX with approximately US$117 million in net positive working capital based on the company's Q4 2012 financials. BKX's current share price is C$0.85, while its cash balance is approximately C$0.81/sh. The company has 144.3 million shares outstanding, meaning the business is valued at roughly C$7 million.
This transaction was transformational for the company for three reasons:
It essentially backstops the entire value of the company with cash in the near term.
It allows BKX to focus on what is potentially a new Caney-Upper Sycamore light oil resource play in the Ardmore Basin, Oklahoma.
It provides flexibility for the company to pursue large-scale tight gas opportunities within the company's European asset base, which have multi-TCF-scale potential (TCF = trillion cubic feet).
Why Be Bullish?
As part of the asset sale, BKX retained rights to the Upper Sycamore and Caney formations in the Tishomingo Field covering approximately 12,500 net acres. The key map for investors to understand is shown below.
Figure 1: Map Showing BKX's Land Position and Caney Wells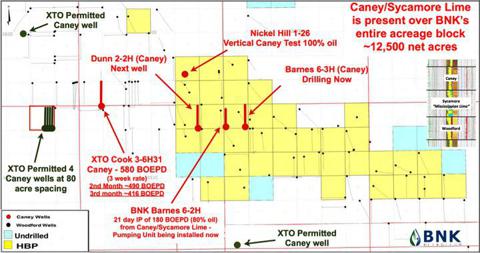 (Source: Company reports)
On the map sheet, note the presence of offsetting Caney wells either licensed or drilled by XTO Energy. The XTO Cook 3-6H31 well is of particular interest to me in that the 3-month average IP rate appears to be in the 500 BOEPD (barrel of oil equivalent per day) range (70% light oil) and the well is only 3 miles from the edge of BKX's acreage. Internal modeling by BKX suggests that ultimate recoverable volumes per well of 650,000 BOE may be possible based on a type curve using a 450 BOEPD IP rate. If that is case, the company suggests that the rate-of-return on the type-curve well would be in the 150% range. That means that the Caney could be a highly economic light oil resource play if 1) the XTO Cook 3-6H31 well IP rate is at all representative of the play and 2) the wells perform along type curves similar to those of more established resource plays. All-in well costs should be expected to be in the $6.5-$8.5 million range, depending on the stage of the play, with the lower end of that range likely in a full development scenario.
Also note the location of BKX's Barnes 6-2H and 6-3H wells. The Barnes 6-2H well was drilled in mid-2012 and showed an 3-week IP rate of 180 BOEPD (70% light oil), which most readers would immediately note is significantly less than the XTO Cook 3-6H1 well discussed above. In my view, the key piece of information that may not be apparent to all investors is the fact that last year's Barnes 6-2H well had a shorter horizontal leg and smaller fracs than would otherwise be used in a resource play of this kind. Longer horizontal wells with bigger and/or more fracs have shown time and time again to deliver higher IP rates and ultimate recoveries per well. I see no reason why this would not be the case in the Caney. All-in-all, I believe the ingredients are there for a large-scale light oil resource play.
It's early days in the play, and the Barnes 6-2H was drilled as more of a test-of-concept well, with well costs kept down to minimize capital exposure at a time when BKX's balance sheet wasn't as strong as it is today. A low-cost test-of-concept approach is typical and prudent for any junior company in an emerging resource play and the most important result of the Barnes 6-2H well is the production of oil from a reservoir that responded favorably to horizontal drilling and fracture stimulation. BKX's Barnes 6-3H well is likely close to total depth and may be fracture stimulated sometime this month, which means that stabilized flow test rates could be seen as soon as next month.
The Barnes 6-3H well could be significant for BKX shareholders. The well has been designed to have a longer horizontal leg and a significantly larger fracture-stimulation program (3x bigger fracs and more of them) than the 6-2H well that tested 180 BOEPD. If the 6-3H well delivers stabilized IP rates anywhere in the 300-500 BOEPD range, the Caney play starts to get really interesting. Using 500,000 BOE recoverable per well (lower than BKX's internal estimates of 650,000 BOE) and 4 wells per section (half the spacing that XTO is currently permitted for to the west; see map above), the net resource potential is in the 40 million BOE range assuming the Caney is prospective over all of BKX's land.
Back-of-the-envelope take-out value for a play like this could be in the $20-30,000 per acre range (see Eagleford valuations here as a potential Caney analog), so investors are looking at upside of $1.70 to $2.40/sh if the play proves to show repeatable wells in line with the modeled type-curve. If fully developed (likely in the 10,000 boepd range, which would give at a reserve life index of ~10 years at peak production on 40 million boe), the asset could be worth something in the $800 million range (at $20/boe), though investors would need to factor in some dilution for full development.
There will need to be a lot more production history and several more wells to validate the viability of the Caney resource play, but this brings me back to the current valuation of the company. BKX's current enterprise value is in the $7 million range and the company has a huge cash balance to see the Caney project through. Paying just $7 million to get an option on an asset that could be worth $250-350 million (approx. $1.70 to $2.40/sh) in a play with encouraging early results is a bet I'm willing to take. There is the potential for some cash burn during the proof-of-concept stage, but even one successful well would offset that burn in terms of value creation if the indicative economics are at all accurate.
A logical question that anyone would ask is, "If the Caney play is so good, why did XTO not buy it as well in the same transaction?". In my experience, the answer is simple and may be the result of only two things: 1) human resources or 2) BKX management was wise to the Caney potential and would not sell it "on the cheap". With respect to human resources, there are only so many things that a large company like XTO can focus on at a time and given that the Caney resource play is still nascent, it's actually better for XTO to have BKX proving up the play with their own people. Rather than tying up too many staff on what is likely still viewed as an "emerging" play, XTO can watch BKX essentially work the play for them. In this scenario, XTO would be a logical buyer of an asset with a much more certain value sometime in the future. It is worth noting that XTO's commitment to the Caney project does not seem half-hearted, as they have snatched up a significant acreage position in the area. I suspect that a less-experienced team may have sold the Caney rights to XTO in the same transaction as the Woodford, but BKX's management has been around the block a few times and I get the impression that they see the value potential in front of them (and now they have the cash to unlock it).
The European Gas Option
BKX's European assets deserve more service than I am going to give them here, but given that the Caney well results are likely to be more important in the near-term, I believe it makes sense for readers to get up to speed on that play first. For now, I will summarize BKX's European asset based as follows: BKX has a huge acreage position in Poland in a region that appears to be highly prospective for shale gas. The resource potential in play on their Polish acreage is in the multi-TCF range. Results from the Gapowa-1 well are the most encouraging to date (press release here) and the company may be in a position to fracture stimulate that well in H2 2013.
International unconventional plays take much longer to permit and drill than those in North America, so some BKX shareholders have actually completely written this asset off in their minds, despite the fact that investor belief in the very same asset was what carried BKX to the $6/sh range in mid-2011. Again, given the company's current valuation, this is essentially a very cheap (if not free) option for investors. Recent headlines saw Talisman Energy (NYSE:TLM) sell their Polish shale gas acreage to San Leon Energy, which some believe is somehow reflective of the shale gas potential of the whole country of Poland, which is obviously not the case. If a company sold its Mississippi acreage in a new resource play, would investors bail on Texas? Obviously not. Geology can vary widely on regional scales.
BKX may spend a little over $10 million on Poland in 2013, but budgets and timelines have yet to be set. In any case, it's a cheap option on a massive potential resource in a highly strategic region.
Summary
BNK Petroleum trades at just a 5% premium to its cash value, yet it offers upside optionality of almost 200%. As a result, the risk-reward appears to be skewed in favor of investors at anywhere close to current levels, especially given the Caney drill data on and around the BKX acreage. The oil is there, that has been proven by two wells already on BKX lands (see map above). The only question is flow rate, and a longer horizontal well (Barnes 6-3H) with a bigger fracture stimulation program will soon be completed to answer that question. When taken together, the flow rates from BKX's prior Barnes 6-2H well and from the closest offsetting XTO well suggest that BKX's chances of proving up an economic resource play are significantly better than what is being discounted by the market. Having a neighbor like XTO aggressively evaluating the Caney play is certainly encouraging and investors won't have to wait too long to see results from the next BKX well that should be completed and flow tested over the next 4-6 weeks.
I believe BKX is a prime example of the general investor apathy seen in the resource market, which creates opportunity for investors who can recognize value. To see a company essentially trading at cash value with an asset capable of such significant value creation is what every successful resource investor strives to find. Having a background in petroleum geology gives me added confidence in my investment thesis, which is something that not all investors will have, so I would encourage those who do their due diligence to consult with experts in order to form their own views. Geology and engineering can always surprise in either direction, but as always, the market will pay for more information one way or another. In this case, the wait for more data won't be long and the strength of BKX's balance sheet should instill a sense of calm in even the most jittery investor.
Disclosure: I am long OTCQX:BNKPF. I wrote this article myself, and it expresses my own opinions. I am not receiving compensation for it. I have no business relationship with any company whose stock is mentioned in this article.