Overview
Fairway Market (NASDAQ:FWM) received research coverage today from the investment banks who brought the deal out to investors a little over a month ago. Since pricing above the $10-12 range at $13 the shares have traded between $17 and $19. Most of the banks have "buy" recommendations but a few-- notably BofA Merrill Lynch-- cites the surge in price as a reason to launch coverage with a "hold" rating.
Our note below goes through more details and notes a few yellow flags regarding the story. From a valuation standpoint, the stock would seem to have limited near-term upside and we'd certainly be sellers above $20.
Background
For a grocery store, Fairway created a surprising amount of enthusiasm for their IPO and that can be seen in the pricing and subsequent trading action. Fairway is a NY area-based store chain that feels like Trader Joe's meets Whole Foods. It's a solid positioning with substantial if measured growth prospects. Most would agree that Fairway presents a favorable experience much like Whole Foods (but cheaper) and Trader Joe's (with more selection.)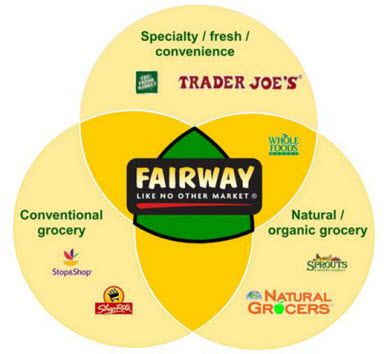 Fairway did $646M in annual sales for the period ended December 2012 out of a dozen locations. The company estimates they have opportunity to develop another 40 stores in the NY Metro region and nearly 100 total store locations if they consider the Boston to Washington DC corridor. In the very long term there is a national opportunity that could create a multi-hundred store chain. Coming from the current base of 12 locations, this national aspiration probably seems a little distant. It's reasonable to expect that Fairway can grow to 5x their current size based on their existing formula over the next ten years.
The formula at Fairway is kind of a "specialty markets within one market" approach. As an approach, this is probably a few hundred years old given that many old marketplaces work the same way today. In the case of Fairway, these include specialties like Cheese, Butcher, Produce and specialty organic foods.
Going forward, Fairway will expand mostly by adding new stores. Two are planned in FY2014, three for FY2015 with a target of three to four each year thereafter. There are some natural margin improvements that come from greater scale, which ultimately generate positive operating margins.
Probably the biggest risk facing the company is that other market players, including the major chains, will become more competitive and rivalrous with Fairway. This probably won't impact their existing business but it might make it harder to grow the store base with the same high returns they have enjoyed in the past.
For the complete company presentation refer to the archived FWM IPO slide deck PDF.
Some Strange Things
We don't expect too many surprises looking at a grocer, but in the roadshow presentation, one number stuck out as being very odd. Under "Use of Proceeds" a full $30M of the offering amount was set aside for "fees & expenses." That's at least double the normal amount for a transaction like this one.
Referring to the S-1 for more detail, we see that among other things the executive team has specific "IPO bonuses" payable in cash for a successful offering. Overall, the management team will receive over $7M in cash just for the IPO being priced!
There are a few other items to consider. For example, Mr. Glickberg has economic interests in things related to how the company has done and continues to do business. These include loans, lease agreements, and a power generation facility serving their Red Hook store. Mr. Glickberg's son and sister both occupy senior management positions in the company.
The majority equity owner, Sterling Advisors, has been regularly taking substantial cash fees out of the company which seem excessive. According to the S-1, Fairway has paid out just over $20M to Sterling in the past few years. If we are reading it properly, Sterling Advisors will be paid an additional $9.2M fee on the completion of the IPO.
Although there is nothing illegal in the way the firm is conducting their business, outside investors should take this and other matters described in the S-1 under advisement.
Valuation
The only real question regarding FWM is what price to put on it. There are some fairly good public comparable companies like Natural Grocers (NYSE:NGVC) and The Fresh Market (NASDAQ:TFM). We filled out a comparable list with other names including Whole Foods Market (WFM) and some conventional supermarkets as well. It should be noted that even "regular" supermarkets have taken some pages from the Whole Foods and Fairway playbook and implemented improvements in their customer offerings.
This isn't a high margin business. On average, gross margins are 32% and operating margins between 2% and 6%. Conventional markets trade at about 0.5x sales while the "growth" markets are valued at 1.2x to 1.5x sales.
At the current price, FWM is trading at the high end of the range at 1.5x sales. As long as management executes, this multiple should hold as the company grows and offer long-term investors price appreciation from this level.
I'd consider selling above $20 if the shares reach that level. At this price they are discounting a doubling of revenue and industry-leading 5% operating margins using a 20x multiple on earnings.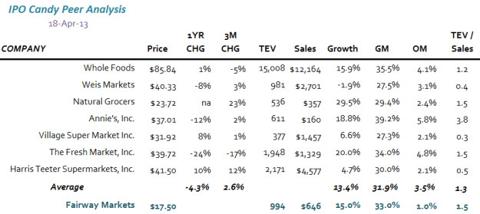 Disclosure: I have no positions in any stocks mentioned, and no plans to initiate any positions within the next 72 hours. I wrote this article myself, and it expresses my own opinions. I am not receiving compensation for it (other than from Seeking Alpha). I have no business relationship with any company whose stock is mentioned in this article.