Back in February it was argued based on the underperformance of international stocks and cyclicals that a correction in the major indices, such as the S&P 500 (NYSEARCA:SPY) might occur. Now it is May and the market never corrected; however, if you have been watching the performance of stocks more tied to global growth you will note that they have significantly underperformed from February until the end of April and are now beginning to strengthen.
Figure 1: The Performance of Cyclicals Versus Consumer Staples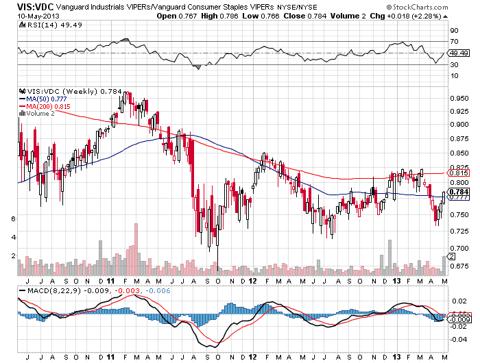 Analyzing the graph above, weakness was identified around the end of March, based on the long-term moving average convergence divergence indicator (MACD). The pullback from March to the end of April appears to have reversed itself and a new buy signal is close at hand.
It is worth making the point that even though the sell signal I observed did not correctly predict a decline in the major indices, the sectors of the market that were identified as the most attractive did outperform. Specifically, readers were encouraged to overweight the lowest beta sectors (i.e. consumer staples) and underweight or even sell short higher beta. Exhibit one is consumer-staples, which outperformed to a considerable extent from March until the end of April, but which has begun to lag the market this month. Staying high and dry in consumer staples was a good call, however, new leadership is taking place and rotating to more cyclical sectors may be called for.
Figure 2: The Outperformance of Consumer Staples Relative to the S&P 500 Until the End of April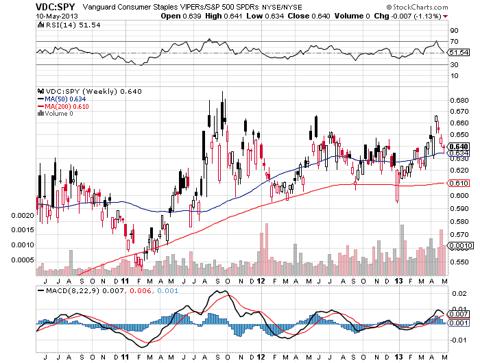 High beta vastly underperformed low beta from February until the end of April, but now appears to be leading again. Thus as a hedge, shorting the Powershares S&P 500 High Beta ETF (NYSEARCA:SPHB) was a useful trade, if entered at around $24 with a stop slightly above. The downside that I was concerned about never came to pass, however, during a challenging market environment high-beta still lagged. Thus, if you were short high-beta long low-beta you would have broken even on the hedge and outperformed by being overweight safer, less cyclical stocks.
Figure 3: The Underperformance of High Beta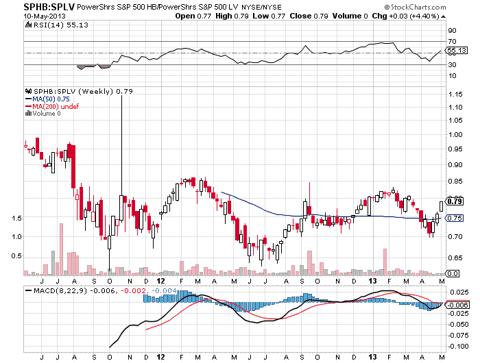 Given the current turn in the market, certain sectors look attractive if you believe that strength will continue. The more aggressive trade would be to buy emerging market stocks, either through an ETF (NYSEARCA:VWO) or by purchasing individual stocks. Two stocks that may be poised to outperform are CNOOC Ltd. (NYSE:CEO) and Rio Tinto (NYSE:RIO) if the recent turnaround in emerging markets continues. It is quite remarkable and still somewhat puzzling how badly emerging markets have lagged the S&P 500. Over the longer-term higher growth in emerging markets seems to make their lower price unwarranted. CNOOC Ltd. for example is a good bit cheaper than Exxon (NYSE:XOM) with significantly more growth and an attractive 3.30% forward dividend yield that has more than quadrupled in the past ten years. However, at the present time you can purchase CNOOC for 7.4x forward earnings whereas Exxon trades for 10.6x forward earnings even though CNOOC has five-year annualized EPS growth of 18%, while Exxon has averaged 6%. The growth of emerging markets seems to be very insufficiently valued at the present time. Given signs that this trend may be turning over, now could be a good time to add exposure to emerging markets.
Figure 4: Is the Underperformance of Emerging Markets in the Early Stages of a Turnaround?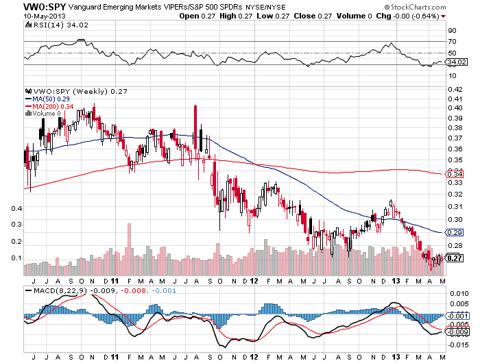 Stocks in the consumer discretionary sector appear poised to continue leadership. Again, getting market exposure could be accomplished with an ETF, such as Vanguard's Consumer Discretionary ETF (NYSEARCA:VCR). Some individual stocks to consider in this sector are: AutoNation (NYSE:AN), DIRECTV (DTV) and Priceline (NASDAQ:PCLN). All three have outperformed overly glum expectations for the business; DIRECTV has surged strongly after its most recent earnings report but still appears reasonably cheap, while Priceline initially sold off, but then rebounded strongly after lowering their guidance. Because consumer discretionary has performed quite well it is a lower-risk/lower-reward strategy compared to betting on a turnaround in emerging market stocks.
Figure 5: Consumer Discretionary is Strengthening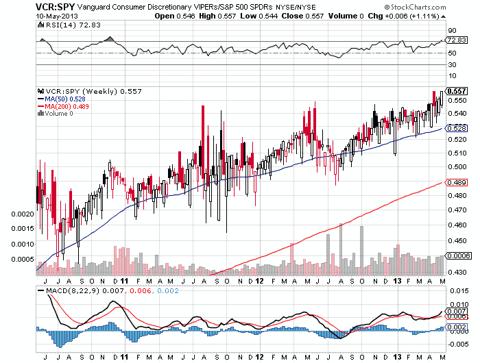 After some recent weakness, the market again appears to be firing on all cylinders. It is possible the market will pull back if rumors about the tapering of QE prove to be correct, however, it seems doubtful that this would lead to a major correction. Ironically, the economy would probably accelerate if interest rates were higher and banks were more encouraged to lend. While investors could react negatively and sell stocks if QE were to be tapered, it seems very unlikely that worrying about this will get you ahead.
Stocks do appear to be rather fully valued at the moment, however, there does not seem to be any catalyst that would cause them to fall that the market is not already discounting. Instead, it seems more likely that because a pullback has not been forthcoming money on the sidelines may soon to capitulate and buy stocks, sending prices higher. In the longer term, it is worth remembering that just as capitulation selling often marks the bottom of a bear market, capitulation buying can mark the top of a bull market. At some point in the future caution will again be warranted, however, at the present time conditions appear ripe for further price appreciation.
Disclosure: I am long AN, XOM. I wrote this article myself, and it expresses my own opinions. I am not receiving compensation for it (other than from Seeking Alpha). I have no business relationship with any company whose stock is mentioned in this article.
Additional disclosure: I am also weighing whether to initiate a long-position in either CEO or DTV and may do so within the next 72 hours.