This post is aimed at investors who are not at all bothered by volatility and make investments based solely on the long-term earnings power (and dividend potential) of the companies they select. If the thought of experiencing price declines of 30%, 40% or 50% would cause you to abandon the strategy, then I will be the first to say that the construction of a 100% dividend portfolio is not for you, and would possibly erase years and years of hard work and savings if you tried to implement it.
However, if you do make decisions based solely on earnings power, it is possible that you may consider a portfolio that consists exclusively of high-quality companies that pay dividends to shareholders, and have strong records of increasing their payouts to shareholders by growing profits at satisfactory risk-adjusted rates over almost all five-year rolling periods.
A large part of the reason why I turn to dividend stocks to accomplish my goals is because, in the tradition of "inversion" that Charlie Munger lays out, you need to first establish the things you do not want:
Invert, always invert: Turn a situation or problem upside down. Look at it backward. What happens if all our plans go wrong? Where don't we want to go, and how do you get there? Instead of looking for success, make a list of how to fail instead - through sloth, envy, resentment, self-pity, entitlement, all the mental habits of self-defeat. Avoid these qualities and you will succeed. Tell me where I'm going to die, that is, so I don't go there.
If the goal is to generate enough income to achieve financial independence, then in my case, there is little appeal to owning things that do not generate growing amounts of dividends, rent or interest. Right off the bat, through the "inversion" technique that Munger talks about, I can eliminate non-productive assets like gold, silver and other metals. I can eliminate bonds issued by the United States government because the 10-year Treasury yields 1.90%, and the 30-year Treasury yields 3.10%. Not only would those rates not lead to increases in purchasing power, but they would actually make me poorer over the long run if inflation runs in the 3.5-4% range.
Junk bonds have fallen below 5% for the first time in their history, and since I am of the very strong opinion that the junk bond market is in an extreme bubble right now, it would not make sense for me to put my assets there. By the way, if you are curious as to how I determine whether blue-chip dividend stocks are worth buying, I use this simple metric: I do not initiate positions in stocks when the initial earnings yield (on a normalized basis) is lower than the prevailing rate of a 30-year Treasury bond (Graham used 10-year Treasuries in his calculations, but I use 30-year Treasuries in my personal calculations to adjust for the record low interest rates so that I can get more conservative estimates).
Of course, if you are going to put your entire net worth into dividend-paying stocks, then you should be very particular about the types of companies that can find a place in your long-term portfolio. Right off the bat, I can eliminate most cyclical companies from consideration in a long-term portfolio. For instance, Ford (NYSE:F) and Delta Air Lines (NYSE:DAL) both pay dividends currently. But I anticipate that I will never own either company (unless the long-term economics of their business models change substantially) in my portfolio because, over the course of a full business cycle, neither company has demonstrated an ability to achieve returns on equity high enough to create profits in excess of the capital expenditures that the companies must make back into the business. If a business cannot accomplish a favorable spread between its profits over the business cycle and its capital expenditures, then it is hard to create wealth over the long term on an inflation-adjusted basis.
If you are familiar with my writing, you may be aware that I have spent most of 2013 purchasing shares of ConocoPhillips (NYSE:COP), BP (NYSE:BP), and Exxon Mobil (NYSE:XOM). If Royal Dutch Shell (NYSE:RDS.B) can hang out in the mid $60s again, it will be next on my list. Since oil companies are cyclical, I thought I should mention why I find room for them in my long-term dividend portfolio.
Unlike, say, an auto company or an airline, an oil supermajor is able to create real long-term wealth for shareholders over the course of a business cycle, provided that oil prices are at least $70 or so per barrel. This is due to the favorable relationship between the returns on capital employed in relation to the capital expenditures required. This means that, each business cycle, oil shareholders are richer than they were during the last one. In the case of Exxon, the company is generating $36 billion in profits across 48 countries, and is reducing share count by 1.25% every 90 days. That is a formula that is hard to screw up, absent a permanent decline in the price of oil, natural gas, and certain chemicals.
If you do not think in terms of volatility, most of the risk of blue-chip ownership dissipates. When some people think of Nestle (OTCPK:NSRGY), they may just see a line on a computer screen that reads "NSRGY" that shows it has traded between $55.49 and $73.90 in the past year. When I think of owning Nestle, this mental image pops up in my brain: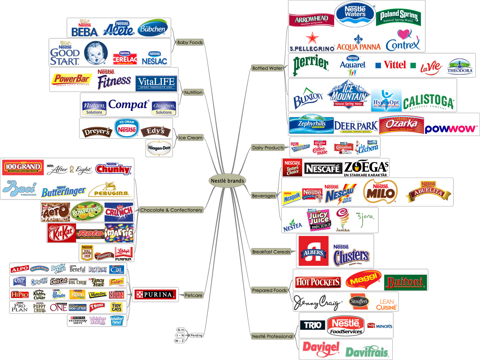 As long as those products, in aggregate, continue to generate 14-15% returns on capital over long periods of time, shareholders should get quite rich as the earnings grow and Nestle returns more and more cash to shareholders in the form of dividends. In my case, Nestle is a near perfect stock to own because it sells necessary products that have stable demand even in troubled times, has a strong record of earning reliable profits on those products for almost a century, and has been returning some kind of dividend to shareholders almost every year since The Great Depression.
And Nestle is just one company. Imagine if you own two to three dozen companies that share some of the same dominant characteristics as Nestle.
When Mary Buffett and David Clark wrote "Buffettology" in 1999, they pointed out that Coca-Cola had earned returns on equity between 25-35% almost every year since 1983. Well, I read that book in 2013, and when I reviewed Coca-Cola's return on equity figures since 2003, it has delivered return on equity results of between 25-35% every year during that time frame. During the first quarter of 2009 when the stock market hit its low of my adult lifetime, Coca-Cola had return on equity figures of 27.5%. This is why the company has been able to raise its dividend for half a century. If I can spread my wealth across 20-30 companies that have storylines similar to this, I would easily feel comfortable having all of my money in dividend growth stocks.
While I am aware that this approach is not for everyone, it has worked for me because of the thought process by which I make investment decisions:
First, I focus on acquiring capital to invest.
Secondly, all I have to do is find one dividend growth stock at a given time that is (1) poised to grow earnings and dividends at an above-inflation rate over the next 10 years, while (2) trading at a reasonable or even attractive price.
At that point, my time is spent making sure that my earnings growth thesis remains intact, and I enjoy the dividend checks that show up every 90 days for a decision I made long ago. And if I'm doing it right, the amount of money received should go up every year as I benefit from increased profits.
Then I go back to step one. The appeal of this process to me is the fact that the energy is upfront. Once I acquire the capital to buy Johnson & Johnson (NYSE:JNJ) shares and the purchase decision has been made, the process gets much easier. All I have to do is spend 5-10 hours each year making sure that my thesis is intact. While I am moving on to my next investment, I have shares of Johnson & Johnson in the background spitting out cash every 90 days. Then, I do it with another blue chip. Wash. Rinse. Repeat. I do not view 30-50% market declines as paper wealth losses to sob over, but rather, opportunities to buy even more shares of Johnson & Johnson that can pay much higher future dividends than if the decline never happened.
The best thing I ever learned from Benjamin Graham is the fact that every share of stock must be owned by someone, somewhere. General Electric (NYSE:GE) has 10 billion shares outstanding. Whether the price was $50 per share or $6 per share, it always had the same amount of shareholders (adjusted for buybacks and executive compensation). The statement that people were "buying General Electric" during the dotcom boom is no more true than saying that investors "were selling General Electric" when it fell below $7 during The Great Recession. The truth is that each transaction had both a buyer and seller, but they agreed on a different price point to swap shares. Dividend investors didn't "sell" dividend stocks anymore during the 2008-2009 crisis than they are "buying" shares now. It's just that the agreed upon price happens to shift.
In my case, that is why volatility does not bother me. It just reflects changes in the price that other people are willing to pay for ownership at the auction house we call the stock market. Some people may see 100 shares of Procter & Gamble (NYSE:PG) as something that has traded between $5,900 and $8,200 in the past year. For me, I see something that is producing $405 in profits and returning $240 worth of them to shareholders as long as people keep buying Tide, Iams, Downy, Bounty, Gillette, Head & Shoulders, Crest, and an assortment of other brands. How could I not sleep well at night when I know that, every time I visit the store, I can actually see people buy these products at rates that allow Procter & Gamble to generate almost $12 billion in annual net profits.
This is why I find it easy to own exclusively dividend-paying stocks. The key is that I do not pick just any stock. The bulk of my holdings share the following characteristics: (1) over 20 years of dividend growth, (2) earnings growth and dividend growth of over 5% annualized in the past decade, (3) profits generated in dozens of countries, and (4) almost all have an economic moat either in the form of brand name recognition or in the form of low-cost production. By measuring success solely in terms of long-term business performance, it is quite easy to own a 100% dividend-stock portfolio.
Disclosure: I am long BP, GE, COP, JNJ, XOM, PG. I wrote this article myself, and it expresses my own opinions. I am not receiving compensation for it (other than from Seeking Alpha). I have no business relationship with any company whose stock is mentioned in this article.