The medical device sector is comprised of a host of small and large market capitalization companies developing, manufacturing and marketing devices to help improve our quality of life while making big money doing such. The United States leads the world with more than half of the world's leading medical device companies based here. Reportedly, thirty-two of the 46 medical technology companies with more than $1 billion in annual revenue are based in the U.S. With regard to sales, the global market for medical devices garners roughly $350 billion in revenue with the U.S. responsible for roughly 40% of that value. The numbers are staggering with much money at stake for publicly traded medical companies to compete for. With the U.S. spending a larger percentage of its gross domestic product (NYSEMKT:GDP) and more per capita on healthcare than any other market, it is the largest healthcare market and is projected to remain so for at least another decade. With these numbers in mind, I wish to present two novel medical device companies for investment consideration. Both companies are attempting to address virtually unmet indications with large upside possible for their respective valuations if the technologies validate themselves in the coming weeks ahead. The summaries below are not a complete review of each company's product line, but is rather intended to be the beginning of investor due diligence with much additional research advised for the candidates before opening any investment positions.
Organovo Holdings (ONVO.PK) is possibly a preview to the future of medical research and organ generation. The company is still in the development stage, but it has a compelling mixture of 3D printing technology and biotechnology that is beginning to give the company much deserved attention. In what almost seems like science fiction, Organovo's technology is termed "bioprinting" and is just as the name implies. Using its Organovo NovoGen Bioprinter, the company constructs (prints) a three-dimensional replica of organs utilizing human cells without the use of polymers or other artificial scaffolding materials. The final product as constructed is very similar to natural tissue because it is 100% tissue comprised of representative cell types with no artificial material to contend with to help it function or maintain its shape. The implications of the platform are far-reaching with the company choosing to initially develop the technology for therapeutics and medical research. According to the company, the replicated tissue has "tissue-like density with highly organized cellular features, such as intercellular tight junctions and microvascular networks."
Organovo's NovoGene Bioprinter-generated organs for therapeutic purposes comes to mind for investors and the casual reader - organ transplants and repairs. The first step in the process involves obtaining the "ink" required to print out the organ. This "ink" is comprised of tissue cells that normally make up the final product. For example, if a liver is the targeted product, then liver cells are obtained from donor livers, biopsy waste, or surgical waste or are even lab-generated via stem cells. The Bioprinter's software is then programmed with the 3D image (size and xyz coordinates) and then instructed to print the organ. Once in the form of the intended organs, the cells then do just what they were intended to do naturally - coalesce, communicate with each other and then function. In what seems like a scientific journal from the future, Organovo recently announced that it had successfully assembled a human liver from human liver cells and that the liver tissue "functions like livers inside human bodies." Although Organovo's Chief Technology Officer Sharon Presnell admitted that the technology is still a bit distant from being transplanted into human recipients, she noted that the challenge is certainly not insurmountable.
The press release did mention something else of more immediate interest for investors and healthcare professionals. Alluding to a more near-term application of the company's technology, the announcement noted that the company plans on marketing the 3D-printed tissue to researchers as early as in 2014. It appears that implantation of the manufactured organs in human bodies is still in the future after the technology is more fully developed and perfected. However, the company is nearing the level of confidence in the tissue to sell it to healthcare researchers. This customer base would use it for experimental purposes in grafts or for testing early-stage drugs to ascertain early efficacy and safety profiles. This use would serve to eliminate unacceptable therapies before progressing to the expensive and laborious clinical trials. Although such "in vivo" tests are fairly common, the 3D generated ones offer a bit more realism with a more representative matrix to work with than simple 2D tissue or in vitro animal testing. I believe that successful implementation of this technology with it being used on a larger scale to screen efficacy of several drugs at a time for their effects on the 3D generated tissue could quickly garner additional investor and even large pharmaceutical company interest in the very near future.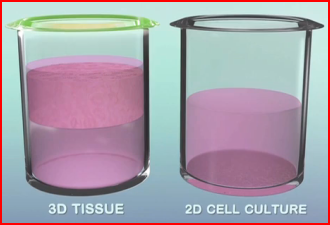 Organovo reported 2012 results via 10K on March 18th. As of December 31st, 2012 the company had cash and equivalents of approximately $14.8 million after $1.2 million in revenue for the year, mostly from grants and collaboration revenue. Still in the early development stages, Organovo operated at a net loss for the year of $43.55 million. This alarming value is a bit misleading as it includes non-cash transaction costs associated with the company's 2012 reverse merger and financing transactions. The financing transactions include the loss of inducement encouraging investors to exercise their warrants early and to participate in Organovo's earlier tender offer. I believe a better representation of cash burn moving forward is the total of its 2012 operating expenses of $7.2 million, its research and development expenses of $3.4 million and its selling, general and administrative expenses of $7.1 million for a total of $17.7 million for 2012 or $4.43 million per quarter. With a market capitalization of $281.3 million, the company's closing share price on Friday was $4.52, just above solid $4.00 support with a 52-week trading range of $1.49-$10.90. While possibly beginning to create additional revenue in 2014 due to planned 3D printed tissue sales for medical research, its current cash position is enough to fund operations into Q3 of this year. Interested investors should consider the possibility of financing soon, but are also advised to consider the possibility of favorable financing with a novel product line at a point to soon begin generating revenue for research sales while therapeutic use of the 3D organs is a bit farther into the future.
Like most development-phase companies, Organovo's valuation is not based on current sales or revenue, but is rather based on a combination of the company's potential revenue and its likelihood of meeting its associated goals. As it continues its work on its NovoGen Bioprinter technology and presents its work at varied venues, Organovo's remarkable technology should continue garnering shareholder support with the possibility of much larger pharmaceutical support in the coming months as the technology continues to evolve and validate itself. While the risk of failure is ever-present in shareholders' minds investing in a company with a single product, the upside potential certainly outweighs the downside risk for me with this very liquid OTCBB-traded medical device company.
So, how do you follow up a company with a technology as revolutionary as Organovo's Bioprinter? How about with a company developing a scaffolding device being developed to help prevent or even cure paralysis due to traumatic spinal cord injuries? InVivo Therapeutics (NVIV.OB) is just beginning to garner investor attention with its biocompatible polymer scaffolding device. The scaffold, a type of "plug", is directly applied to spinal cords that have been damaged due to an acute, traumatic event. The device serves to act as a barrier to prevent cytokines and other immune responses from coming into contact with the injured spinal cord, often damaging/killing the cells with an immune over-reaction, often termed as "secondary injuries". The basic concept applied is much like Cytosorbents Corporation's (NASDAQ:CTSO) Cytosorb, a filtration device that obtained a CE mark in March of 2011 for its ability to filter excess cytokines from traumatized patients' blood there as a result of an immune system over-response via overproduction of cytokines. This overproduction of cytokines is termed a "cytokine storm", and can often lead to organ failure after influenza or traumatic events in which the body's immune response can go awry. InVivo's scaffold performs a similar function except on a smaller, discreet region.
After an acute injury to a spinal cord, inflammation, cytokines and other immune responses can actually cause additional damage on the cellular level on the spinal cord. This damage can manifest itself in more damaged tissue, slower tissue regeneration and scar tissue. Additional damaged spinal cord tissue means a greater degree of paralysis or dysfunction while scar tissue is there to only protect the underlying tissue but does not function as normal nerve tissue by transferring electrical signals and slower tissue regeneration means an increased probability of the former two issues. Although the device itself is not porous on the exterior of the "plug", longitudinally it has channels of pores that enable blood transmission and serves as a foundation by which new neurons and neurites form and create new cord tissue. Essentially, the device protects the injured spinal cord from the body's immune over-response while it facilitates the healing process by providing a medium to allow protected nerve tissue regeneration.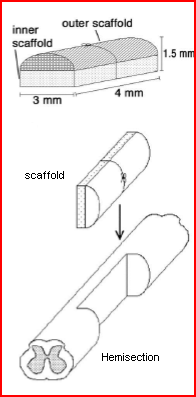 InVivo demonstrated its scaffolding device via preclinical work on four African green monkeys in 2008. A hemisection (slice out of the spinal cord, leaving just a portion of the diameter of the cord intact) was performed on the four primates to simulate an acute spinal cord injury (SCI). Two primates were treated with InVivo's biocompatible scaffolding device seeded with autologous human neural stem cells (hNSCs) inserted into the hemisection, one primate had the basic device with no hNSCs while the fourth received no treatment. I detailed the results a bit more thoroughly in a previous article I had written entitled "InVivo Therapeutics Unique Technology Garnering Investor Interest." The three primates receiving the scaffolding device in one form or the other showed substantial improvement over the control primate who had received no treatment with much original function restored. For a graphical representation of the improved healing process, please see the below picture of the animals' extracted spinal cords after the experiment had concluded. With proof of concept validated in this set, two other pre-clinicals have since been completed with similar results according to InVivo s 2013 investor presentation, a good review of the targeted patient sets, the company's financials and review of clinical data.
On April 5th of this year, InVivo announced that the FDA had given it clearance to initiate a clinical trial on humans with traumatic spinal cord injuries. Receiving a Humanitarian Use Device (NYSE:HUD) designation from the FDA on April 4th, the device will be regulated and distributed pending the results of the clinical trial as a medical device. If the trial indicates that the device does not pose an unreasonable or significant risk of illness or injury, and that the probable benefit to health outweighs the risk of injury or illness from its use, it would be given a greatly expedited path to regulatory approval under the HUD designation. This would provide the company with more near-term revenue while it develops and expands usage of the device to incorporate the hNSCs and other variations. The trial should begin enrollment soon, with the clinical expected to last approximately 15 months with data likely to be submitted to the FDA by the end of 2014. A regulatory decision should occur sometime in 1H 2015, according to the press release.
As of December 31st, 2012, InVivo had $12.8 million in cash and equivalents. In 2012, its annual expenses totaled $12.8 million or $3.2 million per quarter with that number likely increasing in 2013 as the company begins its first human clinicals. I do anticipate some type of financing in 2013, unless a lucrative partnership or grant is obtained. With that in mind, private placements or offering prices could certainly be affected by interim data. If current cash levels are sufficient to initiate the clinicals, positive interim data from a couple of early patients could garner better terms from investors or partners willing to take a risk on the company's potential and their own returns on investments. InVivo's common shares closed Friday at $3.00 with a 52-week range of $1.25-3.79. With 66.15 million shares outstanding, the company's market capitalization is currently $198.3 million. Like Organovo, InVivo's development-stage status means that its valuation is based on a combination of potential earnings in the future and its chances at regulatory success, the latter of which seems promising based on preclinical primate studies and the highly unmet need the company is attempting to address.
InVivo and Organovo each have novel platforms that are still in the early stages of development. I believe upside potential for both of these company's valuations still has significant upside due to the undermet or unmet needs they are attempting to address with their respective platforms. Having particularly intriguing technologies, investor interest should remain strong and will only grow if the technologies continue to provide promising data. While many biotech and small molecule drugs have complex mechanisms that may be difficult to comprehend for many investors, the more easily understood medical devices presented above help with regard to investors who invest by the adage "only invest in what you understand."
Disclosure: I have no positions in any stocks mentioned, but may initiate a long position in NVIV, ONVO over the next 72 hours. I wrote this article myself, and it expresses my own opinions. I am not receiving compensation for it. I have no business relationship with any company whose stock is mentioned in this article.