CenturyLink (NYSE:CTL) had one of the most important quarterly earnings releases last week and the company did not strike out as it did a few months ago. CTL has had bigger hype surrounding quarterly earnings - notably, following the acquisitions of Qwest (the old U.S. West RBOC), Embarq, and Savvis - but none more important than last Wednesday. After shocking the investment community in February with a 25% dividend cut that broke a nearly 40-year history of not cutting the dividend, CTL was clearly under the gun. As I wrote at the time, not only did CTL cut the dividend (strike one) but it lost its investment grade credit rating (strike 2) and the stock got hammered (strike 3).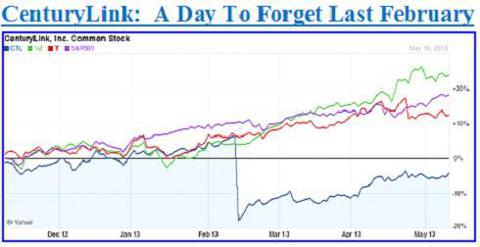 This financial triple play was bad enough, but the markets feared that the real reason for the dividend cut was deteriorating operating results that would pressure free cash flow, not the expiration of NOLs and depreciation allowances that would raise cash taxes substantially in 2015. Q1 2013 results clearly show that not to be the case, though the market's reaction to the results was mixed: a strong initial 2% pop upwards, followed by a drift down as the overall market weakened last Thursday.
The main highlights from CenturyLink's Q1 results:
EBITDA, revenues, and margins came in ahead of consensus.
Access line losses continue to narrow.
Broadband additions were ahead of expectations and Prism TV additions were strong.
The company modestly raised guidance on revenues, EBITDA, and free cash flow.
CenturyLink bought back 11 million shares in Q1 and has bought back 8 million shares in five weeks of Q2.
CenturyLink's fortunes are tied to two different timelines: how long until revenue and EBITDA growth are both positive and how long is the gap between the two metrics (revenue will stabilize first)? EBITDA is being pressured not only by revenue losses but by a shift to lower margin - but higher long-term growth - products such as video, broadband, data hosting, etc. CTL like other local carriers knows it will be losing high-margin but no-growth landline phones, the question is how quickly it can replace them with new business. That these new services and revenue streams are lower margin cuts to the heart of the debate concerning all of the telecoms. Verizon (with its Verizon Wireless jewel) is clearly at the top in making the transition with AT&T a notch below; Windstream and Frontier bring up the rear in the debate in terms of doubt. CenturyLink is somewhere in the middle.
CenturyLink's Q1 showed continued improvement in access line losses: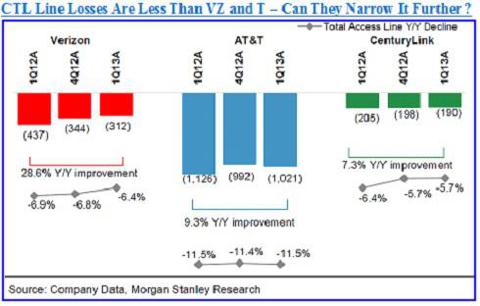 Minimizing the losses in the charts above are critical because the revenue and EBITDA they provide help offset the lower-margin, higher-CAPX growth vehicles that CTL (and other telecoms) need to stabilize and turn revenue and EBITDA growth positive. If you know when - or if - that inflection point happens (as it has for Verizon), you have solved the crux of telecom investing.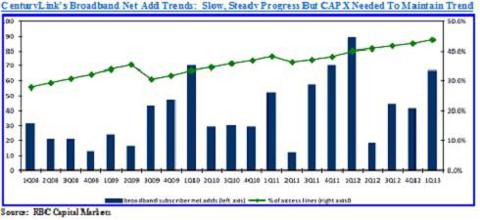 CenturyLink has narrowed its revenue losses, but 2013 will determine if 2014 is the year it can turn revenue growth positive. If revenue growth is no longer negative, then CAPX can be deployed into lower-margin but higher-growth projects without decimating free cash flow and impinging on funds for dividends and buybacks. Right now, CTL is forecasting revenue growth turning positive in 2014 and EBITDA growth doing so in 2015. On a revenue base of $18 billion, small changes from negative to positive for both metrics translate into big changes in free cash flow.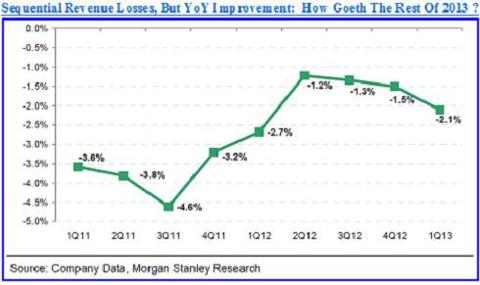 With less competition and higher revenue percentages from traditional landlines, CTL not surprisingly has higher EBITDA margins than Verizon and AT&T. But with a higher starting debt leverage level (2.7x vs. 1.5x for AT&T/VZ), CTL cannot afford the same margin compression that the two RBOC behemoths were able to withstand. Verizon and AT&T made huge CAPX investments in fiber and wireless the last 15 years. They are now reaping the rewards with wireless data, 4G LTE, FiOS and U-verse TV/broadband products, etc.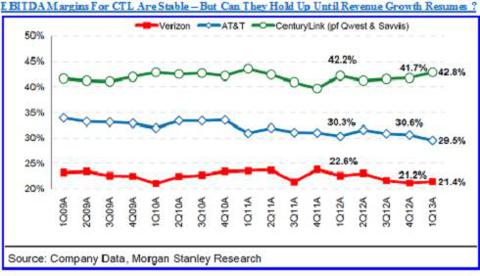 One negative continues to be past acquisitions such as Qwest/U.S. West, Embarq, and the most recent, Savvis. The problem with diluting shareholders via equity offerings or adding on debt for acquisitions that may or may not generate stable or growing revenue or margins is shown in the chart below: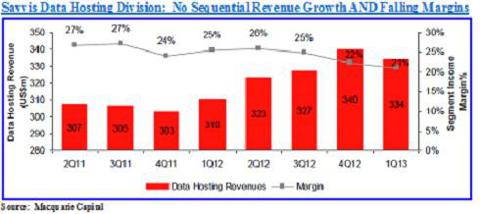 While CTL has reaped synergies and cost-savings from all of its telecom M&A, at some point the synergies and downsizing run their course. Revenue growth and EBITDA growth must materialize. For CenturyLink - and to a greater extent, Windstream (NASDAQ:WIN) and Frontier (NYSE:FTR) - it is figuring out the revenue and EBITDA decliners from the revenue and EBITDA growers in the jumble of business mixes that make up the entire company.
CenturyLink is not out of the woods yet - let's see what happens to its metrics if the economy slows later this year or in 2014 - but the company's explanation of 2015 cash taxes clearly seems to have been the proximate justification for the dividend cut and not any fear of deteriorating operating fundamentals. Continued progress on revenue and EBITDA stabilization and then growth are key. Verizon is already there, AT&T is approaching the inflection point, CenturyLink is in the on-deck circle with Windstream and Frontier down in the batting order.
If the sector can continue to make progress, investors should reap the benefits as the companies deliver hits (dividends) without making any errors (earnings misses). CenturyLink had a good 1st at bat for 2013. The rest of the year will determine if it moves up to the major leagues with Verizon (NYSE:VZ) and AT&T (NYSE:T) or is stuck in the minors with Windstream and Frontier.
Disclosure: I am long CTL. I wrote this article myself, and it expresses my own opinions. I am not receiving compensation for it (other than from Seeking Alpha). I have no business relationship with any company whose stock is mentioned in this article.
Additional disclosure: The author holds no personal position in any of the stocks mentioned, but accounts managed by the author hold a position in CenturyLink.