Many analysts have been bearish lately about the prospects of Applied Microcircuits (NASDAQ: AMCC), a semiconductor company that recently made a splash when it announced that it would be competing with market leader Intel (NASDAQ: INTC) in the server processor market. AMCC recently announced that it had shipped samples of its 64-bit X-Gene Server on a Chip product to strategic partners such as Hewlett-Packard (NYSE:HPQ), Dell (NASDAQ: DELL) and Red Hat (NYSE: RHT). In addition, the company also entered into a strategic collaboration with specialized chip manufacturer Altera (NASD: ALTR) to combine Altera's field-programmable gate arrays (FPGAs) with X-Gene. HP also announced that its HP Moonshot System was set to be released in the second half of the year with X-Gene chips. The chip is based on a design by its strategic partner ARM (NASDAQ: ARMH), the global leader in semiconductor IP.
The X-Gene chip, which addresses a need for servers that combine high performance with low power consumption, greatly benefits from reaching the market before competing products. Its main advantage is that it is specifically designed to be more energy-efficient due to ARM's experience in producing chips for cell phones and other mobile battery-powered devices. On the other hand, Intel is only now retrofitting its Xeon processors for greater efficiency, meaning that there is room for AMCC to establish a beachhead in the sector.
While it may seem that analysts are right to be pessimistic about AMCC, there are actually many factors that could mean a big upside for investors who buy in now. Although it is true that the company has been a poor performer in past years, one thing that it does have going for it is its partnership with ARM. ARM is one of the strongest companies in the industry, with revenues typically outpacing overall revenues in the semiconductor industry. With their alignment with ARM, AMCC will be able to compete with Intel. There is also anticipation that the company will enjoy growing support in developing an ARM-based server platform from other tech companies.
In addition, contrary to the assertion of some analysts that AMCC's fundamentals are decreasing, the company's numbers are actually improving. AMCC met analysts' expectations on its fourth quarter revenues for fiscal year 2013 and beat them on earnings per share. For the quarter ending March 31, AMCC reported revenues of $56.3 million, while analysts estimated revenue of $55.9 million. Fourth quarter revenues were up 9% from the previous quarter and 15.5% from the previous year. Meanwhile, earnings per share came in at $0.00, while analysts expected that EPS would be $-0.01 per share. For the second quarter, the average revenue estimate is $56.3 million while EPS estimates are $-0.01. For 2014, average revenue estimates are $241.8 million while EPS estimates are $0.06. The increase in revenue followed AMCC's announcement that eight of the largest optical module manufacturers in the world used its S28032 multiplexer, the industry's lowest power and fastest transmitter solution.
The tech stock is also a popular buy with hedge funds, as shown by the fact that net institutional purchases of AMCC stock are at 3.4 million shares or some 6% of its float of 55.8 million shares. Net purchases over the current quarter that exceed 5% of the total share float indicate that hedge funds are bullish about the growth prospects of a stock. In addition, AMCC stock showed signs of being undervalued as seen in two key indicators: enterprise value and high ratios of levered free cash flow compared with enterprise value. For the period, AMCC enterprise value was $369.58 million while levered free cash flow was $72.6 million. Hence, the LFCF/EV ratio is around 19.6 percent. The most recent market cap, which is the main indicator used to compute enterprise value, was reported at $536.47 million.
For investors, whether or not X-Gene is successful, they can enjoy an upside by buying AMCC stock. If the product is successful, then AMCC's financials will skyrocket in the coming fiscal years, causing its shares to rise in value. However, if it fails, the X-Gene project will simply be closed down, leaving investors with a stock that still has an $8 per share ex-cash, which is earning $0.82 or some nine times earnings per share.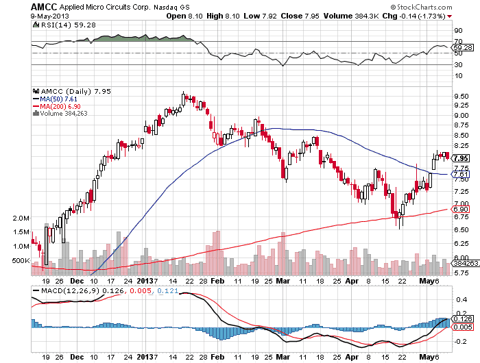 Disclosure: I have no positions in any stocks mentioned, and no plans to initiate any positions within the next 72 hours. I wrote this article myself, and it expresses my own opinions. I am not receiving compensation for it (other than from Seeking Alpha). I have no business relationship with any company whose stock is mentioned in this article.