The high yield market used to be a leading indicator of future potential weakness in the equity market. As can be seen below, this is no longer the case. After a poor performance in late spring, the return of the US high yield market (NYSEARCA:JNK) is close to 5% over 3 months. HY is catching up stocks (NYSEARCA:SPY), instead of leading the way.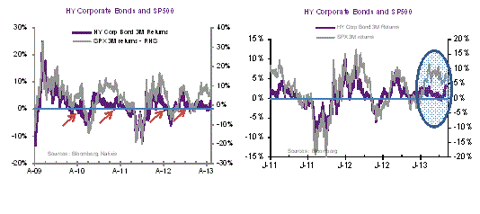 Below I compare the risk premia of the corporate HY bond and equity markets. As can be seen below, both markets are running in the same direction: lower equity premium (ERP) and lower credit (high yield) premium, the big difference being that the ERP is still well above its historical average while the HY risk premium (proxied by the Markit CDX NA HY index) is at its lowest level since 2007.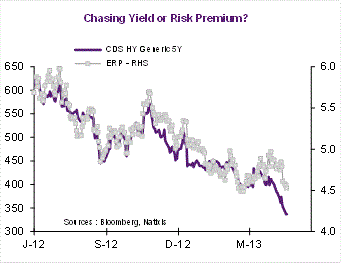 The absolute average yield is now below 5% for junk, a direct outcome of the current and widely documented "reach for yield" (a period generally characterized by stronger demand but also higher issuance of risky assets by corporations). At the same time, US Treasury 10-year yields are at a several-decade low thanks to the QE and the Fed forward guidance mix. The most striking feature though is not so much the absolute level for yields than the fact that 3-month returns for HY bonds and US Treasuries are no longer inversely related. Positive co-movement has already been observed (June 2012 below) but it has never lasted for long. Is it different this time?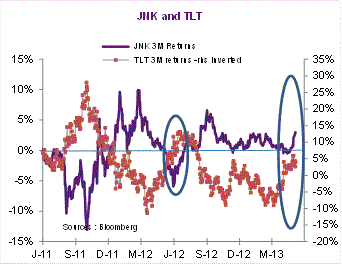 The ongoing upward trends for all asset classes but commodities can be explained by the BOJ purchase program, the Fed's forward guidance, and the low inflationary environment.
Negative real yields are among the factors behind the low level of UST 10-year yields. The initial increase in TIPS yields in 2008 was clearly due to the lack of liquidity during the crisis. The fall to negative levels is all the more puzzling since 1) the US economy has gained a significant growth momentum; and 2) inflation breakevens are clearly within the range of their historical average.
As can be seen below, high stock prices used to come along with higher real yields. Said differently, the strength of the stock market was backed by higher real rates - a proxy of higher real growth ahead. This has not been the case since 2009.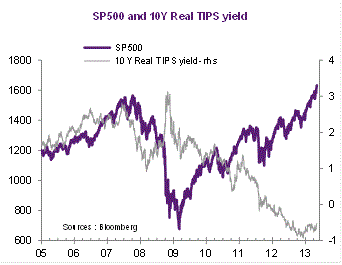 To sum up:
Current markets are characterized by falling risk premia, but also by wide discrepancies among asset classes in the level (or distance to historic mean) of those premia
In addition, the sovereign bond market no longer behaves as a safe haven, as it performs positively when risky assets post positive returns.
In such a backdrop, credit appears to be quite rich. There might still be room for the "reach for yield," but the patterns observed in the market (low absolute yield, historical high-yield corporate bonds, syndicated leveraged loans, covenant-lite loan issuance: volumes for High Yield new issues are 15.6% ahead of 2012 USD volumes year-over -year) have to be monitored. Sovereign yields may have further to fall as the Fed remains cautious on the end of QE. Nevertheless, I do not think that softer inflation and economic data will push the Fed towards an extension of the purchase program. Lastly, in such an environment, stocks remain attractive with a low risk premium and a decent forward P/E ratio. I maintain our call for S&P 500 close to 1700 in early 2014.
Disclosure: I have no positions in any stocks mentioned, and no plans to initiate any positions within the next 72 hours. I wrote this article myself, and it expresses my own opinions. I am not receiving compensation for it (other than from Seeking Alpha). I have no business relationship with any company whose stock is mentioned in this article.