Apple's (NASDAQ:AAPL) MacBook Air, as well as the 10" iPad, may be coming under fire in a way that most people don't expect. I believe that the upcoming "threat" to Apple's market share in the mainstream computing space (iPad/MacBook Air price levels) can be protected, but it will require that the company take a long, hard look at the strategy that it is currently pursuing.
Intel's Low Power "Baytrail" Opens The Floodgates
Intel (INTC), which is the chip supplier for Apple's Mac products, recently disclosed its 22nm low power "Atom" processor core, which looks to be quite robust. The core is called "Silvermont," which is a brand-new, grounds-up redesign of the firm's "Atom" processors. Now, the Atoms have historically been known for being slow and nearly unusable compared to the higher end chips in the PC world, but thanks to the threat from alternative architectures, Intel decided to go into full throttle here. According to the Intel technical representatives at the announcement, this is a chip that was architected from the ground up for high performance at extremely low power levels.
Anandtech, the world's leading hardware review site, had this to say,
On single threaded performance, you should expect a 2.4GHz Silvermont to perform like a 1.2GHz Penryn. To put it in perspective of actual systems, we're talking about around the level of performance of an 11-inch Core 2 Duo MacBook Air from 2010. Keep in mind, I'm talking about single threaded performance here.
Now, get this: Intel will be able to place four of these "Silvermont" cores into an SoC (called "Baytrail-M") which could go into a fanless Windows 8 and Android convertible devices that cost as little as $200!
What does this have to do with Apple, then?
iPad Becomes Obsolete, MacBook Air Under Fire
The obvious implication is that the iPad comes under serious fire. The iPad isn't exactly the ideal productivity device, and with Google's (GOOG) more open ecosystem, and Microsoft's (MSFT) more rich Windows 8 platform (especially for businesses), it is easy to see that with a low cost $30-40 chip from Intel, the PC OEMs - accustomed to <10% operating margins - could put out devices that, from a functionality and performance standpoint, outpace the iPad, while also providing the productivity features of "real" Windows 8 notebooks.
With cheap, fast, and low power convertibles based on Windows 8 and Android storming the market, and with Apple's apparent refusal to add touch to Mac OS, it is clear that the Atom based convertibles could gobble up the iPad and MacBook Air from below, and then high end "Haswell" Ultrabooks with touch and superior processing power in both "tablet" and "notebook" modes will further put the pressure on the iPad and strip the remaining value proposition from the MacBook Air. It is, to borrow an expression from a friend of mine, a "classic pincer attack."
What Can Apple Do?
Apple can fix this! It can keep selling the 7" iPad just as it is - no need for a change there. The iPhone is fine, too, although a cheaper one would help drive further volume growth as the high end becomes a brutal battle for market share. But the 10" iPad and the 11.6" MacBook Air could be fused into an "Atom" based 10" Mac OS touch-enabled convertible with a "Baytrail" processor. It would become a solid productivity device (but with room for upsell for the real power users), but it could also detach into a wonderful, Apple-quality tablet. And Apple could charge a decent premium for it, too.
The 13" MacBook Air could also become such a convertible, and the best way to do it would probably be to just be to make it an Intel "Core" powered 13" detachable, a la Intel's "North Cape" reference design, although with the Apple charm/design nuances (image courtesy of Engadget):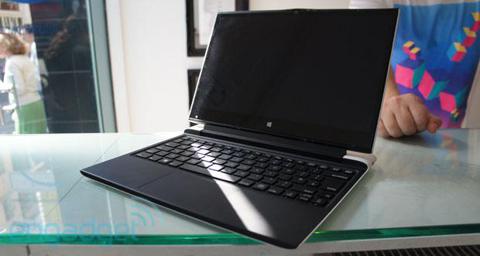 Conclusion
Apple is the world's best consumer electronics company from a "build quality" standpoint, and I hate to see them resist this fairly obvious market trend. There is no need to have two devices of roughly the same size, when you can have one that does both things very well. Not only is Intel's "Baytrail" likely much faster than anything Apple will be able to deliver in that time frame (thanks to micro-architecture advantage + process lead), but it also gives them the ability to keep all of the Mac OS goodness while also bringing in touch/tablet like usage. The "iOS"/"tablet mode" could be a completely separate mode that is activated upon detach, or it could be a simple physical button press on the device itself, while the core Mac OS remains completely untouched.
The obvious problem of course, which is also why Apple seems resistant to a 5" phone, is that this could cannibalize both Mac and iPad sales. However, as Apple's Tim Cook is so fond of pointing out, if they don't do it, somebody else will. And the wave of upcoming Windows/Android devices (with emphasis on Windows) may be just what forces Apple's hand.
Disclosure: I am long MSFT, INTC. I wrote this article myself, and it expresses my own opinions. I am not receiving compensation for it (other than from Seeking Alpha). I have no business relationship with any company whose stock is mentioned in this article.