Chalk another week up for the bulls - the third winning week in a row, and the 15th winner for the past 19 weeks. Oh yeah, we hit new all-time highs in the process…. again.
Truth be told, not a whole lot's changed since our look at the market last week. The momentum is still bullish, yet the degree of gain since November's low has become nothing less than intimidating; when's the reversal coming? We'll look at things from both sides of the table in a second, right after we preview this week's major economic catalysts.
Economic Calendar
There's not a whole lot to talk about for last week, economically speaking anyway - there just weren't many announcements. But, in the interest of completeness…
Last week, the Department of Labor reported that only 323,000 people filed new claims for unemployment insurance… a five-year low. Continuing unemployment claims fell to 3.005 million, which is also a multi-year low.
Is the downtrend in both data sets real proof that the economy is improving, as it's being interpreted by most? Yes and no. The number of people who are actually working is rising, but the number of people who are no longer eligible for unemployment benefits - but still aren't working - is also rising. The population is also growing, absorbing a great number of any newly-created jobs. Point being, the employment picture may not be quite as perky as it seems on the surface.
That's pretty much it for last week. As you'll see below though, we more than make up for it this week.
Economic Calendar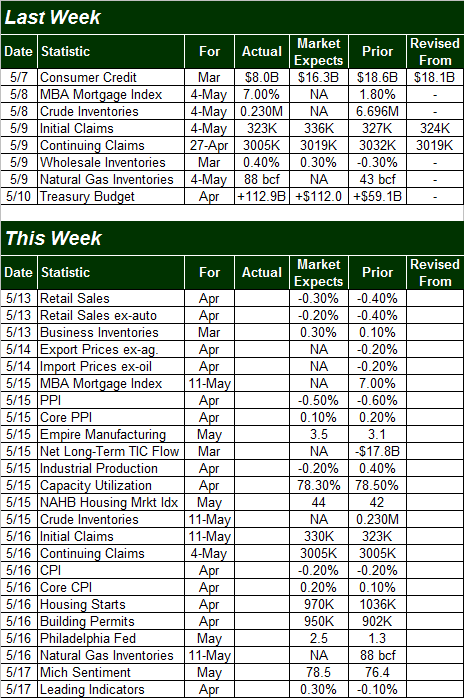 Buckle up kids, 'cause there's a lot of news in the lineup this week that could really rock the boat.
Things get started early too, with Monday's retail sales report for April. Economists are looking for another slight dip, with or without automobiles. Considering personal consumerism drives 2/3 of this nation's economy, a second weak month for spending could be a sign of trouble.
The fireworks don't start again until Wednesday, but we'll get plenty of them that day. For starters, we'll hear about the inflation rate producers are dealing with; the annualized rate last stood at 2.8%. That's not the biggie for Wednesday, however. We'll also hear about last month's industrial productivity, and how much of our industrial capacity we've been using. Remember, as long as both are rising, the economy is growing (and the long-term market is likely to be rising too).
On Thursday we'll get last month's consumer inflation data… the more important of the two inflation data sets. Ironically, the problem of late hasn't been too much inflation, but too little - it hints of deflation. The annualized inflation rate was 1.47%. We'll also be hearing April's housing starts rate and issued building permits; the former should be down a bit, and the latter should be up a little. Either way, both have been trending bullishly for more than two years. Don't freak out if either takes a breather.
Stock Market
When it was all said and done, the S&P 500 (SPX) (NYSEARCA:SPY) continued to defy the odds - and logic - by adding another 19.28 points to its value in the last weeks. That's a 1.2% advance, bringing the total run up since the November low to an impressive 20.1%.
We've mentioned a few times haw the sheer size and pace of the rally has reached dizzying levels (NYSEARCA:DIA) (NYSEARCA:IWM) (NASDAQ:QQQ). But, we've not added any substance or perspective on that idea… until today.
Since the November low, the S&P 500 has rallied 254 points, or like we said already, has gained 20.1%. That's the third-biggest uninterrupted multi-week rally in terms of points gained since the bull market began back in March of 2009. And, it's within 25 points of the biggest secondary (intermediate-term) rally we've seen over the course of this bull market. Point being, we're now getting to the point where the raw weight and size of the gain has historically worked against stocks. Take a look.
Yes, we've seen bigger percentage-gain rallies than the current one of 20.1%, but they were back in the earlier stages of the bull market, when the S&P 500 was valued at much lower levels than it is now. It was easier to post a big percentage gain then, when the bar was set so low.
For what it's worth, not only did the market advance further into new-high territory, it also pushed past that long-term technical ceiling that extends all the way back to peaks from October of 2007 and March of 2000.
Needless to say, this move really throws a wrench into the works. Mentally, many traders were counting on that line holding up as resistance and prompting a pullback (at least a pullback of some degree, even if it was just a brief pause to serve as a 'reset' of the bigger bull trend). Now that the ceiling's been broken though, it's possible a technical breakout has been spurred… whether it's merited or not.
And therein lies the rub - the technical momentum is bullish, but the overbought market is aching to sell off.
Anyway, since we're in a perspective-giving mood, let's take another look at the S&P 500, this time with a comparative look at the CBOE Volatility Index (VIX) (NYSEARCA:VXX). In fact, let's just take a look at the VIX, as it may well be the clue we need as to the market's next move. As you can see in the weekly chart below, the VIX's downtrend is still intact; the string of lower highs and lower lows is clear. Yet, there's room left for the VIX to keep falling before it finds a floor at the lower Bollinger band (currently at 9.62).
Similar to the S&P 500′s "bullish momentum versus common sense" conundrum, the VIX is at dangerously-low levels (potentially bearish), but is also seemingly comfortable at these low levels (still technically bullish). That could reverse at a moment's notice, but until we actually see such a reversal, the mere possibility is irrelevant.
Just so you know, the official bear trend/correction will be marked by a VIX that pushes up and into its upper Bollinger band for at least a couple of weeks, and the S&P 500 slides under its 50-day moving average line currently at 1570.07. That leaves a little room for a small dip, but not a back-breaking dip. The daily chart below adds some detail to that idea, and also shows you just how close the VIX is to a major floor at 11.18 (in the daily time frame).
We make the point about the daily chart to explain how it would be easy to confuse 'a little volatility' with 'a major correction.' We're apt to get a little bearish volatility from here no matter what. That's no big deal. It won't be a big deal until the VIX starts to trend higher and the S&P 500 falls under the support at its 50-day moving average line. We'll detail those technical catalysts if-and-when they happen. For now, the smart move may be just taking a step back and letting the dust settle after last week's gains. We'll likely see at least some profit-taking pressure kick in this week. How much we'll see is the question.
Disclosure: I have no positions in any stocks mentioned, and no plans to initiate any positions within the next 72 hours. I wrote this article myself, and it expresses my own opinions. I am not receiving compensation for it. I have no business relationship with any company whose stock is mentioned in this article.