Every dividend stock investor is continually searching for the best dividend stocks of the lot, those that will continually increase dividends at a good pace and favorable returns in the future. In this article, I present 4 stocks that may very well fulfil the needs (returns/dividend growth, etc.) of the dividend investor.
Here is the stringent criteria utilized when picking the stocks:
The Criteria
1. Fast Growing
The company must be fast growing based on two main metrics: Dividend Growth Rate (DGR) and EPS/FFO growth rate. Here are the specific criteria used in the selection:
EPS/FFO Growth Rate (Past 5 Years) > 10%
DGR (Past 5 Years) > 10%
Dividend growth is what is important to dividend growth investors, and most investors are constantly searching in this direction for candidates for the portfolios, which is correct. It is true that dividend growth is one of the main elements for a dividend portfolio to appreciate in value over time and for the compounding machine to continue working in the background. But, I feel that investors should not neglect EPS growth, as this is what drives the dividend, the nutrition that grows the cash cow. Besides this, a growing EPS figure also gives an investor reassurance that a company has a stable business, being able to generate increased earnings numbers over the years.
2. High & Sustainable Yields
Yields are also another thing that many dividend investors are concerned about. Although having a high starting yield will serve an investor well, one must learn, in my opinion, to give quality companies first priority, instead of having high flashy yields, but not necessarily having a great sustainable business. A moderately high, reasonable yield would do.
Low Dividend Payout Ratio < 70% (Earnings/FFO)
A yield does not just have to be high, it also has to be sustainable. Therefore, this next criteria is included in the screen to confirm that a company's dividends are sustainable. The definition of payout ratio is the Net Income (EPS) of Funds From Operations (FFO- In the case of REITs) given out as dividends. A company with too high a payout ratio indicates that it may not be able to support the dividend in the future, especially during recessions or downturns, which are inevitable. Many companies will have to depend on their cash on hand to further expand in those times.
3. High Quality
At least 6 years of Consecutive Dividend Increases
I want a company that not only pays consistent dividends, but also rewards its shareholders by increasing its dividends over the years. I am only asking for at least 6 years of consistent dividend increases, which is not much, but this ensures that they increased their dividends straight through the 2008-2009 recession (6 years: started increasing dividends yearly since before 2007). With a market full of uncertainty, such companies are increasingly rare, and are much more secure than holding other stocks. It is not really easy to get onto this list of stocks given that a company needs to have consistently growing profits and a strong business, which is able withstand recessions in the economy.
4. Fairly Valued
A stock with a P/E ratio (or P/FFO) of above 20 is considered to be overvalued by me and will not be considered as a buy. However good a dividend stock's fundamentals are, they are not resilient to plunges in stock prices and will plunge occasionally like other stocks do. An overvalued stock priced for perfection (remember Chipotle (CMG) in July 2012?) may plunge just because of a small miss in earnings or other short-term disappointments.
5. Rock Solid
Without further ado, here are the stocks:
The Stocks
| | | | | | | | |
| --- | --- | --- | --- | --- | --- | --- | --- |
| Company | Sector | Dividend Yield | DGR (Past 5 Years) | Payout Ratio (on EPS/FFO) | EPS/FFO Growth Past 5 Years | P/E (or P/FFO) Ratio | Consecutive Dividend Increases (Yrs) |
| Alliance Resources Partners LP (ARLP) | Basic Materials: Industrial Metals And Minerals | 6.20% | 13.6% | 68.00% | 20.70% | 11.92 | 11 |
| Digital Realty Trust (DLR) | Financials: REITs | 4.76% | 20.6% | 70.11% | 11.40% | 14.06 | 9 |
| Intel Corp. (INTC) | Technology: Semiconductors | 3.67% | 14.1% | 45.00% | 12.63% | 12.25 | 9 |
| Textainer Group Holdings (TGH) | Services: Rental & Leasing Services | 4.81% | 52.1% | 41.60% | 19.05% | 9.66 | 7 |
1. Alliance Resources Partners, LP
I would like to start off with this company, Alliance, that fits this criteria. But as I had previously written about the stock already, I am not going to go into detail about this company. The table above should already provide some basic information about the company, but do click here to read my previous article on ARLP.
2. Digital Realty Trust
Digital Realty owns, acquires, develops and manages technology-related real estate. It focuses on strategically located properties containing applications and operations critical to the day-to-day operations of technology industry tenants and corporate enterprise datacenter users. The company's property portfolio consists of Internet gateway properties, corporate datacenter properties, technology manufacturing properties, and regional or national offices of technology companies. The company owns 117 properties comprising of 21.9 million square feet, including 2.4 million held for development.
In addition, the company has a rapidly growing asset base, in fact, it has been growing at 22.1% per year over the past 5 years, from merely $3.28B in 2008 to $8.81B in 2012. It also has a diversified, high quality tenant base, with 595 tenants in total. Tenants include telecom companies such as CenturyLink (CTL), Equinix (EQIX) and AT&T (T); financial companies like Morgan Stanley (MS), internet companies as Amazon (AMZN) and even healthcare corporation Pfizer (PFE). Besides being diversified in terms of tenant base, they are also diversified well geographically, across many metropolitan markets across the world, including Boston, Chicago, Los Angeles, New York, San Francisco and Silicon Valley in the USA, Amsterdam, Dublin, London and Paris in Europe, and also in Singapore, Sydney and Melbourne over in the Asian region. In fact the company is so diversified that no one market represented more than 12.1% of its revenue, with London being Digital Realty's top market.
Even with 117 properties with 21.9 million square feet in area, the company still has a high occupancy level at 94.4%, which is an impressive number for such a large company. The company has also maintained its occupancy level above 90% since 2006, and occupancy levels were actually kept in the 94% range through the 2008-2009 recession, which is truly impressive.
Furthermore, the company is much bigger in terms of size, as compared to its competitors. Digital Realty has an $8.41B market cap, while next largest competitor, DuPont Fabros (DFT), has a $2.11B cap. Two other competitors, CoreSite (COR) has a $712.31M cap while CyrusOne (CONE) has a $495.91M market cap. Thus, the company has significant pricing power, being the largest company by a great margin in the industry.
The company has a $8.41B market cap and pays a 4.76% dividend as of the May 5, 2013, closing price of $65.51. It has increased its dividend for a streak of 9 straight years, attaining Dividend Challenger status. Besides this, its payout ratio based on FFO is very much well-covered, currently at 70%. The chart below shows Digital Realty Trust's past dividend payments.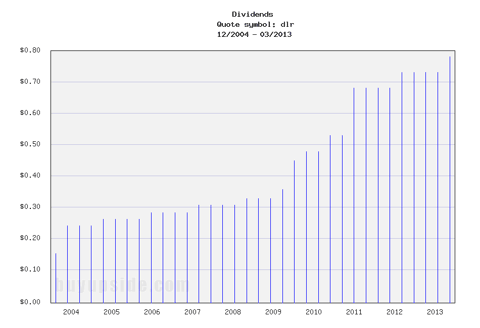 I also like Digital Realty Trust's other growth prospects and fundamentals. First, since the company's 2005 IPO, FFO numbers have increased at a steady pace, from just $1.37 in 2005 to $4.45 in 2012, representing a 18.3% growth in FFO.
3. Intel
Intel, founded in 1968, designs, manufactures and sells digital technology platforms. The company also offers microprocessors, chipsets, system-on-chip products, wired network connectivity products and wireless connectivity products.
Intel is the biggest semiconductor company in the world and owns almost 80% in the microprocessor market, but share prices have been depressed due to worries about the decline of the PC industry, where Intel flourishes in, and the rise in the mobile industry - that Intel is neither successful in nor very involved in. The picture shown below shows exactly what is happening to the technology market currently.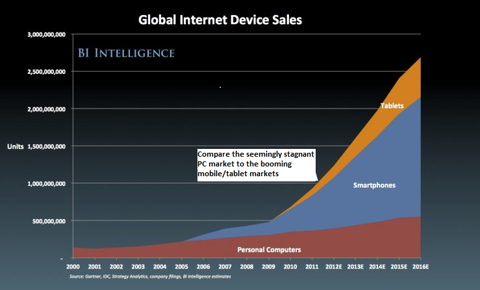 Courtesy Of Business Insider Intelligence, with amendments made
Even so, I believe that Intel will not be going anywhere anytime soon, especially with the funds it has at the moment, and the mammoth-sized funds that are allocated to research and development yearly. But investing in Intel involves taking a considerable amount of risk, given all the uncertainty surrounding Intel at the moment and the competitive and ever changing industry Intel is operating in.
Intel is obviously trying to innovate, and with its recently released products such as Ivy Bridge, which addresses issues such as power-efficiency, shows that it is not losing its luster anytime soon. As shown in the picture below, Intel also has big, unprecedented plans still in its pipeline that will keep Intel the top semiconductor company for years to come.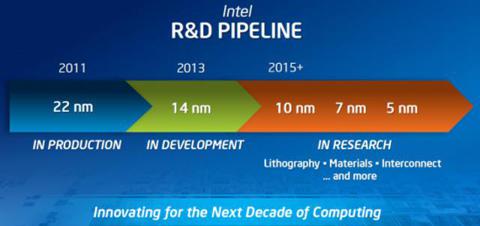 The company has a $121.79B market cap and a 3.67% dividend, as of the May 5, 2013, closing price of $24.50. The company has increased its dividends yearly over the past nine years, which gives Intel Dividend Challenger status, albeit also on its way to Dividend Contender status. Being due to increase its dividend yet again next quarter. I expect it to drive its dividend above the 4% mark at its current price. Intel has a payout ratio of 45%, which shows that the dividend is safe and has the potential to increase at a fast rate over the next few years. The chart below shows Intel's past dividend payments.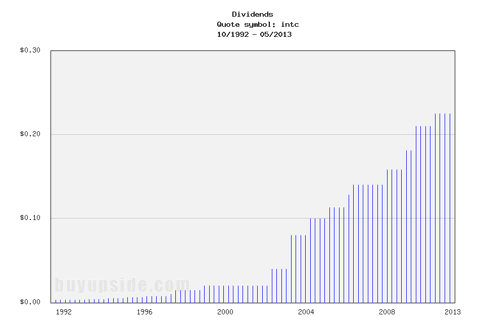 I also like the company in several ways fundamentally. Firstly, it has a low amount of debt compared with equity. It has $13.14B in debt and has a debt/equity ratio of 0.26, as compared to my personal limit of 0.50. This proves that the company is earning enough to not consistently rely on debt to perform its internal operations. The debt/equity ratio, on the other hand, shows the proportion of equity and debt the company is using to finance its assets, and the higher the ratio, the more debt is financing the company. A high level of debt compared with equity can result in volatile earnings and large interest expenses, which can heavily impact a company's financial health over the long term.
Secondly, it has kept its ROE numbers north of 10% over the past 10 years, and recently even locked in an impressive ROE of 22.7%. A high ROE indicates that a company's management is using shareholders' money more effectively, which is good both for the company and its shareholders. The definition of ROE is the amount of net income returned as a percentage of shareholders' investments.
In addition to paying dividends, Intel is also generously buying back stock. From having 6.49B shares outstanding in 2003, the company currently has 4.94B shares outstanding, representing a modest 2.5% buyback rate over the past 10 years. This is beneficial to shareholders as shareholders do not own the whole company - they only own part of the company. Share buybacks will enable the shareholders to own a larger part of the company without owning more shares.
Intel is currently fairly valued at 12.1X trailing 12-month earnings in my opinion. As compared to its nominal 5-year P/E of 17X earnings, Intel looks like a good bargain now, but one must still be aware of some risks involved in buying fast-paced technology stocks.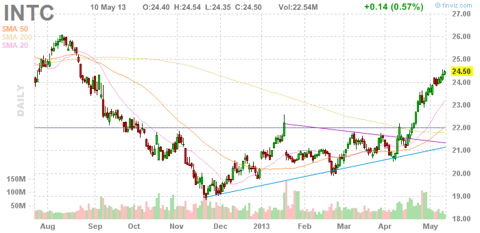 4. Textainer
Textainer, which provides intermodal containers to other groups or companies, mainly shipping fleets, provides a well-needed service. Parcels and goods still need to be transported from one place to another even in recessions, and with the Internet now as a platform for many to buy and sell goods, Textainer does not look like it is going out of business anytime soon. Furthermore, with the many limitations of using airplanes to ship goods, a whooping 95% of all goods are still transported around the world by ship. Thus, it is no surprise that all these containers that Textainer lease are going to continue to be heavily utilized.
Textainer's potential for growth does not end there. Shipping companies also need to lease the containers. Leasing, instead of buying containers, comes with a host of benefits. As we know, the shipping industry is facing many headwinds at the moment. If they buy and manage their own containers, it would only result in a financially weaker company, and leave them with less funds to perform other more beneficial operations.
By leasing, shipping companies can also respond to unexpected demand much better. When there is a sudden surge in demand for these boxes (more orders), they will just have to lease more containers from companies like Textainer.
On the other hand, if they choose not to lease containers, the shipping companies would have to order the containers, which would also require considerable amount of capital and some time for the containers to reach their designated location.
Additionally, this surge in demand is prone to last only for a short period of time, and the additional containers would have to be left unused in the inventory following that. Other miscellaneous costs, including inventory costs and a lower resale price, will hurt these shipping companies over the long term. Further, leasing enhances operational flexibility for these shipping companies. As Textainer has over 150 offices and depots across the globe, leasing containers from Textainer can ensure that they meet customer demands better, as these containers will be available in one of Textainer's many depots.
Being the largest company in its industry, Textainer has many other advantages over its smaller competitors, such as control over pricing and lower costs per container by buying in bulk.
The company has a $2.15B market cap and a 4.82% dividend, as of 10.05.2013's closing price of $38.18. The company has increased its dividends yearly over the past seven years, which gives Textainer Dividend Challenger status. Besides this, it also has increased its dividend for 13 consecutive quarters, to $1.84 this quarter. Furthermore, the company also has a payout ratio of 41.60%, which shows that the dividend is extremely well-covered, and has the potential to increase at a fast rate over the next few years. The chart below shows Textainer's past dividend payments.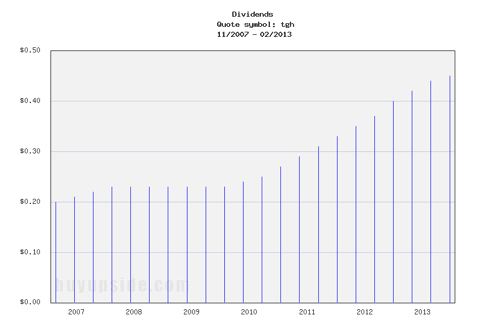 Textainer also looks good fundamentally. First, its ROE has been maintained above the 15% mark since the company's IPO in 2007, and has locked in an impressive 24.47% in 2012. A high ROE indicates that the company's management is using shareholders' investments more effectively, which is highly beneficial to both the company and its shareholders.
Besides this, Textainer's profit margins have been increasing since its IPO, which is fabulous, as it shows that the company is able to gain more income out of every dollar in sales. The company's profit margin is now at an impressive 42.10%, which is the highest as compared to its other competitors, TAL International (TAL), Seacube (BOX) and CAI International (CAP). This could be due to the fact that it has a significant amount of pricing power, being the largest company (by a big margin) in the industry.
Lastly, its Book Value per Share number had been increasing annually since its IPO, from merely $8.49 then to $18.07 now. This is a remarkable 16.4% growth in BVPS per annum since the company's IPO. The BVPS value is calculated by subtracting all liabilities from all assets, then dividing it by the total number of outstanding shares.
In terms of valuation, the company's shares are currently trading at merely 9.6X trailing 12-month earnings and at 8.6X forward earnings. This is a very low, but Textainer's historical P/E ratios seem to be also around this level.
Conclusion
The stocks here are suitable for being held for the long-term and in my opinion, should be a part of any dividend investor's portfolio, not just for the dividends but also for their stability, their strong financials, their leading position in their individual industries and their various other qualities listed in the article above. Nevertheless, please still do your due diligence before investing in these stocks.
Disclosure: I am long ARLP, DLR, INTC, TGH. I wrote this article myself, and it expresses my own opinions. I am not receiving compensation for it (other than from Seeking Alpha). I have no business relationship with any company whose stock is mentioned in this article.