Ebix Inc. (NASDAQ:EBIX) has proven to be the most volatile stock that I followed over the past year. I first wrote about the company back in September when it was trading at around $24.44 / share. My thesis at the time was that EBIX appeared to be an excellent company with solid growth, little debt, and a bright future, but that I would only seek to enter a position at less than about $19/share. That opportunity came soon thereafter (and actually went much lower) until just two weeks ago it was announced that Ebix will be acquired by a Goldman Sachs affiliate for $20 / share. The stock is now trading right around the $20 level as a result, but there is much talk about whether this is a good deal for shareholders or not. For the most part that's all it is - just talk. I intend to take a deeper look today and look at some hard numbers to determine what Ebix's true intrinsic value is based on its current financials.
Past Analysis
My most recent analysis of Ebix was on January 12 of this year. This was after Bloomberg published an article questioning accounting practices at the company which sent the stock price from its high of circa $24/share down to $16. At the time I looked closely at the Q3/2012 data that was available at the time and noted the following:
EPS grew at a 51% compounded growth rate over the prior five years.
Ebix was trading at a PE of 9.5 compared to its historical 12-14 range.
The company had only $34m in long term debt, which was very low compared to the company's total equity resulting in a low debt/equity ratio.
11% of total revenue was being invested in R&D, which I saw as a positive catalyst for future growth.
Ebix pays a dividend (albeit small) and was actively engaged in a stock buyback program.
Based on analyst consensus EPS growth of 20%/yr, EPS [ttm] of $1.89, an estimated future PE of 13 and a 15% discount rate, I estimated Ebix to have an intrinsic value of $30.40 per share. The (then current) trading price of $16.42 represented a 46% margin of safety and I initiated a position at that price.
Acquisition Details
On May 1, Ebix announced the Goldman Sachs (NYSE:GS) acquisition:
After considering a number of potential alternatives, the Ebix board, acting on the recommendation of a special committee comprised entirely of independent directors, unanimously approved this transaction, which provides significant and immediate value to shareholders.
The deal is still subject to shareholder and antitrust approvals, and will close in the 3rd quarter barring any hiccups along the way.
Prior to the May 1 announcement that Ebix would be acquired by Goldman Sachs, the company's stock had begun to recover from both the Bloomberg article and another by Gotham City Research which decimated the share price once again, this time all the way down to $12. On April 30, Ebix closed at $18.61 which makes the $20 offer by GS only a 7% premium to what the stock was trading at the time. The specifics of the deal allow the company 45 days to attempt to find a better deal, but judging by the fact that the stock is currently trading at slightly less than $20, there doesn't appear to be a lot of optimism in the market that this will actually happen.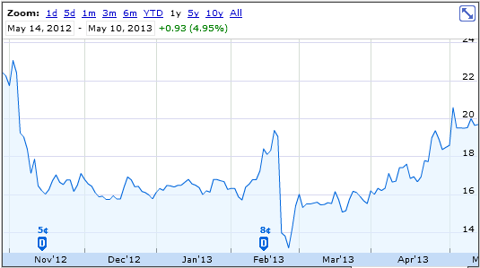 What is the company really worth?
Ebix just announced Q1/2013 results on Friday, so let's use that as the basis for developing the company's current intrinsic value. Revenue increased 20% YoY, and EPS grew 13% over the same period. EPS over the past twelve months is therefore $1.81.
Operating margins appear to be declining for the company - 37% as compared to 42% a year earlier. However, management claims that this is due at least in part to the extraneous costs associated with the GS acquisition. That said, I am a bit more pessimistic about the 20% future EPS growth used in my previous analysis. I will use a slightly more conservative growth rate of 16% for my current analysis.
Lower growth rates command a lower PE ratio, therefore I will use a value of 12 for my predicted future PE. This gives us the following for input into our calculations:
EPS [ttm]: $1.81
Future EPS growth rate: 16%
Future PE: 12
Discount rate: 15%
Time frame: 5 years
Projecting our current EPS of $1.81 forward five years at a rate of 16% gives us earnings of $3.80 in 2018. At a PE ratio of 12, the company would be trading at $45.62 / share.
I require at least a 15% return on my investments, so will use a 15% discount rate to determine Ebix's intrinsic value today. At a 15% rate, the present value of the company's stock equates to $22.68 in today's dollars. Therefore, I value Ebix conservatively at about $22 - $23 / share today.
This indicates to me that the $20 offer to take the company private truly is less than what the company is really worth. Ebix is worth 10 - 15% more than this amount at a minimum. It will be interesting to see whether another offer does materialize, as it would seem that there is at least some room to do so and not overpay for it based on its current financials.
Disclosure: I am long EBIX. I wrote this article myself, and it expresses my own opinions. I am not receiving compensation for it (other than from Seeking Alpha). I have no business relationship with any company whose stock is mentioned in this article.