On December 23, 2012, I wrote a controversial piece entitled Why Apple Should Announce A $100 Billion Stock Buyback. In this piece, I outlined a plan under which Apple (NASDAQ:AAPL) would issue a large amount of debt to finance a massive share buyback. Just weeks ago, AAPL announced a major increase in its capital return program to $100 billion. Under the program, AAPL will increase its share repurchase plan from $10 billion to $60 billion and increase its dividend by 15%. In a more surprising move, AAPL decided to issue $17 billion in debt to help finance the capital return program. While this plan is not exactly what I outlined, it is quite similar. The implementation of this plan seems to have had a significant impact. As shown by the chart below, AAPL shares have risen nicely since the announcement.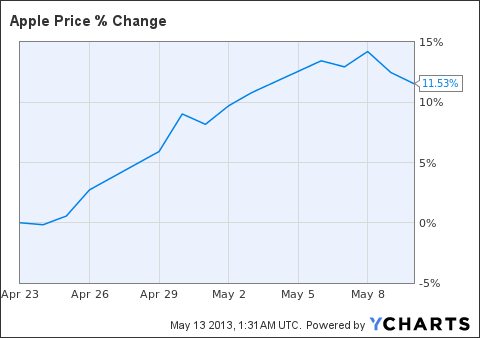 AAPL data by YCharts
Transformational Deal
What AAPL needs to do now is make a transformational deal. For a long time, pundits have suggested AAPL should buy another company. Suggested targets include Sprint (NYSE:S), the third-largest carrier in the U.S., Twitter, the second-leading social media site behind Facebook, Square, the mobile payment company, and Netflix (NASDAQ:NFLX), the largest provider of online streaming video content. In my opinion, all of these deals make sense at least to some extent. I think AAPL shares would respond positively to an acquisition of any of these companies. However, there is another deal that I think would be far more transformative for AAPL.
Apple Should Make Large Investment In China Mobile
China-based China Mobile (NYSE:CHL) is the largest telecom company in the world yet it currently has no relationship with AAPL. Other Chinese telecom companies such as China Unicom (NYSE:CHU) already offer the iPhone 5, however only on the 3G network. Currently, no Chinese telecom companies have recieved government approval to launch their 4G networks. However, it looks like China Mobile could soon be the first to get a 4G license from the Chinese government. This could pave the way for a successful launch of iPhone on China Mobile's network. To be clear, what I am suggesting here is not simply a partnership between AAPL and China Mobile to offer the iPhone but also a massive equity investment by AAPL in China Mobile (possibly in the range of $30- $60 billion).
China Mobile Benefits
Both China Mobile and AAPL would be poised to benefit from an AAPL investment. Of course, with its more than $64 billion in cash, China Mobile is a very well capitalized company. However, to build the fastest network in the world over the largest landmass will likely require massive investment. China Mobile could use a cash infusion from AAPL to offer best-in-class subsidies for the iPhone. That being said, the biggest positive from this deal for China Mobile would be the ability to sell the iPhone to its 700 million plus customers.
Apple Benefits
AAPL would also benefit from making an investment in China Mobile. Firstly, regardless of the iPhone I think there is a very strong case to be made for an investment in China Mobile. Almost certainly, any announcement of a deal between China Mobile and AAPL to offer the iPhone would send China Mobile shares higher. If, as part of the agreement, AAPL became a large shareholder ahead of the deal, then AAPL would also share in the gains from this announcement. More importantly for AAPL, owning a piece of China Mobile gives AAPL exposure to the long-term toll road earnings stream that comes in the form of monthly payments. Currently, AAPL is forced to sell new products to make money. However, if AAPL were to own a large piece of China Mobile, AAPL would have a stake in the recurring revenue that comes from the use of its products. Finally, AAPL would gain a major foothold on the Chinese market. Investors would be forced to look at AAPL as a China play, not just a technology company.
Verizon & AT&T Have Done Well Since iPhone Launch
As shown by the chart below, both AT&T (NYSE:T) and Verizon (NYSE:VZ) have performed well for shareholders since the iPhone's debut in mid 2007. Similarly, I would expect China Mobile to do well following the launch of the iPhone on its network. If AAPL is a large shareholder of China Mobile then AAPL will further boost its own fortunes by taking part in the gains made by China Mobile.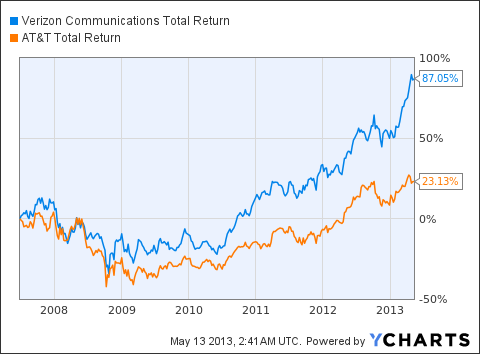 VZ Total Return Price data by YCharts
Conclusion
After making one bold move, borrowing money to fund a capital return to shareholders, it is time for AAPL to make another one: a major investment in China's largest telephone company. An investment in China Mobile would likely earn AAPL a good rate of return, increase its exposure to the Chinese economy, and diversify its revenue stream to include more recurring revenue via China Mobile.
Disclosure: I have no positions in any stocks mentioned, and no plans to initiate any positions within the next 72 hours. I wrote this article myself, and it expresses my own opinions. I am not receiving compensation for it (other than from Seeking Alpha). I have no business relationship with any company whose stock is mentioned in this article.