Apple (AAPL) has experienced a tumultuous 2013 in which the stock has dropped 19%, despite the overall market rally. Apple has jumped five percent in the past month and investors are holding their breath to see if an Apple rally is forming. Optimism surrounding the company has diminished and in a surprising shift, the media is now extremely critical of Apple. Now more than ever it is important to monitor developments for Apple and its competitors. Below I will layout the reason why I continue to recommend Apple and, as a supplement, present complementary option strategies. For details on my methodology, please consult the first article in the series as well as my Instablog.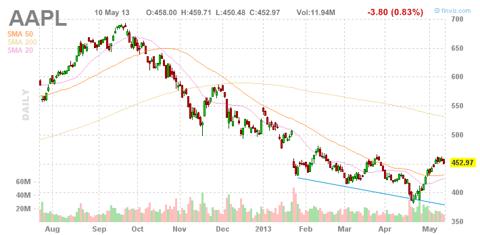 (Source: Finviz.com)
Apple reported its second quarter 2013 results recently and they were generally in-line with my expectations. To say that Apple was slumping ahead of earnings is a dramatic understatement: the shares had lost approximately forty percent of their value in the past six months ahead of earnings. Fortunately, value investors heard enough to like this quarter and drove the stock off its lows. The quarter has been analyzed backwards and forwards but I want to highlight one potential leading indicator for Apple that has largely been ignored: the sturdiness of the Mac product line.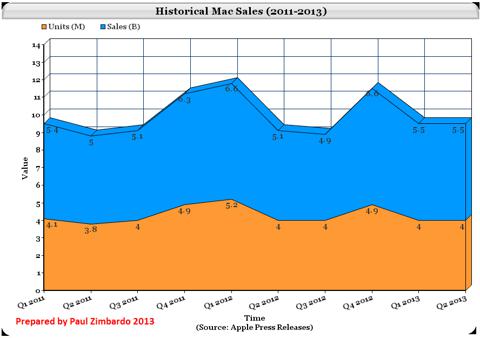 In the second quarter of 2013 Apple sold four million Mac personal computers and earned revenue of $5.5B for an average sales price of $1,378. As you can see from the chart above, Apple has generally been selling around four million Macs per quarter with notable increases in the holiday quarter (Q1). The fourth quarter of 2011 also was higher than usual because of a product refresh that quarter. Despite the generally flat sales, the Mac ASP has generally been increasing. For example, the ASP has risen over $100 in the past year and is now at its highest point in the past ten quarters. The remarkable aspect of this performance is how resilient the Apple brand has been in contrast to overall PC sales. As of July 2012 the ratio of Mac to PCs sold was at its lowest point since 1996/1997 and has likely fallen even further. I believe that investors are not fully appreciating what a strong indicator of success Apple has shown with its consistent Mac sales.
Despite only recording seven percent year-over-year growth, the performance of the Mac line was one of the most impressive aspect in the second quarter. The headwinds facing the personal computer industry are substantial to say the least. In the first quarter of 2013, PC sales dropped by 14%, the largest decline in almost twenty years. This means that Apple was able to outperform the industry by twenty-one percentage points and generated very respectable year-over-year growth in a down market. Macs are less important for Apple than they were in 2012 due to the rise of the iPad but Macs still generally account for over ten percent of the company's total revenue. More importantly than just the absolute revenue contribution, the health of the Mac line indicates the brand loyalty and stickiness of iOS. In the past Apple used iPods as a way to sell Macs but the situation has reversed and now Apple uses iPads and iPhones to sell Macs.
The greatest concern with Apple as a company is that it will be unable to sustain its growth and profitability in the future and there are valid concerns. As Apple continues to build its Mac install base it builds on its 'halo effect' and creates highly loyal customers who will buy Apple's 'next big thing' when it launches. I have written about the halo effect many times in the past and it is the 'X factor' that many tech analysts and investors are not fully accounting for. Investors need to start looking at Apple like more of a lifestyle brand company that allows it to weather less exciting times between launches. I have written extensively in the past about the high barriers to entry and switching costs that Apple has erected to combat rivals and both will keep Apple relevant for years to come. Surveys have continually proved that Apple customers are more loyal and willing to buy other Apple products in the future. The next six months might not be the most exciting for Apple investors but Apple is not just a company that relies exclusively on hits to carry its performance. Having said that, it is rumored that Apple could be announcing refreshes to its MacBook line at the upcoming Worldwide Developers Conference in June so stay tuned. Apple has been increasing its rate of capital expenditures in recent quarters and we could be seeing some tremendous innovations come out of Cupertino in the upcoming years.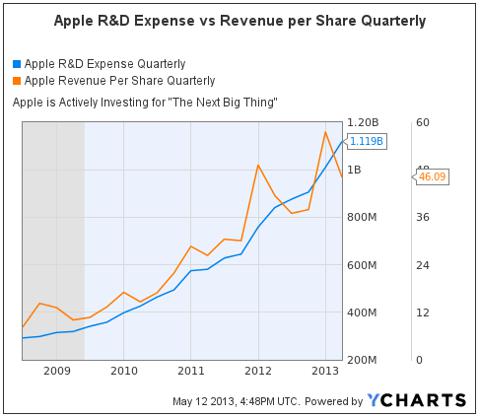 Apple has essentially not announced a new product for six months and the company continues to perform financially well. The comparisons between Apple and Nokia, Research in Motion, and other fallen technology stars is inappropriate because neither of those companies had the brand loyalty or following that Apple does. The flipside of Apple's resilient Mac sales is Microsoft's (NASDAQ:MSFT) disappointing launch of Windows 8. Everyone knows the famous pattern of alternating Windows version successes: for every Windows XP there is a Windows Vista and for every Windows 7 there is a Windows 8. The comparisons between Windows 8 and new Coke are a little extreme but it is apparent that Microsoft's touch strategy with the Surface and Windows 8 was premature. Microsoft has already announced that it plans to update Windows 8 quite significantly to address consumer complaints but at this point it might be too late. In late 2012 Microsoft's P/E surpassed Apple's P/E and Microsoft is now trading at a sizable premium. Apple now offers a comparable dividend yield and a $50B increase in its share repurchase plan - both compelling reasons to swap the relatively expensive Microsoft for Apple.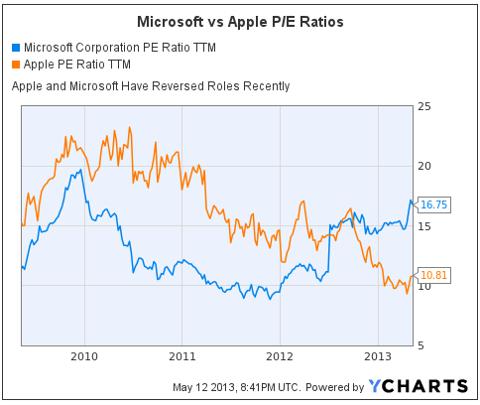 To summarize my argument, the resiliency of Apple's Mac sales highlight the fact that consumers will continue to prefer Apple products for the intangible benefits despite having higher prices and lower technology specifications at times. Even if Samsung's Galaxy S4 smartphone is more advanced than Apple's iPhone 5, consumers will still buy the iPhone. Apple's style and ease of use will continue to keep the company thriving as it is one of the most popular brands in the world. Mac sales can be a leading indicator of whether consumers still desirable Apple's brand: as long as Apple is able to sell laptops and desktops in this environment, it should face minimal difficulty competing in the smartphone and tablet wars.
I took a break from presenting my typical weekly option strategies the past month as Apple was trading at such a low price that the call premiums received would be outweighed by the large potential gains on the stock. Now that Apple is back trading over $450, I believe it is appropriate to consider selling calls or cash secured puts again.
Below I present three possible scenarios and the potential returns for the Apple options:
Apple Down 5%
Apple Unchanged
Apple Closing at 50 Day Simple Moving Average (NYSE:SMA)
These scenarios are forecasts and there is no guarantee that they will come to fruition. For more information on the fundamentals of covered calls, consult Investopedia. I utilize conservative covered calls to simultaneously generate income and reduce your effective cost basis.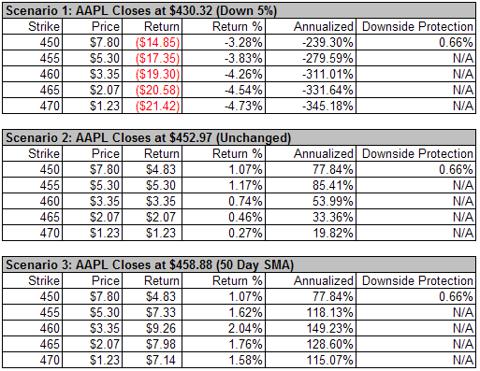 Additionally, if you would like even more information, I have prepared a sensitivity analysis for absolute return and percent returns, respectively. After studying the information above, these two charts make it easy to pick a strike price based on where you believe Apple will close at the end of the week. Estimate where you believe Apple will close and select the strike price with the highest return.
Recently mini options were offered for Apple under the option symbol of AAPL7 and you will see them in a non-standard option chain representing ten shares of the underlying. Instead of multiplying the option price by 100 per contract, investors will multiply the premium by ten per contract. This opens up Apple option trading to a much wider audience and facilitates covered call strategies if you have at least ten shares of Apple. Additionally, the barrier to writing cash-secured puts has been dramatically lowered by the creation of mini options.

With this information, executing a buy-write on AAPL May 18 $465s is the preferred risk-return strategy as an opening Apple transaction. The option has a potential return of $2.07 (time value) and should provide coverage against a slight drop. Last week Apple briefly surpassed $465 but had resistance at that level. A more conservative approach is to write the $470s currently trading at $1.23 - this strategy is excellent for long-term Apple investors who want to generate income while still staying long the stock. An alternative approach is to sell out-of-the-money $445 puts and collect the $3.25 premium without having to purchase the stock outright. Note that if the stock declines to the strike price, you are obligated to buy the stock (or closeout the position). You should always consider the risks (particularly with naked calls or puts) raised in this article in light of your personal circumstances (including financial and taxation issues) in consultation with your professional financial adviser.
Please refer to profile page for disclaimers.
Disclosure: I am long AAPL. I wrote this article myself, and it expresses my own opinions. I am not receiving compensation for it (other than from Seeking Alpha). I have no business relationship with any company whose stock is mentioned in this article.