On May 8, renewable oils innovator Solazyme (SZYM) went into lengthy detail over its technology's latest breakthrough during the Q1 2013 conference call transcribed here. The company announced that it was now able to control "positioning" along with the ability to control carbon chain length and saturation when it comes to tailoring oils. In what must've sounded more like a lesson in chemistry than your typical report on earnings, management actually provided significant insight into why Solazyme's technology continues to gain value. Most importantly, this appears to be value that investors are simply unable to see through the financial results it now reports.
Click to enlarge images.

As it stands now, the development company with a market capitalization of $636 million reported a mere $6.7 million in quarterly revenues, representing a 50.8% decline year over year. Yet those following the company closely would also have noted that product revenues remained flat as expected. With only 1,820 metric tons (MT) of production capacity owned by the company and only a portion of it being dedicated for revenue generation, it's clear that these revenues are not proportional to what's to come. In fact, an average investor would have been foolish to think this revenue decline was actually representative of the company's progress at all.
Indeed, within a year Solazyme is expected to bring online nearly 125,000 MT of additional capacity now under construction through multiple joint ventures. This has left analysts predicting revenues of $283 million in 2014. Such a rapid growth in manufacturing capability comes on the heels of a growing number of partners wanting to benefit from Solazyme's technology. This is why it remains utterly important for investors to understand the capabilities of the promising technology that Solazyme is now placing into commercial production.
Advancing Beyond Oilseed Development on Multiple Fronts
On many occasions, Solazyme has often contrasted its results with those from large agroscience companies such as Monsanto (MON), Dow Chemical (DOW), and DuPont (DD). As names most heavily associated with oilseed development, agroscience companies such as these stand on the front lines of developing new oils through genetically engineered seeds. Yet where these names have dominated plant oil production, Solazyme is now introducing a new method of deriving competitive oils by utilizing modified heterotrophic microalgae and conventional industrial fermentation. Above all, Solazyme is beginning to show the immense advantages found in its proprietary platform.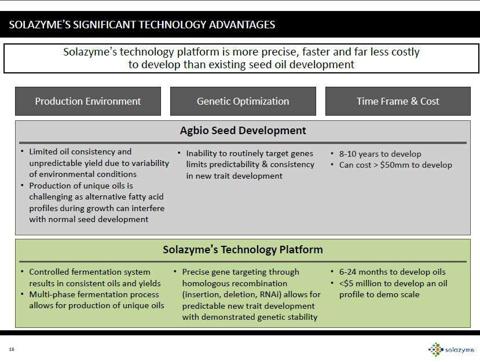 Monsanto itself admits to the long development cycles of new traits, as seen on its website:
On average, companies typically invest between $50 million to $100 million and spend approximately 8 to 10 years in order to bring a biotechnology product from concept to reality. Additional time and expense is often required to produce breeding stacks.
Conceptually, the development of a new plant trait is inevitably more time-consuming than genetically modifying microalgae. For one, there is the development lag of having to grow test plants over weeks rather than watching microalgae reproduce daily. Additionally, there is another advantage in gene manipulation as modifying certain genes may restrict a plant's ability to grow altogether. More details about this last idea can be seen in my other article, found here. Altogether, the benefits seen above are largely due to working with a subject material that has numerous advantages over current plant technology.
Comparing the Latest Products
One of the more interesting examples of these platform differences can now be partially seen through the product pipelines of both Monsanto and Solazyme. In 2005, Monsanto introduced Vistive low-linolenic soybeans in an attempt to reduce or eliminate trans fatty acids in processed soy oil. The results of the new oil can be read about in the article found here, summarized by the following statement:
VISTIVE soybeans, developed through conventional breeding, contain less than three percent linolenic acid as compared to the typical eight percent level found in traditional soybeans. The result is a more stable soybean oil, with less need for hydrogenation. Because soybeans with a lower linolenic acid level reduce the need for partial hydrogenation, their application in processed soybean oils will reduce the presence of trans fats in processed soybean oil.
The quality of the change itself appears to be somewhat miniscule as the company only reduced the amount of linolenic acid by a mere 5%. However, in the world of agroscience such small changes remain large accomplishments. It's also interesting to note (from the same article) that at the time Archer Daniels Midland Company (ADM) was willing to pay a premium to farmers in order for them to adopt the new seed.
Hopes of reducing trans- and saturated fats in soy oil have been circulating around Monsanto since at least 2003, as seen in the article found here. Ironically, at this time Solazyme was just being founded as a start-up company operating in the garage of the company's founders. It wasn't until the last few years that Solazyme even began development of a high-oleic oil, which has also been an aim of Monsanto through the Vistive brand. As seen in the graphic below, Solazyme compared its own high-oleic oil last year against Monsanto's Vistive.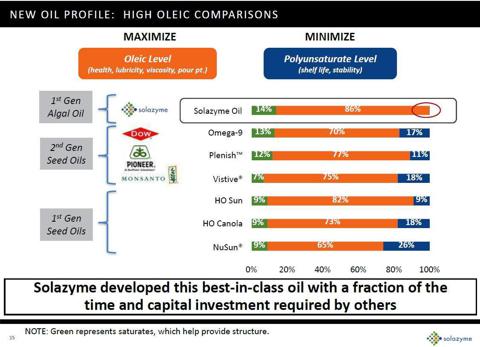 Yet in doing so, Solazyme suggests that it has already largely accomplished the goal Monsanto had set out to achieve a decade prior. Even today, Monsanto's work on Vistive continues with the latest trait (Vistive Gold) expected for a commercial launch in 2014, as seen in the graphic below. Throughout this period as Monsanto progressed on its brand, Solazyme was able to incorporate, develop a new technology, expand its operations, and finally begin development on new oil profiles in the same amount of time. Even then, it was still able to beat Monsanto to the finish line. Restricted by the lack of production facilities, commercial production for Solazyme now appears to be launching around the same time as Vistive Gold.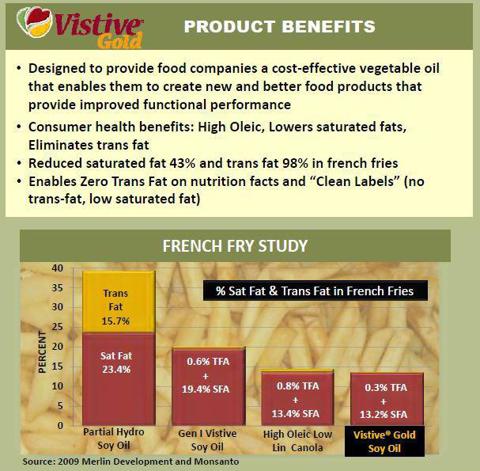 Taking a Look at Indirect Land Use
However, perhaps one of most interesting things about Solazyme's technology actually lies in a concept of efficient land use. Referring back to the pursuit of high-oleic soy oil, a real victory lap for Solazyme lies in its more efficient use of land resources. According to this website, 11 pounds of soy oil can be derived from a 60-pound bushel of soybeans. With an average of 41.5 bushels of soybeans per acre, this results in a yield of 456.5 pounds of soybean oil. Therefore, 1 acre of land is roughly able to yield 0.207 MT of soy oil.
On the other hand, according to Solazyme's S-1 statement, it's believed that 8 million MT of sugarcane crush capacity can support over 400,000 MT of oil per year resulting in a conversion ratio of 20-to-1. According to the website found here, the average yield of Brazilian sugarcane is 35 tons per acre, which roughly translates into 31.75 MT of sugarcane. Using the above conversion ratio, this means that 1 acre of land is roughly able to yield 1.5875 MT of Solazyme oil when the land is dedicated to sugarcane production.
Conclusion
It remains an understatement to say that Solazyme's technology has failed to be understood by Wall Street. Even today, the company's shares trades at a 40% discount to its IPO price due to negative associations with the advanced biofuel industry. While companies like Monsanto and Dow will continue to dominate the seed industry, investors should continue to watch as Solazyme makes pressing gains when it comes to the renewable oil industry.
As shown above, Solazyme's process is able to produce more than seven times the amount of comparable oil out of the same amount of land than seed companies can currently accomplish using soybeans. Such an advantage is immense when it comes to dictating the direction of technology adoption. If the end goal is oil production, why produce it utilizing a process that takes seven times the amount of resources? Yet even this fails to consider the vast additional differences between the two technologies. Solazyme's process is also able to introduce more control, more flexibility, and to ultimately be more cost-efficient than comparable plant-based processes. Without a doubt, investors should keep this company on their watch list as its story continues to unfold through the execution of its global business strategy.
Disclosure: I am long SZYM. I wrote this article myself, and it expresses my own opinions. I am not receiving compensation for it (other than from Seeking Alpha). I have no business relationship with any company whose stock is mentioned in this article.