Baidu (NASDAQ:BIDU) is taking advantage of its clean balance sheet (it reported more than $5 billion in cash at the end of March) to perform some strategic investments that could add long-term value. The most recent case is the acquisition of PPS.
In a statement issued last Tuesday, Baidu confirmed the acquisition of online video provider PPS for a $370M premium. The acquisition is expected to close in the June quarter. Baidu will merge the company with its own video platform, iQiyi. Considering the current MAU base of iQiyi, by merging PPS, Baidu will effectively become China's largest online video platform.
This article introduces our coverage of Baidu by reviewing the acquisition event. First, we introduce the current momentum of the stock. Then, we explain why this is a positive long-term catalyst. We finish this article with our traditional final remarks.
Momentum
The stock price reached a 6-month high of $112 on January 11th. However, some disappointing announcements in February, March and April caused the stock price to underperform later.
For example, investors were pessimistic after Baidu's announcement of the first quarter expectations results of 2013, on February 4th. The firm announced it expected total revenues in an amount ranging from RMB5.890 billion ($945.4 million) to RMB6.080 billion ($975.9 million), but the Street consensus at that time was $963.7 million.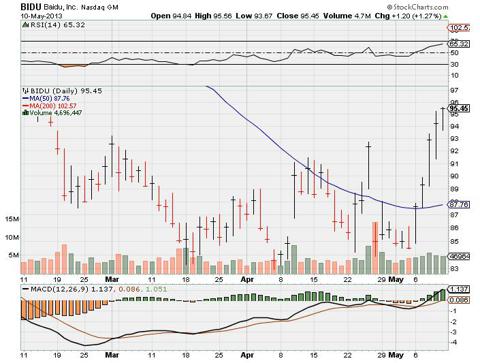 More recently, on April 25th, the stock lost 8% in after-hours trading in the U.S. after it reported slower-than-expected growth in the first-quarter profits. Revenue rose by 40% y/y to $961 million, but Baidu's net profit attributable to shareholders increased only 8.5%, well below expectations.
Causes for decreasing growth rates include an increasingly fierce competition among Chinese search engines (specifically, against Qihoo) and increasing costs as Baidu tries to consolidate its video site, iQiyi.
This is why the news and previous rumors of the PPS acquisition were taken very well by the markets: the stock is up 10% since the announcement. The acquisition of PPS can help Baidu to mitigate these worries, as we will see in the next section.
The PPS Acquisition: Baidu as China's Largest Online Mobile Video Platform
Main thesis (quick take): Baidu's acquisition of PPS is a long-term catalyst because it reinforces its mobile presence through the consolidation of iQiyi as the biggest online mobile video platform in China. Considering that by 2017, more than 700 million users in China are expected to watch videos online (McKinsey Research), the early consolidation of iQiyi further solidifies Baidu's lead in China.
Although Baidu already serves 500,000 advertisers, increasing competition from search engines like Qihoo (NYSE:QIHU) pose a long-term risk to traffic. To hedge this risk, Baidu is investing in services like iQiyi (video platform), to strengthen its position as the biggest online advertising platform in China.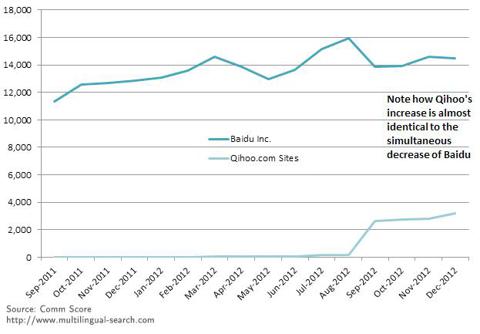 PPS has a strong mobile Internet presence: 130 million devices (Morning Star) are running its video app. Considering that iQiyi claims 200 million monthly mobile users, the acquisition makes Baidu the clear owner of the biggest mobile video platform, as Youku-Toudo's (NYSE:YOKU) DAU is estimated to be at 150 million.
By owning the biggest video platform in the market, Baidu is pursuing a strategy similar to what Google (NASDAQ:GOOG) is doing in the U.S: keeping traffic and user engagement levels high by not only providing a search engine, but a fully integrated Internet experience, through the offering of new services.
Benefits
Like YouTube's role in Google, iQiyi is a crucial element in the long-term strategy of dominating the whole Internet market in China:
- A mobile video platform strengthens Baidu's mobile position.
- By owning the largest video platform, Baidu will enjoy economies of scale.
- Baidu becomes the leader in an attractive segment of the Internet market. Chinese Internet users are increasingly watching movies from mobile devices. According to McKinsey, 700 million Internet users are expected to watch video content online by 2015. Most of this growth will occur in mobile platforms. Thus, this acquisition guarantees growth in the long term.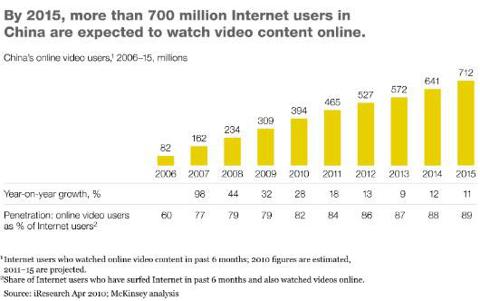 - Synergies: iQiyi offers videos via Web browser. PPS offers videos via PC and mobile software.
- Cost optimization: By owning the biggest mobile video platform, Baidu is in a better position to negotiate royalties for video content.
- Promoting other Baidu's products becomes easier, due to a bigger and stickier MAU.
Finally, if Baidu manages to monetize iQiyi effectively in the long term, revenue will be more diversified. The current core revenue driver is paid search, but brand advertising on iQiyi looks promising.
Final Remarks
Price target: $110
Rating: Buy/from Neutral
Uncertainty: Medium
Strategy: Event driven
Disclosure: I have no positions in any stocks mentioned, and no plans to initiate any positions within the next 72 hours. I wrote this article myself, and it expresses my own opinions. I am not receiving compensation for it (other than from Seeking Alpha). I have no business relationship with any company whose stock is mentioned in this article.