One of the few investors that I follow, Jeffrey Gundlach, made an interesting comment the other day about MLPs.
So many people are moving away from bond investments for obvious reasons but are going into things that are like going from the frying pan into the fire. Look at MLPs. If interest rates rise you are going to get killed on a lot of these vehicles because they have a lot of leverage and a lot of interest-rate risk.
It really got me thinking and looking into the space. Then I decided to look at the performance of the JPMorgan Alerian MLP Index ETN (NYSEARCA:AMJ).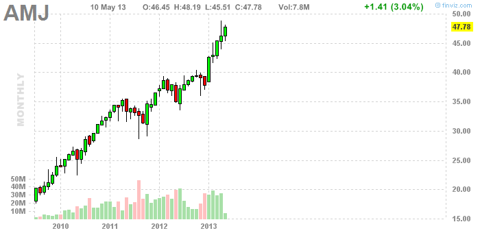 As you can see, the place to be in the last few years has been in the MLP space as performance has been great. But I'm now seeing the same thing that Gundlach sees. MLPs have performed well because we've been in a low-interest rate environment. Investors have been in search of yield and MLPs have been one of the best, if not the best, place for investors to go for income.
Then as I was researching this article, I came across the fact that the JPMorgan Alerian MLP Index ETN is trading at a premium to its underlying assets. Now the explanation is that this premium is related to an options trade, but in my mind it's signaling that a bubble is forming in the space.
Debt Levels
Many of these MLPs have grown via a mergers and acquisition strategy and have piled on too much debt. As interest rates rise and these MLPs have to refinance their debt, holders are going to get hurt.
| | | | |
| --- | --- | --- | --- |
| | Kinder Morgan (NYSE:KMP) | Energy Transfer (NYSE:ETP) | Enbridge Energy (NYSE:EEP) |
| Market Cap | $33.55B | $14.94B | $9.45B |
| Debt | $19.54B | $16.30B | $6.46B |
As you can see, these 3 big names in the MLP space all have high debt loads. Interest rates cannot go any lower. What can't go lower, must go higher in time.
Infrastructure
Another key element that many investors are missing in looking at the space is the fact that pipes don't last forever. The way the tax code is written, MLPs are able to depreciate these assets relatively quickly and achieve the tax advantage early. Once the asset is depreciated, the tax advantage is no longer there.
Changes In Tax Code
Investors in MLPs continue to ignore the potential ramifications of changes in the tax code. Right now changes aren't imminent, but many investors ignore this fact. The folks in Washington want to clamp down on flow-through entities like MLPs. Just recently Fitch addressed this issue:
A phase-out of the pass-through tax status of U.S. master limited partnerships could result in a significant restructuring of the sector with different implications for both bond and equity holders, according to a Fitch Ratings report.
The longstanding focus in Congress on locating new sources of tax revenue and the fact that the sector has seen explosive growth over the last several years highlight the importance of examining any potential impact of a phase-out scenario on MLP issuers. That said, Fitch believes there is little likelihood of the MLP tax advantage changing in the near-to-intermediate term.
Share Prices In MLPs Can Go Down
What was interesting for me when researching this article was that during the financial crisis, MLPs went down more than the overall market. Between July 2007 and December 2008, the overall stock market fell 41%. The Wells Fargo MLP Index fared even worse. That index dropped 49%. If the stock market run slows down, history can and many times does repeat itself and we can see MLPs weaken more than the overall market. This is especially true considering that the sector has done so well.
What should an investor in the MLP space do?
I believe that Gundlach brings up a valid point and investors on MLPs have to recognize the fact that a rise in interest rates and other factors can affect their investment. I do think it's time to reduce some exposure to the space overall and book profits. If investors want continued exposure to MLPs, my 2 favorites are Plains All American Pipeline (NYSE:PAA) and Magellan Midstream Partners (NYSE:MMP).
Plains Chairman Greg Armstrong is one of the smartest guys in the business. He has done well positioning Plains. Plains has a current market cap of $19.94 billion and a manageable debt load of $6.33 billion. Return on equity is an impressive 20.37%. Over the past year, the MLP is up almost 48%. It pays an annual distribution of $2.30 for a yield of 3.90% and the payout ratio is 68%.
Of the analysts that follow Plains, 8 have it rated as a Strong Buy, 10 a Buy, and 4 a Hold. Price targets range from $52 to $66 with $62.50 being the median target.
Magellan Midstream Partners has a current market cap of $11.99 billion and total debt of only $2.39 billion. Return on equity is 30.60%. Over the past year, the MLP is up just over 52%. It pays an annual distribution of $2.03 for a yield of 3.80%.
Of the analysts that follow Magellan, 1 has it rated as a Strong Buy, 3 a Buy, and 12 a Hold. Price targets range from $51.50 to $59 with $55 being the median target.
Final Assessment
I advise holders in MLPs to check their respective debt loads and rotate out of MLPs with high debt. If holders wish to be in the space, look for MLPs with smaller market cap to debt ratios like Plains or Magellan. Investors also have to consider how long they've been invested in the space and when to start taking some money off the table.
Disclosure: I have no positions in any stocks mentioned, and no plans to initiate any positions within the next 72 hours. I wrote this article myself, and it expresses my own opinions. I am not receiving compensation for it (other than from Seeking Alpha). I have no business relationship with any company whose stock is mentioned in this article.