Well it's going to be busy week. I'm headed to The Money Show in Las Vegas tomorrow to begin the official launch of my monthly newsletter, The Intelligent REIT Investor. Then later in the week I will be attending the 2013 RECon Las Vegas conference. For those of you who don't know, RECon is a global convention for shopping center professionals and this year's event promises to be well attended with over 30,000 industry professionals and over 1,000 exhibitors.
My first ReCon conference was in 1988 (just out of college) and then the retail industry was just heating up. It was then that I learned about the "big box" format (Wal-Mart (WMT) didn't open its first Supercenter until 1988) and I witnessed, first hand, the boom fueled by the inflated stock market, loose credit, and consumer consumption.
The retail industry flourished in the 1990s and so did my development career. My partner and I co-developed over 100 projects in the go-go 90s as the housing boom propelled the big-box retailers into an era of maxed out home equity lines and "no doc" loans. Then came the crash and consumers pulled back.
I'm Now in the Intellectual Property Business
So it's 2013 and I'm attending the annual "Super Bowl" of retail as a financial journalist. What does that mean? It means that I'm not a reporter. I'm not an analyst. I'm no longer a developer. I'm definitely not a gambler. No, I'm attending the annual trade show in Las Vegas to gain insight into the world of retail REITs. What do I want to accomplish?
I want to know how retail REITs differentiate themselves from their peers. I also want to know how retail REITs remain competitive with the growing threat of e-commerce. I would also like to know how retail REITs will manage the risks ahead such as rising interest rates and more specifically how REITs manage the portfolio risks that impact certain retailers.
Of course, as a developer in the 90s, I also want to know who is building. It seems that community centers are seeing renewed activity and I'm anxious to determine how much new retail product is being built. We all know that the Triple Net REITs are buying up the world; however, I would like to know how many new freestanding stores are being constructed and if there will be enough supply to keep up with the demand.
Things Are Looking Good
Last year (2012) the Retail REIT sector was one of the best performing sectors as the 31 REITs returned an average of 26.74%. So far this year, most REITs have turned in Q1-13 score cards and the results look good.
Of course, leading the way in all sectors and subsectors is the Triple Net (or Free -Standing) REITs. With an average dividend yield of 4.1%, the Triple Net REITs have returned an extraordinary 28.75% year-to-date. At the ReCon conference I plan to interview the CEOs of Realty Income (O), National Retail Properties (NNN), and Agree Realty (ACD).
The Triple Net REITs remain the dominant sector from an acquisition standpoint. With significantly low cost of both debt and equity and an endless supply of potential assets to purchase, this sector appears likely to sustain the significant acquisition momentum it has enjoyed over the past two years at highly accretive spreads.
The shopping center sector also appears to be getting stronger and stronger. Year-to-date the leasing spreads have improved and occupancy is gaining. As evidenced by first quarter total returns of 19.47%, the shopping center sector appears to be improving - especially in primary trade areas.
At RECon I plan to interview the CEOs of AmREIT (AMRE), Kimco Realty (KIM), Inland Retail Corp. (IRC), Regency Centers (REG), Weingarten Realty Investors (WRI), Excel Trust (EXL), Retail Opportunity Investment Corp (ROIC), and DDR Corp. (DDR).
Finally, I plan to interview the CEOs of Taubman Centers (TCO) and Tanger Factory Outlets (SKT). These veteran REIT CEOs have both weathered multiple recessions and neither of the REITs have ever cut a dividend. Both of these mall REITs are growing (YTD total return for the sector of 14.4%) and I'm anxious to talk with them about the prospects of external growth and the status of several announced new development projects.
The Retail Recovery is Still Underway
The retail sector appears to be healthy as same store NOI growth, occupancy, leasing spreads, and tenant sales are solid. The Great Recession sparked a wave of tenant bankruptcies, however, the current tenant delinquencies are at record lows.
Consumer balance sheets and REIT balance sheets were both transformed and the result is a new mindset focused on thrift and conservatism. Today REITs enjoy low leveraged capital structures combined with low cost debt and equity. That powerful combination will enable REITs to benefit from the rising economic recovery trends.
As I travel this week to these two conferences, I will keep you informed as I plan to write an article on the evolution of the retail storefront. I welcome any suggestions or ideas and perhaps any specific questions for my interviewees. Meeting with management is a critical component and I will have my eyes and ears peeled in pursuit of the REIT with the widest moat.
I don't miss the good old days of being a developer. I accept the fact that I'm a much better writer, advisor, and consultant than I was as a developer. It's one thing being out in the trenches battling zoning boards, contractors, bankers, and attorneys. I have learned more as a financial journalist than I ever would have learned had I attended Harvard or Yale.
I have experienced the full spectrum of success and that means that I have always witnessed failure. So as a disciple of Ben Graham, I intend to use my broad commercial real estate experience and forge ahead with a mission of delivering sound "traces of wisdom" for all intelligent REIT investors. Graham said it best:
Adversity is bitter, but its uses may be sweet. Our loss was great, but in the end we could count great compensations.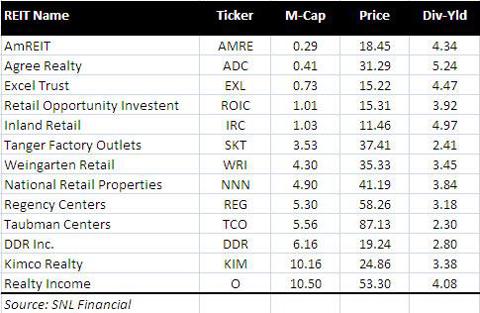 Source: SNL Financial
Disclosure: I have no positions in any stocks mentioned, and no plans to initiate any positions within the next 72 hours. I wrote this article myself, and it expresses my own opinions. I am not receiving compensation for it (other than from Seeking Alpha). I have no business relationship with any company whose stock is mentioned in this article.