Over the last few months, we have seen somewhat of a spike in the share price of Himax (NASDAQ:HIMX). They recently released Q1 earnings results in which they highlighted some significant gains, mainly with small and medium sized panel drivers. Himax apparently solidified deals with Microsoft (NASDAQ:MSFT), Sony (NYSE:SNE), etc. to enhance the capabilities of smartphones and tablets. Himax currently has a huge upside due to the large shift happening with high resolution panels in mobile gadgets. In addition to the current demand shift, Himax could possibly land a deal that will make them the major supplier for the upcoming Google (NASDAQ:GOOG) Glass Products.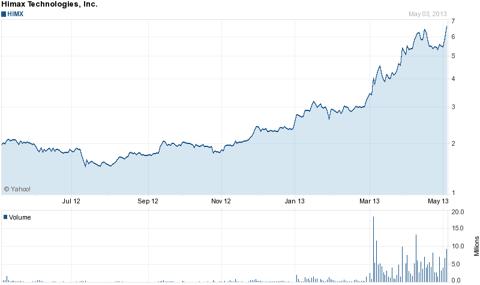 Image Source: Yahoo Finance
Competitive Analysis
Supply and Demand - Currently, Himax products have become more in demand due to the current shift taking place. According to their recent earnings report, inventories for Himax increased to $138.3 million in Q1 2013, which is up from $118.5 million as of Q1 2012 and up from $116.7 million as of Q4 2012. The company raised inventory levels during the first quarter of 2013, as it expects an increase of shipments during the second quarter of 2013. Himax will benefit from the growth momentum brought on due to increased demand for higher resolution smartphones and tablets. This will provide tremendous growth for their display drivers and touch-controller products.
Market Share Trend - Himax is considered to be a pioneer of technology throughout the semiconductor industry. The portfolio they maintain for display drivers and panels is pretty diverse and come in all sorts of sizes. In addition to the diversity of Himax products they have a very diverse customer base, which does not limit them to relying on a single customer. In the last year, total revenues for Hi-max increased by 5.4% to $175.7 million. Small and medium‐sized panel driver sales increased by 26.1%, which represent 51.9% of total revenue from Q1. The future is looking great for Himax. Expect positive growth throughout the remainder of 2013 with strong growth in small and medium‐sized driver and non‐driver products.
Growth Opportunities
Growth Opportunity #1 - Himax is a technology leader in smartphone driver ICs which include hVGA, nHD, WVGA, qHD and HD720. In the last couple of years they have shown tremendous growth momentum from major brands in the Chinese markets. They have an opportunity to become the industry leader in higher resolution products due to the current industry trend.
Growth Opportunity #2 - LCOS Micro Display has been successfully placed in cameras and other handsets, but the major use for these Micro Displays will be for Head-Mounted Displays (HMD). Himax is currently working with a handful of "blue chip" customers to have large shipments of HMD products shipped out. In addition to the increased demand for these applications, Himax is also working with numerous partners on developing new HMD applications. Most of these shipments were expected to release in early 2013.
Growth Opportunity #3 - Himax is currently ready for high-end smartphones. The growth of Android will be major for Himax. Sources predict that by the end of 2013 there will be over one billion people using Android phones and possibly two billion within the next year or two. Currently, the majority of mainstream smartphones include the HVGA and WVGA display resolution. They are geared up and ready for the higher end smartphones that come with HD720/WXGA with LTPS/GIP.
Conclusion: The potential deal with Google is not the only headline for Himax. Himax is well-positioned to be a main supplier of several "blue chip" tech firms as demand for high resolution gadgets continue to grow. We should anticipate the growth of Himax to continue throughout the rest of 2013.
Disclosure: I have no positions in any stocks mentioned, and no plans to initiate any positions within the next 72 hours. I wrote this article myself, and it expresses my own opinions. I am not receiving compensation for it (other than from Seeking Alpha). I have no business relationship with any company whose stock is mentioned in this article.