Silver Wheaton (SLW) reported earnings that slightly beat analyst estimates. It is of note that the estimates were trending down in recent months together with falling gold and silver prices, and the company did not manage to meet the sharply revised estimates. It was even worse with the reported revenue, as the company missed the revenue target by $46 million. As I stated in my previous article on Silver Wheaton, and it is not different now, the long-term prospects are bright for Silver Wheaton, but the short-term pressure is still present.
Earnings highlights
Silver Wheaton reported first quarter net earnings of $0.38 per share, down 9% compared to the same quarter last year. Revenue rose just 3% to $205.8 million, missing analyst estimates for $252.4 million, which would represent a 26% increase over last year.
Attributable silver equivalent production was 8 million ounces compared to 6.7 million ounces in Q1 2012, an increase of 20%. The management reiterated full year silver equivalent production of 33.5 million ounces, a 13% increase over 2012. The increase in production is largely due to the February acquisition of gold streams from Vale's (NYSE:VALE) Salobo mine in Brazil and its Sudbury mines in Canada. The Vale acquisition significantly increases Silver Wheaton's organic production growth. The company also reached one billion of silver equivalent reserves in March, and has increased the depth of its pipeline.
Cash operating margin per silver equivalent ounce declined to $25.33 compared to $28.51 in Q1 2012. With the price of silver even lower now, we can expect to see a further decline in operating margin. Additionally, the average cash costs rose to $4.39 per silver equivalent ounce compared with $4.08 in Q1 2012.
Earnings cycle still negative
The company is still in the negative stage of its earnings cycle. Quarterly earnings growth was negative in three out of last four quarters, and analyst estimates are trending down. Only a month ago, the company was expected to deliver 20% earnings growth with a 26% rise in revenue. As of today, full year earnings are expected to be nearly flat, 1 cent more than last year, and revenue is expected to increase 16%. With the lower price of silver, the negative trends are expected to continue, keeping the share price down.
Strong dollar and weak inflation might still keep the price of gold and silver down, and hence pressuring Silver Wheaton's profitability, margins and earnings and revenue expectations.
Price action
The share price of Silver Wheaton is largely correlated to the price of Silver (NYSEARCA:SLV) and Gold (NYSEARCA:GLD). In my previous article I wrote that: "Both gold and silver are at critical support levels, and their price did not go under those levels since the 2011 peak. A break below that level might bring an accelerated move to the downside." There was also a possibility for the support to hold and that we get a rally in gold and silver, but the first option happened, and indeed, the price of gold, silver and Silver Wheaton broke down sharply after the breach of support.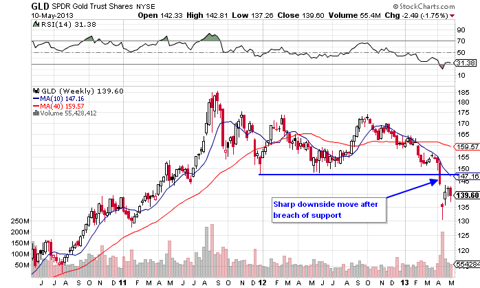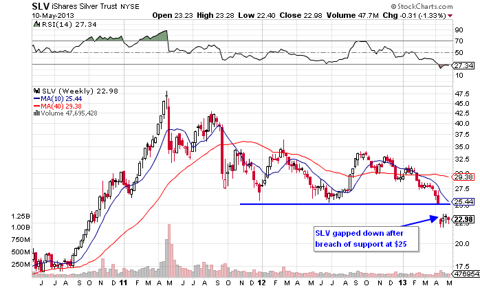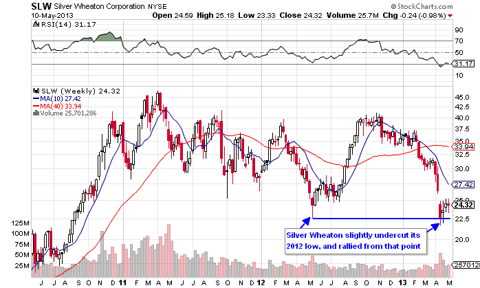 Source: Stockcharts
Silver Wheaton's share price slightly undercut its low of 2012, and rallied back above it. The $22.5 level should serve as support and is the key level to monitor now. If it breaks that level, the next stop could be the $20 level.
Conclusion
Silver Wheaton management is doing well to execute their long-term strategy, with the broadening of the company's pipeline and managing to leverage silver and gold production streams. However, there are still short-term pressures that the company and precious metals must overcome in order to see a higher share price.
Disclosure: I have no positions in any stocks mentioned, and no plans to initiate any positions within the next 72 hours. I wrote this article myself, and it expresses my own opinions. I am not receiving compensation for it (other than from Seeking Alpha). I have no business relationship with any company whose stock is mentioned in this article.