In our last installment, we took an options position, and we promised to report back on its outcome: good, bad, or scratch. (A bit bold, since we didn't know if SA editors would grant us this return visit; obviously, they did.)
Recapping just a bit, we began the process with a hard look at SPY fundamentals.
The fundamentals
On the bull side: momentum, analyst sentiment, Fed liquidity, somewhat better employment, and climbing the wall of worry.
On the bear side: currency debasement, slowing earnings growth, slowing revenue growth, following a bearish annual pattern (like 2010, 2011, 2012), and negative sentiment among some market titans.
Updating the fundamentals since May 3, the more things change the more they remain the same.
Bull side update: Boom! SP futures scale a new high, 1633.25 Monday, as did the Nikkei 225, so (global stock) momentum is as strong as ever. Headline retail sales rose in April, a surprise to many. And with major feature titles like "Searching for signs of a market top," we don't see the irrational exuberance here yet, just the wall of worry we keep climbing.
Bear side update: A new Fed study projects a dreary outlook for employment for years to come. The situation in Euroland looks depressing as ever, if not more so. Commodities, including gold, stay soft.
Higher financial markets, economies and commodities languishing too. What else is new?
So what do we (and what did we on May 3) have here: A stalemate? A rangebound pattern? No worries, our market advisor, Dan Sheridan, founder, Sheridan Mentoring, said. You can make money when a market is moving sideways through "delta neutral" strategies (his specialty). For this particular scenario, he suggested a calendar spread. August/July 162 SPY calendar to be specific, put on for a debit of .72. If you did 10 contracts, that would be $720.
That was May 3, 2013. Ten days later, and we're back to take a profit. On Monday, May 13, 2013 we sold the calendar for .85, a 17.2% gain. No adjustment was necessary (we would have added a second 166 calendar at SPY 164 on the upside, or a 158 calendar at 160 on the downside.) Time in the trade: 10 days.
There wasn't much movement in the SPY, or, for that matter, in the VIX during the 10 days. The VIX Monday was 12.63 vs. 12.90 on May 3, the day it was put on. (A rising VIX tends to help a calendar, which is long "vega," or volatility. But the modest decline here didn't hurt.)
Graph: Monday, May 13, 2013 August/July 162 SPY calendar spread, SPY was 163.50: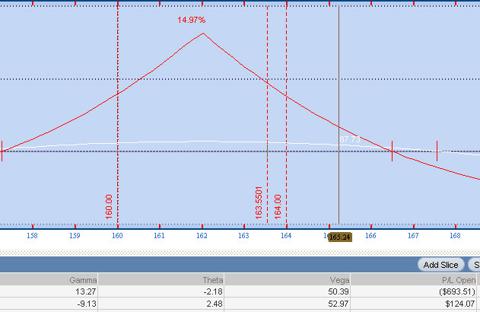 Very nearly a mirror of our original target risk curve: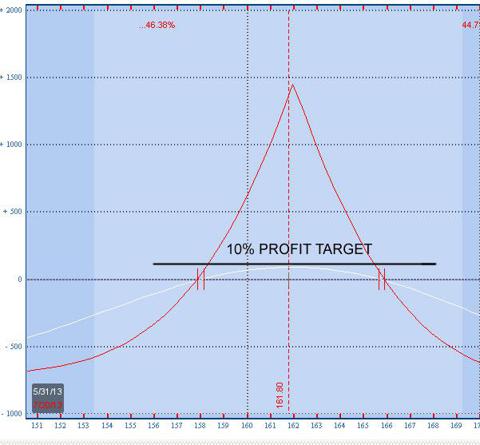 A happy ending, to be sure, but it pays to review once again, in closing, Sheridan's cautionary advice: "The method here is proved - or disproved - over time, trade by trade, month by month. One trade does not a successful (or unsuccessful) strategy make. It is the track record over time. This method does have something powerful behind it: proactive risk management vs. wishing and hoping. A delta neutral trader with meticulous persistence and patience will be amply rewarded."
Wise words indeed from a veteran of 22 years in the CBOE pits, who now spends his time teaching others how to survive and thrive in the ever-challenging options markets.
Disclosure: I have no positions in any stocks mentioned, and no plans to initiate any positions within the next 72 hours. I wrote this article myself, and it expresses my own opinions. I am not receiving compensation for it (other than from Seeking Alpha). I have no business relationship with any company whose stock is mentioned in this article.