Over the past three decades, as shown by the chart below, investors in Altria Group (NYSE:MO) have done quite well. Simply put, MO has been a buy and hold investor's dream. However, I am currently cautious on the stock.
Stock Price Rally
Over the past three years, as shown by the chart below, shares of MO have moved higher by nearly 70% reaching a new all-time high. During this period, the S&P 500 is up just 41%. The move by MO is especially impressive when considering MO has a beta of just .45. Simply put, MO is due for, at the very least, a period of consolidation.
Valuation
As shown by the chart below, MO is now trading at the upper end of its historical valuation range and the highest level since its spinoff of Philip Morris International (NYSE:PM) in 2008. Given this, it is unlikely that MO is about to make another move higher anytime soon.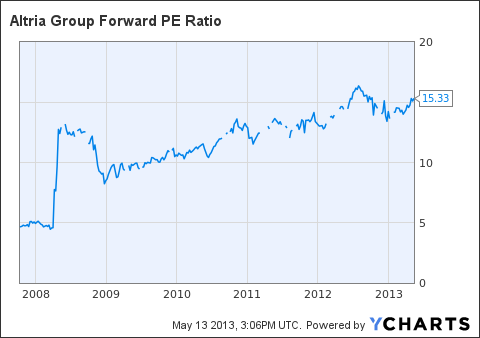 MO Forward PE Ratio data by YCharts
Smoking Popularity Decline
It is becoming increasingly apparent that smoking is on the decline in the U.S. While tobacco usage is down just slightly, it is possible that this trend accelerates in the coming years. This is, in my opinion, the greatest risk facing MO.
Heads I Win, Tails You Lose
If the stock market continues rallying to new highs, I would look for cyclical stocks to lead the way. Names such as U.S. Steel (NYSE:X), Caterpillar (NYSE:CAT), Nucor (NYSE:NUE), Alcoa (NYSE:AA), and JPMorgan (NYSE:JPM) that have lagged thus far. This move is likely to be fueled, at least in part, by selling in defensive names such as MO. Instead, if the stock market moves lower, I would not be surprised to see MO take a hit given the massive run over the past few years.
Conclusion
Given the recent rally, high valuation relative to historic norms, prospects of a declining smoking population in the U.S., and "heads I win, tails you lose" situation I am cautious on MO right now.
Disclosure: I have no positions in any stocks mentioned, and no plans to initiate any positions within the next 72 hours. I wrote this article myself, and it expresses my own opinions. I am not receiving compensation for it (other than from Seeking Alpha). I have no business relationship with any company whose stock is mentioned in this article.