Since the beginning of April, when we were around S&P 1560 (NYSEARCA:SPY), I was ready to pull the trigger on my next target, S&P 2000 . I did so on April 22. We are up 4.5% since then, in uncharted historical territory that looks like this: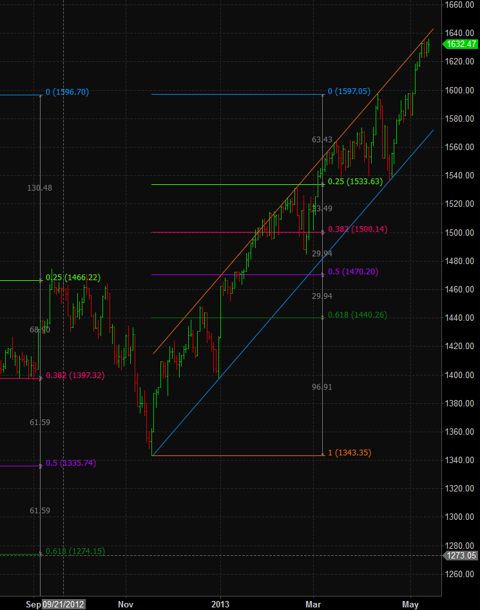 We are now hugging the top of the channel that goes back to the 2012 November lows. The question is, can we continue to hug the Bull - like in the January-February period - or is it time to let him rest?
I have no crystal ball, and I don't understand why I would be so stupid as to venture a bet. After all, I can rest on my laurels for calling the S&P move from 1200 to 1600, at a time when I felt like the "Fool on the Hill".Well, like the Fool on the Hill, I see the Word Spinning Round. And it seems to me that, been a contrarian, I no longer see many things to be contrarian about in the short term. Here is what I think is happening.
First off, one basic rule: stocks do not bottom or top all at the same time. I still believe that, by and large, earnings have not normalized, and that we still have room to go on P/E expansion. That's the double whammy on the upside, longer term.
However, we now have another three months or so to wait for Q2 earnings, we just had a big move in a short period of time, and we are hitting the top of 6-months channel which gave us a 21% price return. In the process, some stocks have led and are making hew highs. But some have lagged. I would take a second look at the leaders, and figure out how much wind is left in them, short term. This include P/E, Balance Sheet, Short interest, etc... In other words, what is the risk-reward of owning them. Vice-versa for the laggards. In between, there are the "must own", those where the question is more "can I afford not to be in this stock, regardless of its volatility". They are usually event driven and this makes them fairly unpredictable to time. I must admit they are my favorites. Housing is my core.
Personally, I just sold United Rentals (NYSE:URI) at $58, and bought Avalon Bay (NYSE:AVB) at $134. I would not touch Johnson Controls (NYSE:JCI) at this level. It may be running on the back of the Tesla short covering (NASDAQ:TSLA), but the difference is that there are no shorts on JCI. One might think they bought A123 Systems - the fact is they didn't, Wanxiang did.
The other thing I am watching is the High Corporate Yield Ibbox Ishares (NYSEARCA:HYG). The sharp drop that has occurred over the past week is unusual, absent any corporate bloody headlines.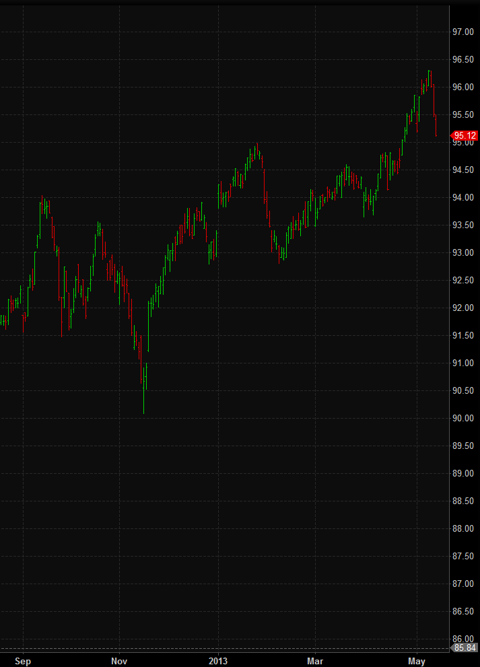 While I am willing to posit it is about to decouple with the stock market, the fact is the correlation has been pretty strong since last November, During that period, the main issue was credit risk, hence QE, If we end QE, this will presumably mean that the credit risk has been stabilized. High Yield Corporate Spreads will normalize as well, but this should be a bond market internal problem, no longer a proxy for equities. However, correlations persist in program and hedge fund trading, as well as in headlines. Should the HYG hit be noticed, it may induce, with all of the above, an Air Pocket. Since I cannot make a short term case for an upside break-out, I am now expecting a barf and I covered all positions at the close of S&P 1634.
This too shall pass, and make way for another shot at S&P 2000. In the meantime, I will have a good night's sleep.
Disclosure: I am long GTI, HW, IMAX, ORA, PHM, RSH, UTEK, GRPN, FIATY.PK. I wrote this article myself, and it expresses my own opinions. I am not receiving compensation for it (other than from Seeking Alpha). I have no business relationship with any company whose stock is mentioned in this article.
Disclaimer:As a Registered Investment Advisor, there are a few things we must tell you. We at Capital Max do not know your personal financial situation or investment objectives, so this article does not constitute a solicitation to purchase or sell any of the securities mentioned, nor is it intended to provide specific investment advice. Past performance is no guarantee of future performance. We live this every day, and you should know it too. The value of the securities mentioned herein may fall or rise and are not insured by any government or private company, even if it meant something. We believe what we write, and we take your audience quite seriously. However, since we cannot be held responsible for any loss or damage caused by reliance on the information and data herein, you should consult with your own advisor and/or do your own research before acting on any of our opinions, which we change without notice.