If you were to ask someone, "what is the most famous company in the world?" There is a good chance they would say The Coca-Cola Company (NYSE:KO). Founded in 1917, this company has expanded on the back of their flagship product Coca-Cola and now they own and license over 500 non-alcoholic beverage brands such as, waters, enhanced waters, juices, ready to drink teas and coffees, energy and sports drinks. They operate globally and their main segments include, Eurasia and Africa, Europe, Latin America, Pacific, Bottling Investments and Corporate.
Their products have a huge market share and this continues to grow as they expand their reach. Emerging markets continue to provide growth and with a long standing dividend which has been paid since 1920, Coca-Cola is a great choice for an all-weather income portfolio.
Warren Buffett strongly believes in big consumer brands and has been a long-term investor in Coca-Cola. With now over 16 billion dollar brands, it is understandable why this company can repay you over the long term. Over the past five years, their shares have returned over 50% not including dividends and has been resilient during volatile periods.

Source: Google Finance
This company is not going to set the world alight, and with a beta of 0.53 it will provide some stability within an investment portfolio. However, as beverage sale volumes continue to increase, there are many reasons to invest in Coca-Cola.
In Q1 2013, total global volume grew 4% with their flagship product Coca-Cola growing 3% globally. Net revenues declined 1%, however, excluding currency and structural changes, revenues grew 2%. First quarter EPS fell to $0.39, down 13% from the same quarter in 2012. However, not including one-off restructuring charges, EPS would be $0.46, a rise of 2.2%. This is positive news given the challenging economic backdrop in Europe and many developed countries.
Growth was seen in some key developed countries, with 3% growth in Germany, 1% North America and 1% Japan. European volume was level for the quarter despite continued economic uncertainty and a long winter. There was strong performance from emerging markets, with Thailand volumes growing 18%, India 8%, Russia 8%, Mexico 3%, and Brazil 3%. These are positive signs and evidence of the growing consumer demand from emerging markets.
Chairman and CEO, Muhtar Kent said "I am pleased with our first quarter performance results, having once again delivered solid growth against the backdrop of a still uncertain global economy. Guided by our 2020 Vision, our roadmap for winning together with our global system bottling partners, we enter 2013 and the fourth year of our journey to 2020 focused and on track to reach our goals." (source: Q1 2013 earnings release)
Coca-Cola has been able to reward its shareholders for a number of years, and this cash generative business continues to support dividend growth. A 5-year dividend growth rate at 8.3%, although not in the double digits, is an excellent backbone for this high quality company. Free cash flow remains strong and this has enabled continued dividend growth. The payout ratio, at 60%, provides the flexibility for further dividend growth going forward. The current yield of 2.65% is still an attractive level for an income investor, and as dividends grow, it will continue to strengthen.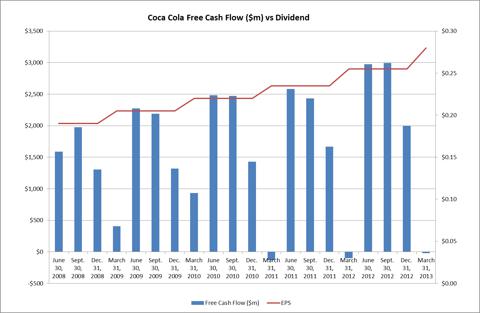 Share Price Performance
Year-to-date, the share price has performed excellently, rising 16.88% to just over $42 a share as Coca-Cola relishes the heightened appetite for equities. Even with a beta of 0.52, it is understandable why many favor defensive and low volatile equities for their ability to weather turbulent markets and capture rising markets.

Source: Google Finance
Many investors use price-to-earnings ratios as a key guide to value; however, I would have to disagree. It is hard to factor in long-term growth and dividends into this; for me a strong growing dividend adds value which does not flow through in this ratio. That said, the P/E is 22.12 and a forward P/E of 18.06; there is plenty of room for share price growth over the long term.
Buying the Brand
With earnings and statistics aside, the fundamentals for this company scream long-term success and it is why this investment amongst many like them will pay you to buy. Coca-Cola not only has a strong and diverse beverage range, their brand is one of the most well-known consumer brands in the world. It is easy to imagine that Coca-Cola will be around in 50 or 100 years' time and as a business, this strong brand IP will support growth and continue to pay dividends.
Without sounding too much like Warren Buffett, consumer brands are stable long-term investments; however, the notion of strong brands are not just limited to consumer products. Finding attractive attributes in company revenues is the key, and businesses that can maintain a customer base from intellectual property rights or those with high barriers to entry will ultimately pay dividends in the long run.
Summary
Coca-Cola continues to see attractive growth from emerging markets, and as volumes grow, it should provide a backbone for continued share price and dividend growth. The well-known brand continues to capture market share and will remain at the forefront of the beverage world. As the Coca-Cola company continues to expand, acquiring other products, the share price at $42 may be a steal. As the S&P 500 (NYSEARCA:SPY) reaches new highs, it is evident why. Companies such as Coca-Cola offer terrific long-term investments, and when factoring growth and market dominance, great value.
Company data was sourced from The Coca-Cola Company's earnings report and historical free cash flow data was sourced from y/charts.
Disclosure: I have no positions in any stocks mentioned, and no plans to initiate any positions within the next 72 hours. I wrote this article myself, and it expresses my own opinions. I am not receiving compensation for it (other than from Seeking Alpha). I have no business relationship with any company whose stock is mentioned in this article.