Ahead of the EIA Crude Oil Stock Change reported May 15th, Western Texas Crude Oil price action has been to the downside, but has found buyers to bring the price back up to the 95 range with each fall.
The EIA Crude Oil Stock Change report has been biased to the upside as of late.
The price action over the past 6 months has been range bound, with WTI Crude Oil trading at the top end of its range in a downward trend.
The strength of the buying last Friday was particularly interesting. After falling to 93.37, the WTI Crude Oil was bid back up to 96. Below is a 15min chart showing this dramatic fall and recovery.
This decline recent downward trend in oil prices has been reflected in the ETF (NYSEARCA:USO).
The Supply Picture
I understand the downtrend, but don't understand who would step up to buy given the fundamentals. This sentiment has been echoed in the recent interviews I've read on Bloomberg, with traders outlining that fundamentally oil should be below 90. As Andrey Kryuchenkov with VTB Capital in London stated:
Even if demand surprises, the market is still likely to remain comfortably supplied.
This sentiment is backed up by the data, as U.S. Crude Oil Stock excluding the Strategic Petroleum Reserve is at all-time highs.
Source: EIA
Supplies are also well above the seasonal average.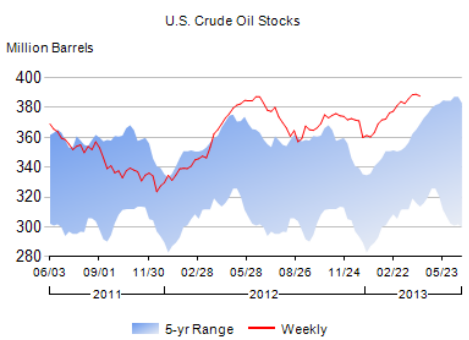 Source: Sober Look Blog
This is due in part to the massive increase in domestic production from Shale Oil, with domestic production now matching 1991 levels.
Source: EIA
OPEC's monthly oil market report also shows that OPEC has increased production slightly, adding to the world's supply of oil. OPEC will have a larger impact on Brent Crude Oil prices, but they still contribute to the world's overall supply.
Source: OPEC Monthly Oil Market Report
Total Non-OPEC supply is forecasted to continue to increase, mainly driven by America.
And OPEC supply increased from March to April.
The Demand Picture
Total oil demand by region is forecasted to remain largely flat, other than increases in the Middle East and Asia.
Quarter over quarter, the Non-OECD increase in oil consumption is partly offset by the OECD decline in oil consumption.
Total world oil demand is forecasted to increase 0.79 million barrels per day.
The Bottom Line
While demand is increasing around the world, domestic demand in the Americas is falling as supply is increasing. This is reflected in the record inventory levels in crude oil stocks in the U.S. In addition, a large portion of the world demand for oil is driven by forecasted increases in China, with an increase of 0.35 million barrels per day predicted from 2012 to 2013. With China's steady decline in PMI numbers, this may be an overly optimistic forecast.
Oil consumption in the U.S. is the midst of a major shift with the population moving en masse to urban centers. While this is a longer term trend, it is beginning to be reflected in consumption, such as in the decline in gasoline consumption.
After examining the data, I see a favorable risk versus reward opportunity in shorting WTI Crude Oil both from a technical and fundamental standpoint. Even if the EIA Crude Oil Stocks surprises with a steep decline, the long term fundamental story is clear. Supply is increasing exponentially in the US while demand is flat.
With earnings seasons just wrapping up, the guidance numbers also point to lower oil. With more than 2,000 companies having reported, guidance is negative 2.9%. Majority of these companies do their business in the U.S., and lower production will lower demand for oil, putting further downward pressure on WTI Crude Oil prices.
A short position can be taken via shorting USO, or by buying the PowerShares DB Crude Oil Short ETN (NYSEARCA:SZO). I personally put a position on via the futures, will look to exit the trade in the $80 to 85$ range.
Disclosure: I am short USO. I wrote this article myself, and it expresses my own opinions. I am not receiving compensation for it (other than from Seeking Alpha). I have no business relationship with any company whose stock is mentioned in this article.