Western Union (NYSE:WU) is a powerhouse in the highly fragmented international money transfer business and has been transferring cash from one party to another for over 135 years. The company generated a trailing 12 month Return on Invested Capital of 21.75% and a five year average ROIC of over 40%. The firm operates in the financial sector where ROIC averages closer to high single digits. Although earnings are expected to decline slightly this year, a pick-up is expected next year. A 13 PE (up from its current PE of 9) applied to next year's anticipated earnings of $1.65 a share would create the potential of a 30% share price increase from today's valuation. Based on its historically high ROIC, the firm deserves a 20% to 25% premium valuation to its long-term earnings growth rate of 10%.
According to the company website, along with SEC filings and recent articles on Forbes.com and Barrons.com, WU has about 15% global market share with MoneyGram (NYSE:MGI) coming in second place with a 5% market share. WU has over 500,000 independent money agents in 200 countries and territories, and has substantial heft in a business where size matters. WU currently completes an average of 28 new money transactions per second and in 2012 completed 663 million transactions for both consumers and businesses. The company directly transferred over $80 billion in customer funds last year. Western Union was spun off from First Data in 2006 and First Data was later taken private by KKR.
When individuals move around the globe seeking better employment opportunities and a better lifestyle, they often leave behind family members. As these emigrants become more prosperous in their new countries, many will transfer funds back to their home country for their family's needs. According to the Aite Group, the value of all cross-border transfers was approximately $437 billion in 2012, up from $387 billion in 2009.
The process to transfer money overseas is simple. A consumer goes to a retail member of the Western Union network, pays for the transfer and a fee in cash or using a bank debt card, and the recipient receives cash at the receiving WU network office overseas. WU makes a profit by charging a fee for the transfer service and by offering exchange rates into the designated foreign currency that is advantageous to the company - i.e. at lower than official exchange rates. This practice has raised the ire of some in the media as small transfers can incur high fees and the recipient may not receive an official exchange rate. For example, on the WU website, customers can calculate the cost of transferring $100 From the US to Cambodia and the fee is quoted as $11.99, or a 12% fee. According to mycurrencytransfer.com, funds originating in the UK are subject to an additional FX margin charge of between 2.2% and 6.0% based on country of delivery. The difference between the official exchange rate and the exchange rate offered by WU is listed as "foreign exchange revenues" on its income statement.
For 2012, transfer fees generated $4.2 billion in revenue and foreign exchange revenue generated an additional $1.3 billion. Over the past two years, foreign exchange revenue has averaged 14% growth annually while fees increased only 2.0% annually. Clearly, foreign exchange revenue is an important aspect of WU's business model.
Revenue totaled $5.7 billion in 2012, generating $1.3 billion in operating profit and $1.2 billion in operating cash flow. The business model has a limited need for capital expenditures and last year the firm spent only $285 million for cap ex. WU has been generating free cash flow of between $800 million and $1 billion a year,and using the funds to increase its dividend and buy back shares. Over the past two years, the company has retired about 10% of outstanding shares. Net income has grown from $910 million in 2010 to $1,026 million in 2012. With a reduced number of shares outstanding, earnings per share have outpaced net earnings growth, increasing from $1.37 to $1.70, respectively.
The current annual dividend of $0.50 represents a 3.1% yield on a share price of $16.20, and was recently increased by 25%. Since the split from First Data, dividends have increased at an unsustainable rate of between 25% and 96% annually. Investors could expect a more reasonable 10% dividend growth going forward, maintaining a low payout ratio of under 30%.
Return on invested capital is calculated at 21.75% for trailing twelve months and over 41% for a 5-yr average. With a financial sector average of less than 10% return on equity, investors should note WU generated 100% ROE over the past 12 months. There are few financial firms generating consistently high ROE and ROIC for their investors.
WU is quickly moving into the global mobile payment playground with its WU Mobile Banking and WU Mobile Wallet. These programs connect a consumer's mobile devise with a bank account and offer a point-of-sale payment method from a mobile devise. The opportunity for WU is in developing countries where the demand for this type of service is strong and the availability of mobile-based partners is limited. A visual of this opportunity is provided as a slide in its latest investor presentation (pdf) and provided below: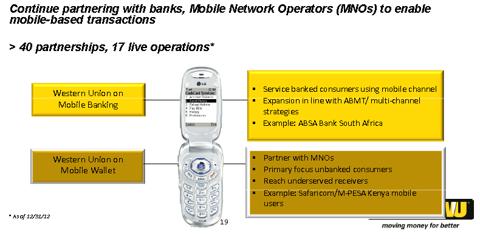 However, not all is upbeat with Western Union. Management has called 2013 a "transition" year with fee and margin pressures in some of their important channels. For example, the company lost the exclusivity of its major Mexican network and there are rumblings of similar fee-based disputes in several other channels. Management has suggested net margins will decline from around 24% in 2012 to 20% this year and will stabilize at this new margin level. The admission of margin weakness, along with investor concerns of future growth potential, has depressed interest in WU shares.
Below is a 5-year chart of WU compared to the S&P 500 (NYSEARCA:SPY).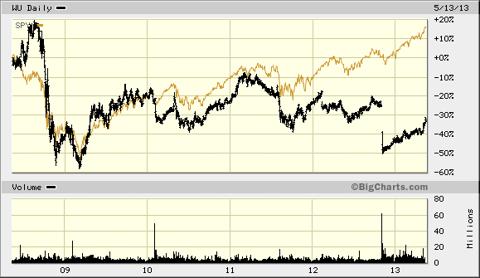 Last November, investors were not pleased when a down year for 2013 was announced and share prices fell from $18 to $12. Since then, share prices have managed to regain most, but not all, of that precipitous drop.
Recently, analysts have begun to recommend WU as an undervalued, unique international finance play with interesting strengths. The money transfer business withstood the financial crisis of 2008-09 better than many had anticipated and a growing world economy will offer improving opportunities. As the global leader with strong brand recognition, duplication of WU's network would be costly and time consuming. The industry will likely remain fragmented, favoring the current market leader.
Time.com offers an interactive global map showing the percent of local GDP represented by the inflow of money transfers. A static map is reproduced below and the interactive version is found here. The map depicts the importance of money transfers to the economies of these nations.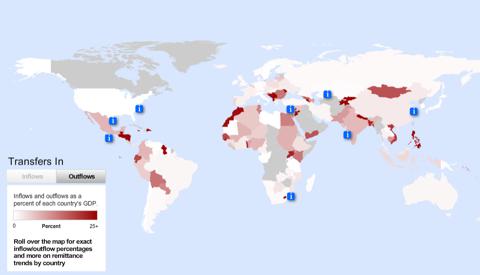 Western Union should be worthy of further due diligence. Although it offers a high beta of 1.45 and should be considered speculative, an improvement in its profitability next year could create share prices at least 30% higher than its current valuation.
Investors should watch WU closely for softness and view it as a buying opportunity.
Author's Note: Please review important disclaimer in author's profile.
Disclosure: I have no positions in any stocks mentioned, and no plans to initiate any positions within the next 72 hours. I wrote this article myself, and it expresses my own opinions. I am not receiving compensation for it (other than from Seeking Alpha). I have no business relationship with any company whose stock is mentioned in this article.