We took profits off of the table on Friday and did so in order to shore up cash in case of a pullback. We exited a trading position in order to focus upon our investments and to make some dry firepower. One can never be too careful when it comes to locking in gains and this is something we think readers should at the very least look into at this point. We are not looking for a huge pullback, but we do expect some headwinds with the US Dollar's strength and the summer months ahead. We are not part of the 'sell in May' crowd (although we recognize that statement is contrary to our recent actions!) but rather part of the 'do as we must' crowd...and locking in some profits in recent trading positions seemed like a must.
Commodity prices this morning are as follows:
Gold: $1427.50/ounce, down by $6.80/ounce
Silver: $23.375/ounce, up by $0.321/ounce
Oil: $94.73/barrel, down by $0.44/barrel
RBOB Gas: $2.8173/gallon, down by $0.0037/gallon
Natural Gas: $3.94/MMbtu, up by $0.015/MMbtu
Chart of the Day:
We have previously discussed how we thought gold would bounce and set up a base to move from next. That process has started, however we do want to point out that with the recent strength in the US Dollar, gold now finds itself below the US$1450/ounce level.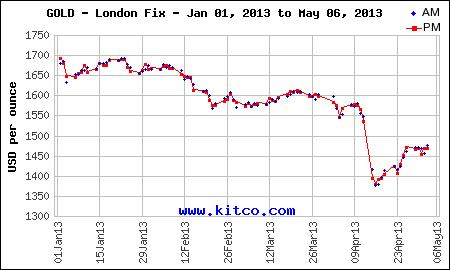 Chart courtesy of Kitco.com
Oil & Natural Gas
On Friday we took the opportunity to ride the wave higher in Rosetta Resources (NASDAQ:ROSE) shares to close out our trading position there and book the more than 7% gain there. Our sale price was one or two pennies from the closing price and although a bit less than we would have normally taken on this trade we wanted to lock in the profits with the US dollar looking stronger and the big news (the company's earnings) now being out of the way. This is still a very good way to play the Eagle Ford and Permian, but we needed to take some risk off the table and it is most efficiently done via the exiting of short-term trades rather than long-term investments. Yesterday, the shares traded lower and we feel that this further backs up our thinking that much of the good news we had been looking for to move the shares higher has now been put out into the public realm and the shares will now trade more in line with the price of oil and general market conditions than anything else.
Still reeling from another conference call with very little clarity on the Utica sale, EV Energy Partners, LP (NASDAQ:EVEP) has been a volatile stock as of late. We have seen support around the $40/unit level and although we now feel comfortable with what we have within our portfolio at this time we think that these flash sell-offs should be an opportunity for long-term investors to move in and pick up shares on the cheap. The Utica midstream assets continue to intrigue us and that shall provide some distribution growth in the future, even with the potential for 5 million more units being out there. Maybe it is foolish to continue to be bullish here, but we are and our portfolio is structured that way as well.
Below is a five day chart showing the recent price action...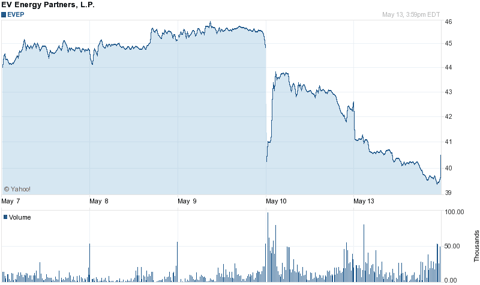 Chart courtesy of Yahoo Finance.
Coal
Both Peabody Energy (BTU) and Alpha Natural Resources (ANR) traded lower yesterday by greater than 4% and 3.5% respectively. Important for investors is the fact that the lows of the day put in by both names missed breaking through levels which have proven to be important psychologically in the past. Many bulls in Peabody point to the $20/share level as a level of support they count on, even though the stock has breached that level a few times in the past year...and month even. The low of the day there was $20.10/share and over at Alpha Natural Resources shares traded as low as $7.00/share. Both names finished very near the lows, but some solace must be found in the fact that they both essentially walked up to the precipice and found investor capital willing to keep them from cliff diving (to borrow our phrase from Cliffs).
A breakdown here for either one of these names would seem to be detrimental to investor hopes that they will rally. Take a look at the charts...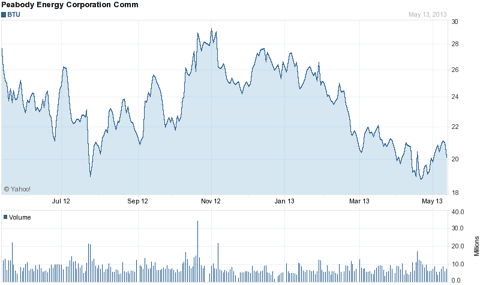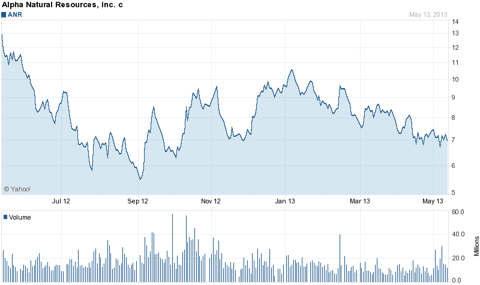 Charts courtesy of Yahoo Finance.
Rare Earths
There are times when we are caught off guard by certain events in the market and the earnings report from Molycorp (MCP) was in fact one of those events. As readers know we had shifted from our bearish view of the company to one of neutrality after it appeared that they had finally thrown the second kitchen sink investors' way but we went on record stating we wanted to see some improvement in the business and get a handle on future news flow. Well the company came out and offered some very bullish news to investors and the rare earths market by saying that they see pricing firming up a bit and reporting a smaller than expected loss. For those interested the conference call transcript is located here. Shares finished higher Friday by $1.75 (31.31%) to close at $7.34/share on dramatically higher volume of 60.8 million shares and yesterday protected most of those gains while trading roughly 35 million shares...which is pretty bullish in our book.
Disclosure: I am long EVEP. I wrote this article myself, and it expresses my own opinions. I am not receiving compensation for it (other than from Seeking Alpha). I have no business relationship with any company whose stock is mentioned in this article.