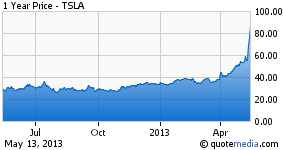 Tesla Motors Inc. (NASDAQ:TSLA) continued its unrelenting drive higher Monday, amid continued optimism and speculation relating to the Model S and the company's recent swing to profitability. Since reporting a first quarter profit of $0.12 on revenues of $562 million last Thursday, shares of Tesla have soared 60%. On May 1st, I published an article (Tesla's Short Squeeze is Here) addressing a possible short-squeeze situation developing in Tesla, based on its high short interest. This squeeze has since helped to fuel parabolic growth in share price - the stock finishing Monday at $89.62, and rising another 6.5% in pre-market trading today. Volume has remained heavy since the Q1 earnings release, and buyers have come to market in swarms. The still above-average volume and the aggressive buying trends seem to signal that there is more room to run.
The future for Tesla is exciting, and growth is ramping at tremendous rates. The company, which is now cash flow positive, has been taking aggressive measures to grow efficiency and to more effectively manage costs. With Elon Musk at the helm, the company has spent virtually zero dollars on advertising, and has realized a lower raw material cost - both of which helped to pad last quarter's earnings. Production capacity has doubled over the past few months, rising to 400 cars per week (20,800 per year). In his letter to shareholders last week, Elon Musk mentioned that orders for the Model S this year are projected to come in at roughly 21,000 units, meaning that the company is perfectly prepared to capitalize on the high demand for the Model S. Even gross margins have doubled over the most recent quarter, showing quality management and increased profitability. Musk offered guidance for a margin of 25% for the full year (currently 17%).
Tesla also has a competitive advantage over its peers in that it has the ability to sell Zero Emissions Vehicle credits. In an effort to curb air pollution, the California Air Resources Board (CARB) requires a specific number of each carmaker's sales to be zero-emission, electric vehicles. Companies that meet this obligation are incentivized by the so-called "Zero Emissions Vehicle credits," which are valued at roughly $35,000 per credit. Companies that fail to meet this standard are penalized by having to purchase these credits from other auto companies. Because Tesla sells only zero emission vehicles (ZEV), they are entitled to both state and federal credits that have proven to be very lucrative. During the first quarter, the company sold $85 million worth of these credits, which helped to prop up earnings. Although the CEO claims that he plans to halt the selling of such credits by year-end, Tesla always has the opportunity to cash in on them, should times get tough.
The fact is, Tesla has a ton of room to grow. In terms of sales, the company is a boy among men, as there is currently only one model in the fleet. With the overseas launch of the Model S coming in the fall of this year, demand in Europe has already outpaced demand here in the United States. Also, the Model S has been receiving rave reviews from rating companies. In fact, Consumer Reports claims that the Model S is the "best car [they] have ever tested" and that "if it could recharge in any gas station in three minutes, this car would score about 110," giving it a rating of 99 out of 100, a rating only shared by only the Lexus LS460 by Toyota (NYSE:TM). There is real growth in the future for Tesla, and at a share price of nearly $90, it still looks attractive.
Disclosure: I am long TSLA. I wrote this article myself, and it expresses my own opinions. I am not receiving compensation for it (other than from Seeking Alpha). I have no business relationship with any company whose stock is mentioned in this article.