Investment markets have been buzzing since late last week over the potential tapering of the Fed's QE3 program in the coming months. First it was the rumor last Thursday afternoon that Fed insider Jon Hilsenrath was poised to publish in the Wall Street Journal an article discussing the Fed's strategy to begin winding down their latest stimulus program. Then after being widely dismissed as a gag, Hilsenrath actually published an article on Friday after the close on this very same topic. These concerns have introduced a new downside risk that the mere thought of Fed tapering may serve as the catalyst for an overdue pullback in stocks. But while the gradual lessening of monetary stimulus would likely remove an important tailwind behind the markets, these concerns are missing a key point. And this specific fact has the potential to continue propelling stocks higher even if the Fed begins to step aside in the coming months.
The significance of monetary stimulus from the U.S. Federal Reserve cannot be understated. One has to look no further than the last few months to see how profound the impact of daily balance sheet expanding monetary stimulus has been on stocks. Since the Fed added daily U.S. Treasury purchases to their QE3 program on January 4, stocks as measured by the S&P 500 Index (NYSEARCA:SPY) has added 175 points, or +12%, by advancing in an extraordinary 65% of all trading days over this time period. What makes this advance all the more notable is that it has occurred at the end of the fourth year of a cyclical bull market and amid the increasing stench of steadily disappointing economic and corporate outlook. Truly remarkable.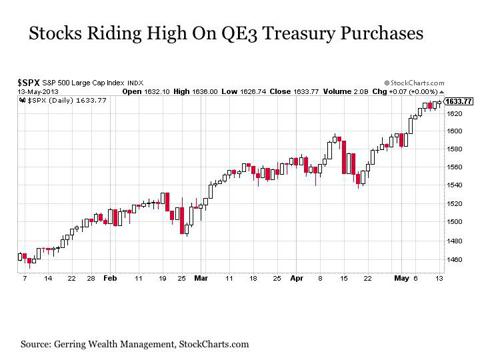 What is also equally notable is how stocks have performed when daily balance sheet expanding monetary stimulus has been removed even for a moment. Over the last 1,046 trading days since the launch of daily U.S. Treasury purchases tied to QE1 back in March 2009, the stock market has experienced only 60 trading days over two separate occasions where it was left on its own without the support of some form of major monetary stimulus. And the market performance over this rare set of days was absolutely dreadful. Overall, stocks only rose in 19 sessions while dropping on 41 trading days, an equally extraordinary record of losses in 68% over these trading days that included a flash crash as well as two separate cascading sell offs where the stock market quickly shed roughly -20% in a matter of days. Equally remarkable for an entirely different reason.
So knowing the critical importance of ongoing stimulus for not only pushing stock prices to rise but also preventing them to fall, what exactly then is the key point that is missing from the debate? The source of monetary stimulus does not necessarily need to be the U.S. Federal Reserve. Even if the Fed tapers off its QE3 program in the coming months, as long as a major central bank from somewhere around the world is stimulating aggressively, stocks are likely to continue to get the necessary fuel they need to continue rising.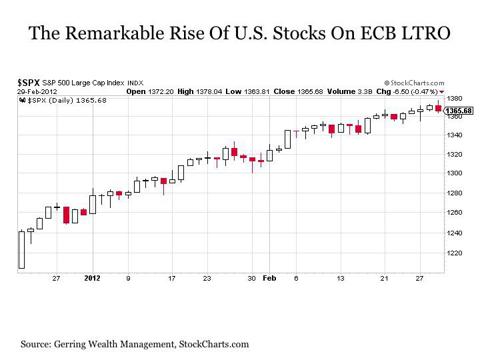 To highlight this point, it is worthwhile to reflect back on December 2011. The Federal Reserve at the time was engaged not in a daily balance sheet expanding QE monetary stimulus program. Instead, they had recently launched Operation Twist, which was a balance sheet neutral program, and the stock market was holding its own but largely thrashing back and forth through much of the fourth quarter of 2011. But then came the European Central Bank, which launched its balance sheet expanding Long-Term Refinancing Operation (LTRO) in two massive tranches. The first came on December 21, 2011 when the ECB issued $640 billion in low interest loans to European banks. The second came on February 29, 2012 when the ECB injected another $693 billion in similar loans into the system. In total, this program amounted to what was effectively a $1.3 trillion balance sheet expanding stimulus program. And the stock market responded accordingly. During the 48 trading days that the U.S. stock market was open during the ECB's LTRO program, the S&P 500 Index gained 124 points, or 10%, by moving higher an even more incredible 69% of all trading days during this time period.
This point is particularly important today. For it is not just the U.S. Federal Reserve that is easing aggressively at the rate of $85 billion per month including $45 billion in daily U.S. Treasury purchases. The Bank of Japan is effectively matching the Fed with their own balance sheet expanding monetary stimulus totaling roughly $75 billion per month that is considerably more aggressive given the magnitude of this program relative to the size of the Japanese economy. And then there is the European Central Bank, which has yet to get fully on board with a full-blown stimulus program of their own to date but is increasingly making suggestions about taking more aggressive action.
Thus, even if the Fed were to begin tapering in the coming months, it does not necessarily mean the U.S. stock market will tumble into free fall in the process. We live in a globally integrated financial system, and it certainly does not take long for money flows to find their way around the world. And the U.S. stock market, at least for now, remains a favored destination for printed money regardless of its origin.
Interestingly, this very fact may eventually present a major problem in the inverse for the U.S. Federal Reserve. The latest balance sheet expanding QE3 monetary stimulus program has clearly incited a chase for yield with many income producing securities already looking rather frothy. If this trend continues, or if accelerating asset price inflation begins to bubble up across other market segments, the Fed may face stiff challenges in trying to stop or even curb the pace of these price increases once they take hold in earnest, as liquidity is likely to continue flowing unabated from foreign sources regardless of the Fed's actions. This is an important risk that remains in the early development stages but at least warrants a degree of attention as we move forward through 2013.
This leads to a final question. What then will cause the stock market to return to reality if it is not the Fed tapering or ending its latest QE3 stimulus program? Interestingly, if today's market is anything like the previous major market tops in 2000 and 2007, the final reversal is likely to occur on virtually no news at all. At some point, U.S. stocks will finally reach exhaustion and the corrective process will begin. And this can occur whether global central banks are stimulating or not, as both of the previous two major corrections continued unabated while central banks were aggressively easing. Whether such a sustained reversal occurs tomorrow, next month, next year or at all remains to be seen, but the risks of such an outcome continue to lurk under the market surface and could present themselves at any time. Thus, attention to risk control remains as important as ever in the current environment.
Bottom Line
While stocks continue to percolate with building downside risks, the market continues to thrive in the meantime on the power of impressively resilient short-term upside risks. And a leading upside risk at the moment is the deluge of balance sheet expanding stimulus from all around the globe. As a result, it remains worthwhile to maintain an allocation to stocks with a diversified asset allocation strategy that also includes bonds and commodities to capitalize as long as current trends remain in place. Ideal exposures at present are those that provide defensive growth characteristics, particularly to more cyclical areas of global equity markets that have underperformed the rally thus far this year. Such broad market exposures include the Vanguard Dividend Appreciation ETF (NYSEARCA:VIG) and the Vanguard Total International Stock Index ETF (NASDAQ:VXUS). As for specific names, a particular emphasis on those securities that provide quality, low price volatility, attractive valuation and current income that also set up well from a technical perspective provide an ideal way to maintain stock exposures while also managing against downside risk. Representative names include ExxonMobil (NYSE:XOM), International Business Machines (NYSE:IBM), McDonald's (NYSE:MCD), General Electric (NYSE:GE), Oracle (NYSE:ORCL), Emerson Electric (NYSE:EMR), Qualcomm (NASDAQ:QCOM) and Cisco Systems (NASDAQ:CSCO).
Disclosure: I am long CSCO, GE, XOM, MCD, IBM, QCOM, ORCL, EMR, VIG, VXUS. I wrote this article myself, and it expresses my own opinions. I am not receiving compensation for it (other than from Seeking Alpha). I have no business relationship with any company whose stock is mentioned in this article.
Disclaimer: This post is for information purposes only. There are risks involved with investing including loss of principal. Gerring Wealth Management (GWM) makes no explicit or implicit guarantee with respect to performance or the outcome of any investment or projections made by GWM. There is no guarantee that the goals of the strategies discussed by GWM will be met.