RMB continues to accelerate
Talk about a real win-win situation: RMB strengthening and Chinese companies expanding, riding the stronger yuan wave. The RMB is fuel supplying more competitive cash reserves in a time when buying opportunities abound globally. The yuan is at an all time high, Chinese FX reserves are over a staggering $3.4 trillion, and Chinese companies are out there to invest. This time around, they are more nuanced and strategic than ever.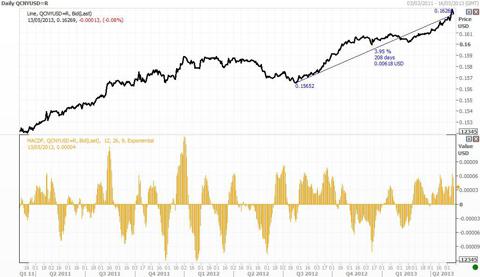 Source: Thomson Reuters Eikon
The MACD Forest's bullish trend on the renminbi (above 0) are supported by forecasts in the market by 12 contributor banks as well. The current USD/CNY rate at 6.1465 is projected to be min 6.05, median 6.10 and max 6.13 by Q2 2014. Overall, not many seem to be bearish on the RMB's (NYSEARCA:CNY) ascent which will in turn make headwinds globally.

Source: Reuters Polls
The question remains: what are the major companies and industries to focus on that will impact the US market and are noteworthy to the US investor base?
Paradox shifting: FDI from China
China is the world's second largest economy and the official "manufacturing base" of the world. However, in a recent survey most Americans can't name more than one Chinese consumer brand that's in their house. With this in mind, one must ask; is there a branding failure on these companies' part or are they not yet ready for developed markets?
It is arguable, but neither will be the case in the short future if Chinese FDI continues its pace. It appears that the Chinese economy seems to be slowing and many in the West agonize over a hard-landing, but many don't realize that this is just the start of a new phase. As I highlighted in my latest article about the China dream, the leadership reshuffle mixes in a fresh push for domestic companies to venture abroad and also expands the domestic consumer base; one step at a time slowly, strategically (农村包围城市 - encircling the cities from the towns). Starting with Africa, Southeast Asia and South America, companies such as Huawei, ZTE, Baidu (NASDAQ:BIDU) and SAIC Motor are strategically getting ready to step into the EU and US markets. Their footsteps will be heard.
In the background, Chinese companies and Chinese styled products have been rapidly gaining popularity since the first big global showcase of the country in 2008. Just look at the growth in FDI since 2012 into the US, a bellwether for what's coming. Some say that by 2050 Chinese companies in the US could be employing close to 400,000 residents.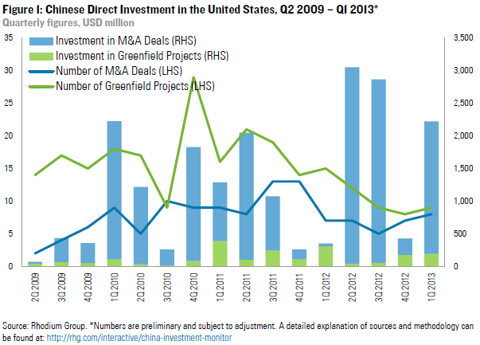 Source: Rhodium Group
2013 can be the year of Chinese FDI, as the pipeline is stronger than ever. According to Rhodium Group, just in the US, deals under negotiation are around $10B: $4.2 billion stake of a Chinese consortium in AIG's aviation leasing unit International Lease Finance Corp. (ILFC), a bid for a 40% stake of the GM building in New York valued at $1.4 billion led by Soho CEO Zhang Xin, a $1.5 billion real estate project in Oakland by Zarsion Holdings Group in partnership with local developers, and a potential purchase of IBM's x86 server business assets through Lenovo for up to $5 billion."
Some acquisition plans go to bust, like that of Superior Beijing Aviation Co. last year (trying to buy Hawker Beechraft), but more and more are completed. Wanda Group - a Chinese conglomerate operating in segments from real estate to entertainment and close to anonymous in the West - bought up AMC Entertainment for $2.6B in the US last year. This is the largest takeover in history from a Chinese company in the sector and shows the changing nature of Chinese investments; gaining a foothold in segments that exert soft power such as entertainment. By adding 5,000-plus screens to the domestic 700-plus, Wanda is now the world's largest cinema owner. Make no mistake, the Chinese movie industry won't be hesitant to utilize this new infrastructure and audience at its disposal.
A new phase has dawned - it's not just about voracious natural resource consumption and energy company acquisitions anymore. China is flexing its muscles in all kinds of segments from technology to entertainment. What's more, private companies are now making leaps abroad instead of the giant SOEs that have globalized before. It is a matter of time before these top Chinese brands will make their names heard in developed markets.
The top brands in China: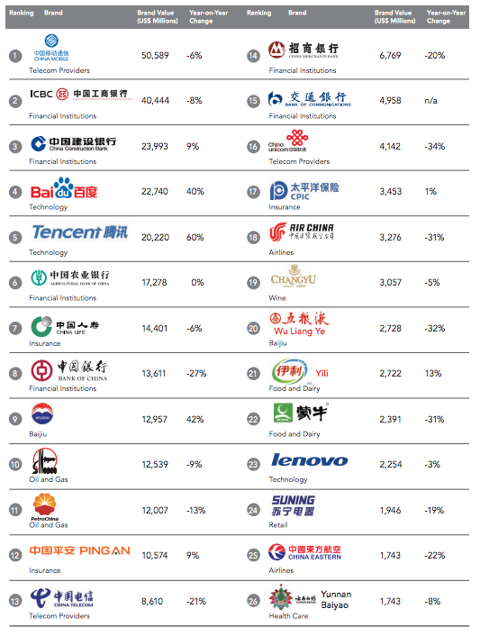 Companies that are globally expanding or plan to:
| | | |
| --- | --- | --- |
| Company / Brand | Category | URL |
| ASD | Cookware | |
| Belle International | Footwear | |
| BYD | Electric Vehicles, Lighting, Energy Storage | |
| Flyco | Personal Care & Home Appliances | |
| Haier | Home Appliances, Consumer Electronics | |
| Hisense | Consumer Electronics | |
| Huawei | Telecom, Consumer Electronics | |
| Konka | Consumer Electronics, Home Appliances | |
| Lenovo | Consumer Electronics | |
| Li Ning | Apparel | |
| Meizu | Consumer Electronics | |
| Little Swan | Home Appliances | |
| Midea | Home Appliances | |
| Septwolves | Apparel | |
| Skyworth | Consumer Electronics | |
| TCL | Consumer Electronics | |
| Tsingtao | Beer | |
| XDREAM | Consumer Electronics | |
| Xiaomi | Consumer Electronics | |
| ZTE | Telecom, Consumer Electronics | |
Industry in focus: Technology
There is one sector that is unique in China and in which the country is showcasing staggering growth and potential: the IT sector. Striking new developments in China's rapidly innovating tech sector are manifold: China Mobile (NYSE:CHL) is about to launch 4G speed, Baidu is expanding to Indonesia, Alibaba is said to be preparing an IPO, Tencent's WeChat app has surpassed WhatsApp in terms of users, cyber-espionage is hitting mainstream media, Lenovo is eyeing Apple's (NASDAQ:AAPL) top spot and the list goes on.
Looking specifically at Alibaba, which is valued by Oppenheimer at double than before at $77B, is getting ready for an IPO. However, it can be valued much higher than it currently stands. Imagine a company that is leading in the e-commerce space in the world's most populous country, where netizens outnumber the US twice, has 500 million-plus users, a company that even has its own payment system Alipay, its own e-commerce system Taobao (most popular to buy anything basically cheap, three times beating its closes competitor 360buy.com) and on top of all this boasts its own online mall, TMall. Alibaba has been recently making stakes in Autonavi to expand into online mapping. This is all good news to Yahoo (YHOO) as well, as it has major stakes (24%) in the company and can ride the momentum forward.
At present the firm has not done an IPO yet, but is busy getting ready for a potential $100B one. It's in the making, as a necessary step to its goal to become "world's largest data sharing platform." Say e-commerce in China grows 35% a year for the next two years, and that Alibaba can keep its current market share of around 80%. That would give it just under $300 billion of transactions in 2014 - over four times what eBay's (NASDAQ:EBAY) marketplaces handled in 2012. These numbers are just the start if Chinese tech-firms like Alibaba gain footing in Western markets.
In a country where price competition is cutthroat, margins are razor thin, intellectual property is close to non-existent and hacking ubiquitous, the tech and consumer companies that are able to ride the market wave and stay profitable domestically become heavyweights. The next logical step is to internationalize and they are well equipped with an array of weapons at their disposal to do just that: strategic political support, domestic dominance, hoards of cash, young software engineers working for pennies and a rising currency. Now they need good branding and relevant innovation to step abroad.
At present more and more tools are at hand for these aspiring Chinese companies, time will tell if they can handle global market forces.
Disclosure: I have no positions in any stocks mentioned, and no plans to initiate any positions within the next 72 hours. I wrote this article myself, and it expresses my own opinions. I am not receiving compensation for it (other than from Seeking Alpha). I have no business relationship with any company whose stock is mentioned in this article.