Since the last time I discussed ABB (NYSE:ABB) in Jan. 2013, the company has continued to do what it has done for decades: innovate and acquire smaller companies to complement its products. As economies around the world return to pre-crisis activity, demand for ABB products and services should continue to rise. The company had an unimpressive first three months in 2013 but in terms of sales it performed better than its major competitors including GE (NYSE:GE) and Siemens (SI). As companies and governments try to become more energy and operationally efficient, ABB should continue to thrive regardless of the macro-economic environment.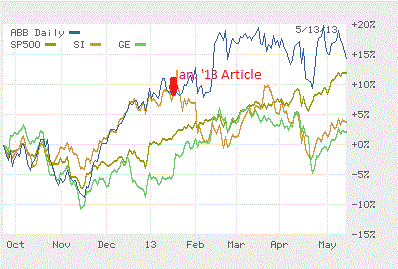 ABB performance since my initial article in Sep. '12
Recent performance
During the three-month period ended on March 31, 2013, ABB increased its revenues by 9% with discrete automation and motion ($2.33 billion in revenues in Q1 '13), low voltage products ($1.78 billion), process automation ($1.98 billion) and power systems ($2.05 billion) segments recording increases in revenues. Only the power products business ($2.49 billion) unit experienced a small 1% decline in revenues. Some of this performance was attributable to acquisitions that closed in the past year.
Importantly, ABB was able to increase its operating earnings before interest, tax and depreciation margin to 15% in the quarter from 13.9% in the same period in 2012. Geographically, ABB had weakness in a few western European markets (Germany, Switzerland and Italy) which was countered by stronger markets in eastern Europe (Poland and Russia). However, it is difficult to measure a company the size of ABB based on one quarterly performance as the timing of large orders could be misleading.
For comparison, GE's (excluding GE Capital) and Siemens's revenues for the quarter ended March 31, 2013 declined by 1% and 7%, respectively. It seems like Siemens was the worst performer in the quarter with each of its four main segments experiencing declines in revenue compared to the same period in 2012: energy (revenue down by 9%), healthcare (down by 2%), industry sector (down by 9%), and infrastructure and cities (down 5%). Surprisingly, revenue from the U.S. in the quarter declined the most, by about 16%, compared to the same three-month period in 2012. Also, profit margins declined in the industry and infrastructure and cities sectors.
In addition, GE saw the largest decline in revenue in its power and water sector (down by 26% from Q1 '12) and the largest increase in its transportation segment (up by 12%) with oil & gas, energy management, aviation, healthcare, and home & business solutions experiencing slight increases or decreases in revenues. Overall, operating margins declined to 12.9% in the quarter from 13.7% in Q1 '12 with the largest decline in the power and water sector. Revenues in Europe were also significantly impacted by the economic conditions there and declined by 17%, compared to the first three months of 2012.
From a valuations and fundamentals standpoints, ABB, GE, and Siemens trade at relatively close levels. The most important distinction among the three companies is that GE is the riskiest company due to its large financial services arm (GE Capital), which accounted for 33% of the company's Q1 '13 total revenue. Thus, ABB, GE, and Siemens have betas of 1.5, 1.7, and 1.6, respectively. In terms of dividends, ABB and GE have annual dividend yields of about 3.3% compared to 3.7% for Siemens. Finally, based on projected earnings for their current fiscal years, ABB, GE, and Siemens common stocks trade at relatively close price-to-earnings ratios of 14.8, 13.8, and 15.4, respectively.
New developments
All three companies allocate significant amount of resources on research and development. ABB, GE, and Siemens spent 3.7%, 4.5%, and 5.4%, respectively, of their revenues on research and development during their most recent fiscal years. While ABB has the smallest research and development budget as a percentage of revenue, it is one of the most innovative companies as it has eight research and development centers around the world and also is known for partnering with leading educational institutions to successfully bring academic research to market. As a result, during the last few months, it reached the following technological milestones:
a new low-voltage breaker with a payback of about six months was commercialized,

developed a low-loss hybrid high voltage DC breaker that is fast acting for grid conditions and allows the distribution of renewable energy across large distances,

implemented the world's first IE4 super-premium efficiency synchronous reluctance electric motor-drive package that can generate from 6% to 15% energy savings.
In addition to technological innovation, ABB has acquired three companies in the U.S. so far in 2013:
Power-One (PWER) - a leader in solar photovoltaic inverters; Power-One generated $120 million of EBITDA in 2012 and is one of the most profitable companies in this industry that has been rocked by bankruptcies.

Los Gatos Research - a Mountain View, California-based gas analytical measurement solutions provider that will add to ABB leading measurement business in its process automation division.

APS Technology Group - a San Diego-based leading provider of technology to keep track of shipping containers and a pioneer in the optical character recognition and automation software for use at marine and inter-modal terminals.
Future areas of growth where ABB is particularly well positioned to provide competitive products and services include mining, energy efficiency, and automation. According to the International Federation of Robotics, worldwide robot sales will increase by 5% per year up to 2015. In addition, the automation industry is highly fragmented and it will be easier for ABB to grow there organically or through acquisitions.
In mining, ABB is well-positioned to improve productivity by offering products and services that converge the traditional operational and information technologies into one unit. Operational and information technologies convergence allows mining companies to benefit from intelligent production, intelligent response to critical asset conditions, demand-driven planning, and reduced energy consumption and waste. All these features are increasingly helpful in remote mining centers.
In the power generation area, where companies have an incentive to sell as much kilowatt hours as possible, ABB can provide transformers, switch-gears, motors & drives, and grid stability that help utilize assets more efficiently. Also, it is a leader of retrofitting utility plants from coal to gas powered ones, which is less costly than building new plants and is the low-hanging fruit for the utilities.
Finally, in energy saving and efficiency, in general, ABB provides a one-stop shop for suppliers and end-users to be more efficient. Saving energy and lowering costs often provides such additional benefits as lower plant downtime and longer maintenance cycles, improved productivity, better product quality, compliance with building and environmental codes, improved employee health and safety, and benefits for innovation.
Conclusion
Despite its smaller size relative to GE and Siemens, ABB offers one of the best profit margins, growth rates, and innovation track records. The company is well-positioned to benefit from future demand for industrial efficiency, power reliability, and renewable energy. Even though the company recently announced management changes (including its chief executive and technology officers), investors looking to invest in a global industrial leader likely to outperform its larger peers should pay attention to ABB.
Disclosure: I have no positions in any stocks mentioned, and no plans to initiate any positions within the next 72 hours. I wrote this article myself, and it expresses my own opinions. I am not receiving compensation for it (other than from Seeking Alpha). I have no business relationship with any company whose stock is mentioned in this article.