Big Brother has always been viewed with mixed reviews. The idea of constant and indiscriminate surveillance without our control or consent gives rise to several constitutional as well as basic personal preference arguments.
To be fair, we as a society have been living in an age of surveillance even before the Boston Marathon bombing. However, that particular tragedy and its investigation produced calls for much greater monitoring of our cities and our lives. The media narrative of the investigation, manhunt and capture of suspects included elements that seemed to be from a science-fiction movie featuring surveillance cameras, smartphones, GPS trackers, facial-recognition technology, thermal imagers and even robots.
The notable use of technology has presented several opportunities for companies to capitalize on the newly acceptable uses of technology in law enforcement situations. To this point, there has been a noticeable gap in the market in crowdsourcing technology, which all levels of law enforcement desperately need. There are a few companies poised to meet the demand of these agencies. In this article, I will focus on NICE Systems (NASDAQ:NICE), OSI Systems (NASDAQ:OSIS), FLIR Systems (NASDAQ:FLIR) and Verint (NASDAQ:VRNT), four companies that are using video surveillance and intelligence solutions technology to fight crime.
Market Analysis
Worldwide revenue for video surveillance is expected to jump to $20.5 billion, according to IMS Research. This marks a 114% jump from $9.6 billion in 2010. IMS Research noted that the Boston Bombing could spur more dramatic video surveillance market growth in the coming years.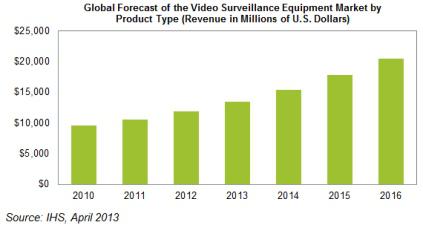 NICE Systems
NICE systems is already the largest provider of financial crime, risk and compliance software platforms for the financial services industry. What it didn't have, up until now, was a loudspeaker to boast its accomplishments. However, post Boston, other tech companies that assist law enforcement are now getting noticed.
NICE Systems has been recognized as a category leader in the Chartis RiskTech Quadrant for Anti-Money Laundering Solutions, which was developed as a proprietary methodology for the risk technology marketplace from Chartis, an internationally recognized research and advisory firm focused on the risk technology market.
Additionally, its suite of Anti-Money Laundering solutions received the highest position in terms of "completeness of offering" within the global vendor landscape. Its "NICE Situator," a global market-leading situation management solution, will be used at Denver International Airport (DIA) to enhance security and safety. This, along with other tech innovations from the company, will form the backbone of DIA's Integrated Airport Management System.
This trend will only continue as other airports, government and service companies use new advancements to combat crime in today's world.
OSI Systems
OSI Systems is yet another company stepping into the limelight as a high tech crime combatant. OSI Systems has long been a designer and manufacturer of specialized electronic systems and components for critical applications. The company has more than thirty years of experience in electronics engineering and manufacturing and sells a wide variety products in diversified markets, including homeland security, healthcare, defense and aerospace. The company is now receiving million-dollar contracts as greater demand for electronic components for surveillance and other equipment continues. OSI Systems was recently awarded a contract for inspection systems components at an airport in the Middle East valued at $3 million. The company also recently won a $3 million contract with a major OEM in the medical equipment industry.
OSI Systems recently released its Adjusted Earnings Per Share which increased 13.85% to $0.74 in the quarter, versus earnings per share of $0.65 in the year-earlier quarter. However, it missed revenue expectations which decreased 4.82% to $198.4 million from the year-earlier quarter.
There's another metric to look at though. AR - the amount of money owed the company - and DSO - the number of days worth of sales owed to the company. By considering the trends in AR and DSO, investors can often get a better understanding of how the company will perform in the future.
For OSI Systems, AR and DSO look healthy. For the last fully reported fiscal quarter, OSI Systems' year-over-year revenue grew 3.2%, while its AR dropped 3.6%. End-of-quarter DSO decreased 6.6% from the prior-year quarter. It was down 10.7% versus the prior year quarter. This, combined with the fact that the company is expanding into an emerging market, means that the company deserves further research by investors.
FLIR Systems And Verint
This list is far from exhaustive. FLIR Systems was the big name behind the thermal imaging win during the manhunt. A helicopter using FLIR technology showed the outline of one of the bombing suspects as he hid inside a canvas-covered boat in a Watertown, Massachusetts, backyard.
In addition, Verint assisted by providing its unique technological solutions which were used to capture, distill and analyze underused information sources, such as voice, video and unstructured text. Applications for this technology are far reaching. This technology is now being used to collect tips and screen important video files, voice files, texts and emails.
Other Key Players
Another player in this niche is CrowdOptic. This private tech startup focuses on crowdsourcing technology. CrowdOptic began by assisting advertisers in knowing if their ads, billboards or commercials are getting the attention of viewers. The company's technology and services collects and analyzes a wealth of data from smartphones and other technologies to help determine what activities people in a crowd are watching and engaging in.
CrowdOptic's technology could have played a key role in helping authorities sift through the photo evidence collected from the Boston bombing scene. The technology could have been used to piece together important visual information and give investigators a time lapse not just of the scene but of people who could have captured an image of the points of interest - even from some distance.
CrowdOptic's niche in geolocation and ability to rapidly create a kind of mosaic of photos capturing a moment in time from their focus showed the world the importance of this technology. Likewise, OSi Systems and NICE have much to offer in the way of supporting law enforcement. There is a huge opportunity for these companies to capitalize on this technology and generate new revenue streams.
Summary
Much of the potential in this market is contingent upon factors outside the market itself. Political moves, consumer reaction and many other elements all play a factor in how growth in this market will pan out. That being said, each of these companies are adhering to sound business principles, the most important of which is finding a specialization and capitalizing on it.
Disclosure: I have no positions in any stocks mentioned, and no plans to initiate any positions within the next 72 hours. I wrote this article myself, and it expresses my own opinions. I am not receiving compensation for it (other than from Seeking Alpha). I have no business relationship with any company whose stock is mentioned in this article.