Many of you will know The Hershey Company (NYSE:HSY) and associate it with tasty, affordable chocolate and other confectionery goods. However, to investors Hershey offers a fantastic opportunity to own a multinational company, with a varied product offering and history of rewarding investors with regular and growing cash flows.
Company Background
Hershey was founded in 1894 in Pennsylvania, by Milton Hershey. He revolutionized mass production, which made chocolate affordable to the working class, not only the rich within society. Over the 119 years of existence Hershey has grown into a multi-billion dollar company, operating in over 90 countries and having a wide range of chocolate and confectionery items. It has established itself as the leading producer of chocolate and non-chocolate confectionery and other grocery products in North America.
The Investment Opportunity
The rest of this report will focus on what I consider to be some of the strengths of Hershey and discuss what makes the stock a good purchased.
Brand Name - Hershey is a strong brand name and has now turned into a household name within the U.S. and other global markets. It is hard to quantify the benefits of a strong brand name, but some of the benefits are associated with high consumer awareness, customer loyalty and increased sales.
Product Variation - Hershey's turnover in 2012 was over $6billion and this came from a wide range of products. In total it sells over 80 different products and within the U.S. it has three main brand franchises; Hershey, Reese's and Kisses. This wide range of products helps to diversify revenue. When a business is solely reliant on one product for revenue generation risks heighten. However, if fashion and tastes shift from a particular chocolate bar, Hershey has a wide range of other items that can still generate revenue and the impacts should be minimal.
International Growth Opportunities - Hershey's main market is North America, however it does operate in over 90 countries worldwide and net sales outside of the U.S. accounted for 16.1% of sales in 2012. It has a fantastic opportunity to expand operations in these foreign markets and this should drive revenues and earnings higher. China represents a huge opportunity for the firm and it is clear it is targeting this market to help drive growth. Over the next five years it sees China as being its second market behind the U.S.
Consistent Stable Growth - Although growth may not shoot the lights out, and for some high-risk, aggressive investors may be simply too low, the stable growth and predictable revenue is fantastic for income-focused investors. The table below highlights Hershey's consistent year-on-year revenue and net income growth.
| | | | | | | |
| --- | --- | --- | --- | --- | --- | --- |
| | 2012 | 2011 | 2010 | 2009 | 2008 | 2007 |
| Revenue ($bn) | 6.644 | 6.08 | 5.671 | 5.298 | 5.132 | 4.946 |
| Net Income ($bn) | 0.66 | 0.628 | 0.509 | 0.435 | 0.311 | 0.214 |
Source:2012 Annual Report [pdf]
The data also highlight the resilience of Hershey. During the credit crunch consumer spending fell rapidly as consumers became very bearish on the economy and focused on reducing spending and re-capitalizing. However, even in this very difficult economic climate Hershey managed to grow both revenue and net income.
Fantastic Track Record of paying a growing dividend - The stable growth mentioned above has allowed Hershey to consistently return cash to investors. As revenues and earnings have grown, so too has the amount of cash returned to investors, and this growing dividend trend makes the stock very attractive for long-term investors.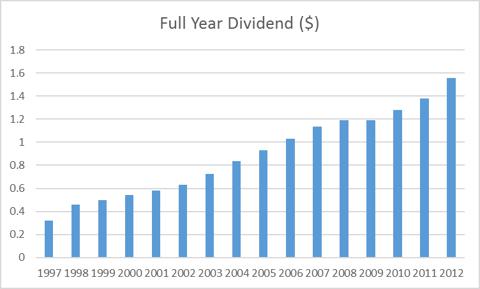 Source: Hershey Investor Relations
The key to investing is not only identifying a company you like, but also making sure you do not pay over the odds for the business, ideally we want to find growth at a reasonable price.
Share Price Information
The share price of Hershey closed at $88.61 (May 13, 2013). The stock has performed well YTD, returning 21.71% and it has risen 28% over one year. The stock currently trades on a trailing P/E ratio of 28.8x and a one-year forward P/E of 21.99x. Some may argue this stock is slightly expensive, and its P/E is higher than one of its main rivals Mondelez International (NASDAQ:MDLZ). However, what investors need to bear in mind is Hershey's ability to consistently grow earnings and it has recently upgraded its targets to long-term earnings per share growth of 8%-10%. This huge earnings potential should reward investors with long-term capital appreciation, and there is the added kicker of dividends, which should also increase over time.
Summary
Hershey is a fantastic long-term growth and income stock. The business is well established and has expanded operations into over 90 countries. With a diverse and growing product base, and growth strategies targeting key markets such as China, the business should continue its trend of growing top-line sales and bottom-line net income. The company has shown an ability to grow revenues even in economic downturns and also consistently return cash to investors.
Whilst we may think chocolate is bad for us, as investors Hershey is a very good option!
Disclosure: I have no positions in any stocks mentioned, and no plans to initiate any positions within the next 72 hours. I wrote this article myself, and it expresses my own opinions. I am not receiving compensation for it (other than from Seeking Alpha). I have no business relationship with any company whose stock is mentioned in this article.