Long term investors globally are looking out for exciting investment opportunities in this current downturn which had lead to all asset classes falling substantially from their highs. While many asset classes will give superior returns if one is looking at a 5-10 year investment horizon, some will perform better then the others over this period.
In my opinion commodities are one of the best asset classes to remain invested in for long term. This holds true for both industrial and agricultural commodities. In this article however, I will be mainly discussing the fundamentals of Crude Oil through some data and statistics.
When Commodities were peaking out during the middle of 2008, analyst were predicting crude to touch $200. That did not happen and crude slumped in the second half of 2008. Again there were talks of Crude touching $15-$20 among the analyst community. Today, Crude is again back above $70 per barrel.
While, in the short term the price volatility is expected on the back of uncertainty about the global economic health, the long term price trend will largely depend on the expected demand - supply scenario and other critical factors such as the geopolitical issues.
Let us consider the following statistics:
In United States the oil consumption per capita (barrels/year) peaked out at around 27.
In Japan and South Korea the oil consumption per capita (barrels/year) peaked out at around 17.
In China the oil consumption per capita (barrels/year) currently stands at 1.8.
In India the oil consumption per capita (barrels/year) currently stands at 0.8.
Asia is house to over 3.6 billion people which makes up around 56% of the world's population. The major part of growth and development is yet to come for most of the Asian countries.
Currently, the amount of Oil consumed by 300 million Americans is equal to the amount of Oil Consumed by over 3.6 billion Asians.
In 1964, the world added 48 billion barrels of oil in proven reserves every year but consumption was only 12 billion barrels.
Currently, the world adds 5-6 billion barrels of oil in proven reserve every year but the consumption is around 30 billion barrels of oil annually.
I leave it to readers to decide based on these statistics, which way the price of Oil should go in the long term.
I found an excellent chart, which gives a the key drivers for Oil prices in long term. The same is presented below (open in new window for enlarged view).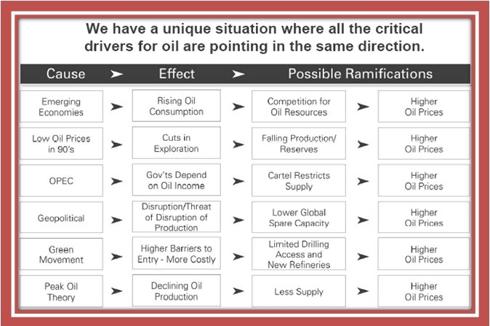 Chart Source: U.S Global Investors (usfunds.com)
Thus, in my opinion investors should look to go long on Crude on any sharp correction.
Disclosures: No Positions Currently. Plan to go long on Crude through Oil Exploration Companies in India on every substantial correction.