Bears are suffering severe cognitive dissonance. The higher the market goes, the more anxiety we feel from the difference between what is happening and what should be happening. If we stay fully invested, the safety of our assets looks increasingly precarious. If we pull back, we constantly question ourselves after every market high.
A bear case based on fundamentals can take years to show up in the market. Moreover, the effect of phenomena that can cause long-term damage, such as massive federal deficits or mania for mortgage securities, may initially be positive for equity prices. But even with an appreciation of the long view it's difficult to watch others get richer by the day while we remain in a defensive posture.
This article addresses one question on the minds of conservative investors in this trying situation:
If I cash out now and the market high is one or two years away, how will my financial situation be affected in the years ahead?
The article assumes that we are in a standard market cycle and that a major correction will occur. A quick review of recent Seeking Alpha articles shows that even many bulls anticipate a correction sometime in the next couple of years. The "this time is different" debate is raging, and certainly the world economy has changed greatly in this century. However, like Newton's law of gravity, economic and mathematical laws don't change. The apple will fall; only the timing is uncertain.
The chart below illustrates what could happen if you pull back from equities today and the market continues to go up for another year, based on market history around the market highs of 2000, and 2007. The S&P 500 is used as a market proxy. Year 0 is the market high of October 2007, or March 2000. Data points for other years are increments of 365 days from those dates.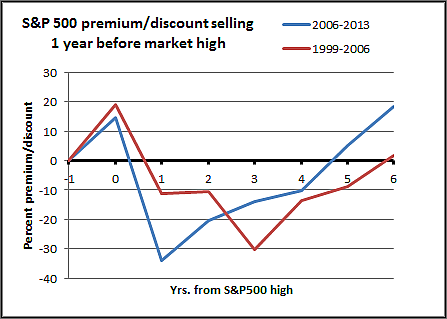 Points below the horizontal axis are opportunities to buy back the market at a discount. If the market follows the pattern around 2007 (blue line), in 2 years (year 1 on chart) you would have an opportunity to repurchase the market at a 34% discount to today's value. Going out 3 more years you could buy at discounts of 20, 14 and 10%. If you were lucky enough to go back in at the market bottom your discount would be a whopping 50% (S&P 500 at 1365, one year before 2007 peak, 2009 low of 676).
The red line shows the same scenario based on the market cycle which peaked in 2000. If you went to cash one year early, the discounts one to five years after the peak were 11, 10, 30, 14 and 9 percent. The maximum possible discount was 39% (S&P 500 at 1282, one year before peak, low of 776).
The next chart shows the scenario for going to cash two years before the high. The repurchase discounts are less as the market continued up for two full years. The 2007 pattern (blue line) shows one, two and three years after the peak the discounts are 24, 8 and 1%, with the maximum 43% (1186, at two years before peak, bottom 676 in 2009). The 2000 pattern has a smaller discount window, 18%, three years after the peak and a maximum of 27%.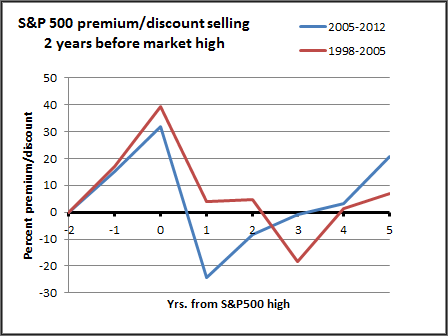 Table 1 below compares the one and two year options for the 2007 cycle together. A negative number indicates a loss; positive numbers in green indicate discounts. For example, by 2009, if you had sold two years before the peak you could buy back the market at an 8% discount. If you had sold one year before the peak you could buy back at a 20% discount.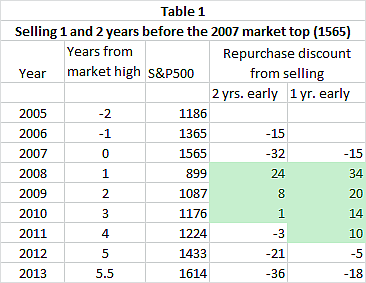 Table 2 compares the one and two year options for the 2000 cycle. Although the repurchase discounts in both tables seem small in the out years, they are significant compared with the alternative of staying fully invested. For example, selling a year before the 2000 high and repurchasing in 2004 results in a 14% discount. Staying fully invested would have shown a loss of 13%, for a total difference of 27%.
An investor who cashes out some or all of his stocks now may continue to second-guess himself for a long time, but after several years could be in the happy position of buying back in at a very rewarding discount. Market timing is not required to book big gains. Admittedly, sitting on cash for two to five years is inconceivable for most investors. The inclination is always to do something rather than nothing, and there is pressure from multiple directions feeding this impulse. It would be interesting to examine the implications of putting cash into various defensive positions, such as Ranger Equity Bear ETF (NYSEARCA:HDGE), ProShares Short S&P500 (NYSEARCA:SH), or others. Another option is to scale back in by recommitting a fixed amount of cash as regular intervals. The outcomes of such options are undoubtedly quite different.
This is a study of one investment option for a scenario completing the current market cycle. It is not a recommendation to go all cash today, but rather a view of one set of outcomes if the market follows a pattern similar to 2000 and 2007. There are numerous factors not discussed here, which would affect results, such as opportunity cost, lost dividends, interest rates received on cash balances, alternatives to cash, and the performance of individual stocks versus the total market. I look forward to comments discussing these and other factors.
Disclosure: I have no positions in any stocks mentioned, and no plans to initiate any positions within the next 72 hours. I wrote this article myself, and it expresses my own opinions. I am not receiving compensation for it (other than from Seeking Alpha). I have no business relationship with any company whose stock is mentioned in this article.