J.C. Penney Company Inc.(NYSE:JCP) has been on a roller coaster ride the last few years. During those years, it hired a new CEO who had a different vision for the company's growth. A restructuring of the company's business model, under that CEO, left J.C. Penney suffering deep losses and lack of loyalty amongst customers. However, with a sense of regret, the company has started to revert to its former products and pricing strategy. This should help J.C. Penney, with its wonderful brands, and lower prices, bring back higher sales and have a good long-term future. Long-term investors should be optimistic about the company's earnings potential.
Some of the reasons why J.C. Penney is a buy
Excellent brands
Customers don't just go to J.C. Penney because of its relatively low prices. They go for the well designed clothes. It is a good deal for the core customers who have always liked J.C. Penney for the low-priced brands. Brands such as Stafford, Liz Claiborne and St. John's Bay are some of the best and the most economical in the market.
In the last two years, the company had lost its way under former CEO Ron Johnson. He tried to change the pricing structure at the company, eliminating deep discounts and replacing them with more reasonable prices. The customers were disappointed and the sales fell.
The company has now brought back successful brands such as the St John's Bay women's line. The company has been listening to its customers and recognized a survey that suggests that this women's brand is the customers' favorite amongst all J.C. Penney brands. Many of the customers who had left J.C. Penney for good should come back with such moves.
Bigger companies have made branding mistakes similar to J.C. Penney's. However, with a quick reversion to their former business model and products, they come back stronger, and with a stronger understanding of their customers. J.C. Penney should be no different.
New CEO
Myron Ullman is the new CEO at the company. He joined after the Ron Johnson disaster. Ullman was the CEO at J.C. Penney for seven years, until November 2011, when he was replaced by Johnson. Ullman's previous tenure at the company was rather successful. During that time, he brought in several successful brands and increased profitability.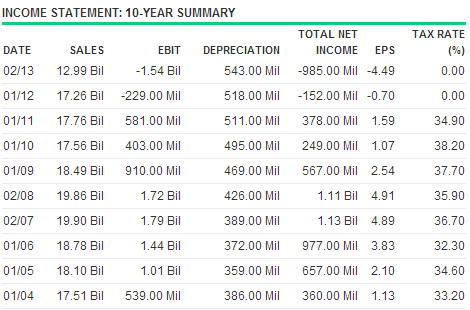 Stock Price
The stock does not have a PE ratio because of a huge loss last year. However, using its last positive EPS of $1.6 in 2010, we get a PE ratio of 11.4. The company is selling at a huge discount to its intrinsic value. Also, the average PE ratio at the S&P 500 is 18.89, much above J.C. Penney's.
Because of massive fear about the company's future, talks of bankruptcy are making the rounds. However, with a return to its former business model, and the return of good management, there should not be a reason why J.C. Penney would not do well.
The stock price is already up close to 30% since Myron Ullman came back. It's only been a month. Even though this is not a certain sign of future success, it shows that enough investors believe, at the present time, that J.C. Penney can be profitable again.
Balance Sheet
The company has a long-term debt-to-equity ratio of less than 1. The current ratio has fallen from 1.84 in 2011, to 1.42 in 2012. However, the drop in working capital was not due to a ploy to divert cash towards growth, but the result of a net loss in 2012.
The current CEO, Myron Ullman, has always stressed a healthy balance sheet and as a result, J.C. Penney is likely to strive to have one.
Conclusion
J.C. Penney is a good long-term buy. Even though the company is not profitable right now, we must remember that most companies were not profitable during the recent recession. That did not make their prospects dim. In fact, the best time to buy a company is when the stock price is lower. J.C. Penney has lost absolutely nothing. It has the same brands it had when it was profitable, same management, and same customers. J.C. Penney should do well over the long term.
Disclosure: I have no positions in any stocks mentioned, and no plans to initiate any positions within the next 72 hours. I wrote this article myself, and it expresses my own opinions. I am not receiving compensation for it (other than from Seeking Alpha). I have no business relationship with any company whose stock is mentioned in this article.