After reporting on the extreme valuation of Tesla Motors, Inc. (NASDAQ:TSLA) (see Has The Future Changed That Much For Tesla Motors?), another Elon Musk stock soared to levels making Tesla appear cheap. SolarCity (SCTY) leapt 24.2% on Monday heading into earnings after the close based mostly on the hype surrounding Musk. Did the stock deliver the earnings needed to justify the huge stock jump leading to a 300% gain since the IPO?
SolarCity provides renewable electricity directly to homeowners, business and governments by offering solar power to consumers at prices lower than typical utility costs.
At one point intra-day on Monday the stock was up 35% for the day and nearly 300% since the IPO back in December of last year. The company delivered more MWs than guided, but how does that intersect with the revenues and profit picture?
Any Reasonable Path To Profits?
As with the other Elon Musk business, SolarCity doesn't appear to have a real path to profits. The company spent more on operating expenses during the last quarter than it produced in revenue. A business building scale at the cost of short-term profits might actually be a wise move. The real question though is why investors are willing to pay up for such a business that hasn't proven out the business model. Typically such concepts don't end so well for those being sold such a business plan. Investors won't wait forever for profits that the company gets farther away from each report.
Similar to the first quarter as a public company, SolarCity reported a loss $0.10 worse than the consensus estimates for Q113. Revenues increased by 21% to $30 million, but operating expenses soared nearly $10 million to $34.5 million leading to a substantial loss from operations. On top of those expenses, the company has significant interest expenses that now total $6.3 million per quarter. The below slide from the earnings presentation doesn't get much worse in the public markets: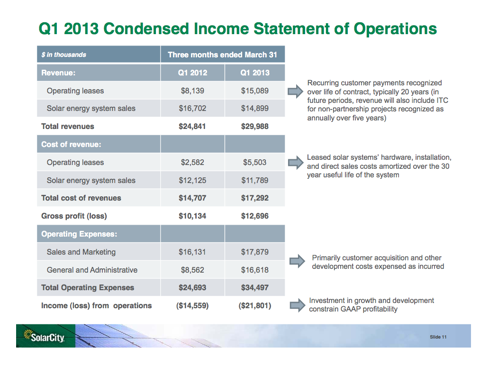 SolarCity provided the following guidance for Q213:
GAAP Operating Lease Revenue: $16 million - $18 million
GAAP Solar Energy Systems Sale Revenue: $5 million - $10 million
GAAP Gross Margin: 40%-55%
GAAP Operating Expenses: $38 million - $42 million
MW Deployed: 48 MW to 53 MW
Some major red flags with the earnings report are the persistent focus on numbers of contracts, MWs deployed and aggregate estimated nominal contracted payments. Those payments require the company to monitor and service the solar panels so it doesn't come without a significant cost.
New Customers Slowing
While expenses were accumulating at a faster clip, the operating metrics mostly declined year-over-year. Both new customers and new energy contracts signed during Q1 were lower than last year totals. In fact, the new customers declined from 8,299 last year to only 6,884 this year. In addition, the MW deployed was only slightly higher at 46 MW than the 41 MW last year.

Conclusion
With a $2.7 billion market cap and only guidance for $16 million to $18 million in Q2 core operating lease revenue, the valuation on SolarCity places Tesla and most fast growing tech stocks to shame. Sure the company could wipe out a large portion of the operating expenses in order to turn profitable immediately, but the valuation of the stock would plunge in that scenario. Or at least that is the theory presented by the company with thin margins after the equipment costs and interest expenses wipe out most of the revenue.
Investors need to be careful on this stock as it only trades based on hype as the financials don't justify such an enormous market cap. The company plans to generate significant losses for the time period with no real indication that it can actually reduce operating expenses in the future. The concept of being a solar utility is intriguing, but charging customers a lower rate than legacy utilities doesn't add up. As long as Elon Musk is seen as having the magical touch, the stock can't be shorted for now. The time will come though just as with Tesla Motors.
Disclosure: I have no positions in any stocks mentioned, and no plans to initiate any positions within the next 72 hours. I wrote this article myself, and it expresses my own opinions. I am not receiving compensation for it (other than from Seeking Alpha). I have no business relationship with any company whose stock is mentioned in this article.
Additional disclosure: The information contained herein is for informational purposes only. Nothing in this article should be taken as a solicitation to purchase or sell securities. Before buying or selling any stock you should do your own research and reach your own conclusion or consult a financial advisor. Investing includes risks, including loss of principal.