I see a lot of quite interesting viewpoints from a number of very thoughtful and insightful contributors both here on Seeking Alpha as well as on other sites. A big theory that many seem to have is that Intel (NASDAQ:INTC) should build Apple's (NASDAQ:AAPL) A-series processors since Intel has a lot of capacity and that it may not be filled with Intel's own parts. I present what I believe is a very compelling argument against such a deal occurring.
There Is Plenty Of Room In The Non-Apple World
There is a misconception that the only devices that require high-end applications processors are those from Samsung (OTC:SSNLF) and Apple. While it is certainly true that these players are large and vertically integrated, it's no secret that the current apps processor leader - Qualcomm (NASDAQ:QCOM) - doesn't need to have an apps processor in the iPhone to own 43% of the revenue share. In fact, Samsung only owned 11% of revenue share here, and Apple owned 16% - sizable, but not exactly the entire market.
So, Intel's goal in the smartphone world isn't going to be to try to build Apple's chips for them, but instead to try to grab market share from the other merchant vendors such as Qualcomm and Broadcom (BRCM). The market is still plenty huge even without Samsung and Apple, and the smartphone applications processor space is a market in hyper growth mode.
Further, I think it is a little premature to say that Apple and Samsung will be the only two major players in the high-end phone space going forward. While these names are popular now, market share shifts are swift in this space, especially as competitors such as HTC have proven that a great industrial design is not out of reach of a smaller, more nimble outfit. Going forward, I expect this to look much more like today's PC market - plenty of OEMs, plenty of choices, very little profitability for the device vendors themselves.
Opportunity Cost Too High
With this background in place, I believe that the real crux of the argument is that the opportunity cost for allocating a sizable chunk of its expensive, high-end fabrication plants to Apple-designed chips is gigantic. The "running at half capacity" thing isn't something that's permanent - Intel is running at what appears to be full load today, and as Intel broadly expands the markets into which it sells its products with a wide swath of SoCs for things such as tablets, phones, routers, in-vehicle infotainment, etc., it seems silly to spend the space that could be used to sell chips that carry both design margin and fabrication margin to become beholden to Apple at much lower margins.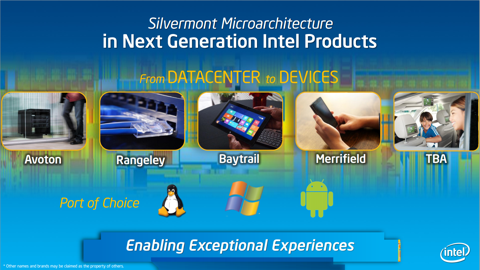 Let me put it this way. Intel could either build all of the products mentioned in the slide above, get 60%+ gross margins for them, and get its tentacles into a whole slew of diversified markets... or it can become yet another Apple supplier, who will be squeezing margins with the perennial threat of moving production over to Taiwan Semiconductor (NYSE:TSM). Does this make financial sense to you?
Intel's Foundry Efforts - Targeted To Be Strategic
Look at the deals that Intel has made thus far in the foundry space. It's building FPGAs for duopoly member Altera (Pending:ALTR). It's building high value, mission-critical chips for Microsemi (NASDAQ:MSCC), and it's building ASICs for Cisco (NASDAQ:CSCO). These companies all, heretofore, have been competitively constrained by process technology. While smart architecture and good decisions go a long way, at the end of the day, what you can economically do within a given power/performance envelope is ultimately capped by process technology. That is, at 28nm the world's best design becomes a whole lot better in every dimension than the world's best design at 40nm.
Intel's goal is to find players that are looking for an edge and are willing to pay big-time for it. This means that Intel not only gets paid for its process lead in terms of the value of the transistors, but there is real customer stickiness. It's hard for, say, Altera to threaten to pick up its bags and go back to TSMC because TSMC won't have the bleeding edge technology needed.
Further, I expect that these relationships are meant to go beyond a simple fabrication job, and instead are meant to foster deep relationships within leaders in adjacent industries. Perhaps a company such as Altera would like to integrate a processor core with its FPGAs - why not have Intel supply the Atom core IP to help facilitate this? Intel desperately needs to become an ecosystem company as well as a world class design/manufacturing company if it is going to continue to have a durable, nearly unassailable moat in the silicon business.
Finally, at the end of the day, this is a good, new revenue stream that will be incremental on top of Intel Architecture processor sales. By building Apple's "A" series parts, Intel would be enabling the iPhone to be fundamentally more competitive with its own SoCs in competing Android phones and Windows 8/Android tablets. If Apple wants Intel built silicon, then it also needs to be Intel designed silicon, since Intel directly plays in the apps processor industry.
Conclusion
Intel simply won't build Apple's "A" series parts. It makes no sense from a long-term standpoint (enabling Apple's iPhone to compete with Intel's own chips in Android phones), and I don't believe Intel even needs the business. The non-Apple, non-Samsung apps processor business is "large enough" for Intel's phone and tablet businesses to add meaningfully to Intel's top and bottom lines, and I highly suspect that Samsung has precisely zero problem using an Intel apps processor if it's better than the Qualcomm or internal chips that Samsung uses.
On the foundry side, Intel's goal is to build strategic, high margin relationships across the semiconductor industry. Forget this nonsense about needing to fill fabs - Intel's wide variety of SoCs for many new markets will easily take care of that. This is fundamentally about opening new revenue streams and getting paid handsomely in a business incremental to the internal chip business. All of the custom foundry profits could go straight to the bottom lines and into the dividend. A major win.
I like Intel's plan of becoming an SoC company, and I think that the fears that Intel's fabs will sit idle, or that they can't get into tablets/phones, or that the traditional PC won't evolve to become more desirable are overdone.
Disclosure: I am long INTC, QCOM. I wrote this article myself, and it expresses my own opinions. I am not receiving compensation for it (other than from Seeking Alpha). I have no business relationship with any company whose stock is mentioned in this article.