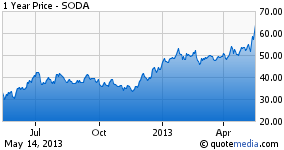 In this article, we will shares some insights and key takeaways from SodaStream's (NASDAQ:SODA) latest meeting which included members of the financial and investment community. Shares of SodaStream have risen by nearly 15% since reporting Q1 2013 earnings earlier this month. On May 14th shares rose by nearly 12% after the company held its first ever Analyst/Investor Day on May 13, 2013. There was a great deal of speculation surrounding the event with investors looking forward to greater clarity and insight into the company's global growth plan, global partnerships and the direction the company is heading.
SodaStream is currently available in 45 countries across the globe and the company is focused on driving revenues in existing markets while seeding new markets such as India, Mexico and Poland. While China remains an expansionary objective for the company, SodaStream's CEO Daniel Birnbaum outlined that it is currently not a main focus as demand and opportunity in existing markets warrants greater efforts from the company during FY13.
So where is SodaStream Heading? Birnbaum said that SodaStream is well on its way to becoming a billion dollar company and aims to achieve this objective by 2016 if not sooner. The strategy to achieve this objective focuses on three growth drivers:
Innovation
Distribution
Consumer Education
Design is a huge factor in kitchen appliances and counter top real estate is highly sought after by competing appliance makers. The Source machine by SodaStream is the company's newest and most innovative soda maker design; it also recently received the Red Dot award. SodaStream will also introduce the Aqua Bar later this year and into 2014. The Aqua Bar is the company's first consumer driven, on-demand soda maker which offers hot, cold, ambient and sparkling water with dual filtration systems. The Aqua Bar is a plumbed-in device which could be advanced through further innovation to achieve a single-serve dosing system. With the ability of this machine to produce both hot and cold beverage solutions, it is highly probable that the company drives innovation to facilitate an expansion of its product line to facilitate coffee and coffee flavored drinks in a single serve capacity. SodaStream already offers a commercial grade, built-in machine which was designed to receive Lavazza brand capsules to produce a single serve-coffee and/or espresso flavored drink for the commercial market. The company is currently looking to further develop this commercial product with strategic co-branding partnerships. The SodaStream newly operating Innovation Lab will likely deliver new products over the coming years which will offer superior consumer experiences.
Innovation is not a finite process; it is constant and ever-evolving which is no further evidenced in SodaStream than with the company's latest line of soda makers, syrup dosing packages and bottles. With that said, SodaStream is working on differentiating dosing and syrup delivery offerings to flavor carbonated beverages. Investors tend to forget about how important the bottles are and how much revenues the company sees through its bottle sales. In the near future, the company will bring to market To-Go, stainless steel bottles which will further advance the company's product line. No matter how you look at innovation and these products in development, the goal is to accomplish one thing … consumer loyalty through innovation. SodaStream is the leader in the at-home carbonation drinks market and through its dedication to innovation it aims at holding this status for years to come. SodaStream's latest refrigerator partnership with Samsung is the first step to achieving the pinnacle of where the at-home carbonating industry is heading, a refrigerator system that dispenses soda, not just sparkling water, but actual flavored soda. In the not too distant future, the consumer will be able to drink any flavored soda through their refrigerator at just the touch of a button.
The carbonated soft drinks (CSD) market is a $260 billion global market and SodaStream's share is less than 1% of this market which offers the company opportunity to grow for years to come. In the United States, SodaStream has cracked the 1% household penetration rate in only 3 years. Distribution played a huge role in achieving a 1.1% household penetration rate in the U.S., but SodaStream is looking toward achieving 10% household penetration in the U.S. in the coming years. The fad theory of the product category was brought into the equation of this product category development since the company went public more than two years ago. Given the company's success and greater than 10% household penetration rates in various countries across the globe, coupled with the stickiness of the product category in the world's largest consumer market, the United States, the fad hypothesis has clearly been debunked. Even greater evidence to the stickiness of the SodaStream system is the company's attrition rate. SodaStream's attrition rate has declined precipitously since the company embarked on its global expansion plan. SodaStream's attrition rate went from 48% in 2011 to roughly 30% presently.
Main drivers contributing to the ever-decreasing attrition rate have been adding convenience through innovation and aiding consumer awareness through thoughtful brand marketing. Convenience comes through both innovations of the product and through broader distribution and/or availability of products. SodaStream products can now be found in over 61,000 doors globally and roughly 16,000 doors in the United States alone. Of the 16,000 doors in the U.S. roughly 11,000 doors offer the SodaStream gas exchange which adds to the stickiness of the SodaStream system. Gerard Meyer, President of SodaStream USA, outlined how there has been a direct correlation in the lower attrition rate as distribution of the consumables product line has expanded. He notes that greater accessibility to consumables and variety of consumables leads to greater consumer loyalty and the trend in place is expected to continue. Lastly, Meyer points to the usage trend which suggests that over 50% of SodaStream users are using their machine once a day, over 80% of users are using their machine once a week. Clearly these machines are not collecting dust and soda consumption and sparkling water consumption is not a fad. SodaStream is simply making it more convenient, healthier, greener and easier for the consumer to drink their favorite carbonated beverage flavors.
During the Analyst/Investor Day event, the company discussed its plans to expand its manufacturing and capacity utilization over the next 12-18 months which will include the full-scale development of its $90 million, 1 million square foot manufacturing facility in Israel. Current demand for SodaStream products has constrained the company's gross margins due to the need to contract third party manufacturing. However, once the full consolidation of manufacturing comes on-line in late 2014-early 2015, margin expansion should reach levels of 56%, but SodaStream has under-promised and over-delivered in the past so we would suggest modeling gross margins of roughly 56.5% in 2014. SodaStream's initial FY13 gross margin guidance is 54%, however, the company achieved 54.5% gross margins in Q1 2013.
SodaStream made some interesting announcements regarding specific retail distribution expansion in the United States. During Q2 2013, the company will expand into 400 Kroger stores, 500 Office Depot stores and 150 Alco stores. H-E-B will also come on-line in the near future as noted by management. H-E-B should be of keen interest to investors as H-E-B represents SodaStream's further entrance and testing of the grocery retail market in the United States. H-E-B is a privately held San Antonio, Texas, supermarket chain with more than 315 stores throughout the U.S. state of Texas and northern Mexico. In Capital Ladder Advisory Group's most recent Q1 2013 SodaStream Earnings Preview report, we noted these specific retailers would begin distribution of SodaStream products imminently. We also named two other grocery retailers and department store chains which will likely begin distribution of SodaStream products later this year. With SodaStream entering the grocery channel in the U.S and with Canada mirroring the household penetration rate in the U.S. market, I think it is safe to assume that SodaStream will begin seeding the Canadian grocery retail sector in the near future.
On the heels of the Analyst/Investor Day event, share price targets of SODA were raised at Oppenheimer from $60 to $68, Moness Crespi & Hardt from $70-$80 and Capital Ladder Advisory Group from $61-$64.
Here are Capital Ladder Advisory Group's big takeaways from the event:
CEMA, while representing roughly 7% of total revenues is showing signs of macro-economic weakness, sell-out remains strong, growing double digits.
Japan will add 1,000 doors through the remainder of the year and

SodaStream will effectively triple its distribution network in the region. Current issues are merely transitory in nature.

Brazil will show a greater contribution to overall sales and profitability when SodaStream reaches a co-packing deal to produce syrups locally. Am-bev (ABV) anyone? Am-bev is the largest PepsiCo (NYSE:PEP) bottler outside the United States and Am-bev recently signed a distribution and packaging deal with Monster Beverage Corp. (NASDAQ:MNST) to distribute Monster Beverage drinks in Brazil. A deal which allows

SodaStream to effectively produce consumables locally will likely speed up expansion in the region to include Argentina and Peru.

Attrition rates continue to slow validating the product category and

SodaStream's business model. Usage rates are also climbing YOY.

We anticipate more regional grocery retail testing in the current year. Possibly Shop Rite and a big entry into the grocery channel in Canada.
More co-branding deals will be announced this year, quite likely to occur on both the appliance and consumables side of the business.
Coke (NYSE:KO) and PepsiCo: They are more than welcome to attempt to scale a 100 year old business model into a new direction; however, this feat of strength is unlikely as the major beverage producers have scaled their business in a direction that would be extremely difficult to course correct effectively and profitably. Relationships with bottlers and retailers would suffer unduly in the event that the two majors would dive into the at-home carbonation market independently. Simply put, the

SodaStream platform would enable the majors to seamlessly branch into another revenue channel without any disruptions.

SodaStream Professional is currently operating in roughly 350 doors and does not contribute any meaningful revenues to the overall business currently. However, the company has recently launched in certain France hotels and restaurants and plans to grow its presence internationally to 1,500 doors by year end and before bringing its commercial line of products to the U.S. in a meaningful way.

ROI is trending up and we anticipate current investments to be accretive for years to come, namely the acquisitions of the Nordics and the Canadian distribution rights. Additionally, it is highly likely that the company will continue to purchase distribution rights in the coming quarters.

SodaStream currently operates 21 markets directly while distributors operate 24 markets.

SodaStream announced the recent addition of Sainsbury in the United Kingdom which was highly anticipated by CLAG and some might say predicted. We would encourage SODA investors to inquire as to what other insights, predictions and distribution deals we are aware of to support your SODA investment thesis.
It is very clear that SODA is changing the way we consume CSDs around the world. Capital Ladder Advisory Group remains bullish on shares of SODA and maintains a Buy rating given constant successful business execution and years of growth ahead for the company. Our long term investment thesis combines SodaStream's ability to drive distribution expansion, brand awareness and innovation. SodaStream participates in a multi-billion dollar industry and has adapted its business model to take advantage of the trends in the marketplace. The investment thesis in SODA also takes on another aspect with consideration to the high barrier to entry within the at-home carbonation industry. As SodaStream advances its network of CO2 exchange locations, this barrier to entry strengthens. With the recent run-up in share price, we would look to repurchase on dips of 5% or greater as shares remain highly volatile and the future outlook for the company remains very strong. Some risks to our investment thesis include the macro-economic outlook for some countries in the euro zone and surrounding areas, location of headquarters in a highly contentious area of the Middle East and the potential for incremental dilution of earnings through acquisition costs.
Disclosure: I have no positions in any stocks mentioned, and no plans to initiate any positions within the next 72 hours. I wrote this article myself, and it expresses my own opinions. I am not receiving compensation for it (other than from Seeking Alpha). I have no business relationship with any company whose stock is mentioned in this article.