This morning we received further confirmation that Europe's economy stinks. We did not need the GDP data to tell us this, no one did, but we have it and that is that. Japan's Nikkei was storming overnight as investors rushed in again on news that the government was going to begin working on their bond rates due to the rates on government debt securities having risen sharply in recent weeks. Who wants to own debt valued in a currency which is being deflated by those who issue the debt? Certainly not us and certainly not those who already did. Look for Japan to potentially set up a monthly bond buying program such as in the US which would add another facet to their economic growth plan.
Chart of the Day:
Netflix (NASDAQ:NFLX) shares have been on fire lately with all things appearing to click for them. We ran across a great article from AllThingsD (see this link). We find it interesting that the numbers from the first half of 2013 are essentially the same on a percent basis for Netflix, even with the increased competition from other names trying to make inroads (and succeeding) in their industry. The bottom line here is that even with the increased competition, Netflix is managing to maintain its share of the pie...the increasing pie. We are not bulls on the shares at these levels, but that news is bullish indeed.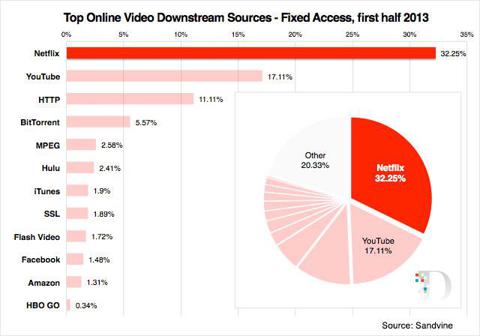 Chart courtesy of AllThingsD.com and Sandvine.
We have economic news due out today, and it is as follows:
MBA Mortgage Index (7:00 a.m. ET): N/A
PPI (8:30 a.m. ET): -0.5%
Core PPI (8:30 a.m. ET): 0.1%
Empire Manufacturing (8:30 a.m. ET): 3.5
Net Long-Term TIC Flows (9:00 a.m. ET): N/A
Industrial Production (9:15 a.m. ET): -0.2%
Capacity Utilization (9:15 a.m. ET): 78.3%
NAHB Housing Market Index (10:00 a.m. ET): 44
Crude Inventories (10:30 a.m. ET): N/A
Asian markets finished higher today:
All Ordinaries -- down 0.56%
Shanghai Composite -- up 0.35%
Nikkei 225 -- up 2.29%
NZSE 50 -- up 0.01%
Seoul Composite -- up 0.12%
In Europe, markets are mixed this morning:
CAC 40 -- up 0.18%
DAX -- up 0.18%
FTSE 100 -- down 0.03%
OSE -- down 0.48%
Retail
While watching some television last night we saw a JC Penney (NYSE:JCP) commercial come on and were expecting to see the same apology commercials we have seen over the past few weeks. Strangely enough we were blown away to see a thank you message with the company seeming to thank customers for reversing their fortunes. Now in fairness it is a marketing item, and the shares have recovered from their lows but it just feels a bit early to be declaring victory and thanking people for returning without having a viable data set to confirm this as a trend. Declaring victory too soon has a tendency to be detrimental, and lying to customers is just as bad. We see the recent rise as short covering and are not yet ready to declare the bad times having ended here. Investors beware.
We have seen an uptick in shares since Ron Johnson was fired, but declaring victory here seems premature...is buying into this rally premature as well?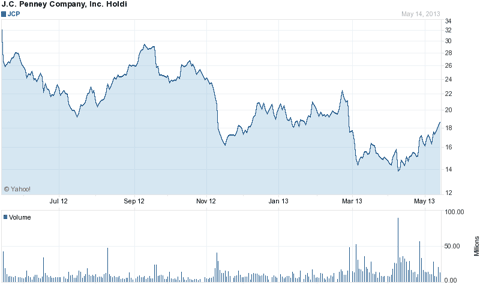 Chart courtesy of Yahoo Finance.
Financials
Shares in BB&T (NYSE:BBT) caught a bid yesterday and rose on above average volume, 6.6 million shares, to close at the highs of the day. The company recently announced a $0.23/share dividend for the quarter, which has already gone ex-dividend, and as we discussed previously has benefited from its healthy balance sheet and improving housing market. Lost on many investors is that the bank is actually bigger in North Carolina than larger rivals Bank of America and Wells Fargo and rivals the two in neighboring markets. It is a great franchise and that strength is finally being realized for what it is as investors look to cash in winnings from more volatile names and diversify into cash generators such as BB&T. We did not see the dip down into our buy range, but nevertheless like the name for long-term investors.
Also performing well in the banking sector is Bank of New York Mellon (NYSE:BK) which hit a new 52-week high yesterday before finishing the day at $29.95/share after rising $1.13 (3.92%) on volume of 8.6 million shares. The company announced the redemption of capital securities (see press release here) securities yesterday. This is a name which has had a few problems over the years and essentially been stuck in a trading range since 2009. With shares approaching the $30/share level we expect some resistance but would recommend a position for long-term investors here and traders should the shares break through that level. It is more of a 'boring' bank but with its steady returns and the last few years spent making the balance sheet stronger it should be a good candidate to steadily increase dividends and buybacks in the next few years...that return of capital and yield that investors are desperately seeking in this market.
Biotechnology
Dendreon (NASDAQ:DNDN) shares rose sharply yesterday as the company presented at a conference and investors liked what they heard. For those who have not had an opportunity to review the presentation and comments, there is a transcript located here. The ~9.5% move yesterday on the news seems reasonable on the surface, however with the shares trading around $4/share and the track record here we find it hard to believe that this company has what it takes to richly reward investors. A buyout by a larger rival seems to be the only logical option here as it no longer appears to be a top-level management issue but rather an entity issue. We are in fact fans of biotech right now, just not this biotech.
This five year chart shows just how depressing the performance of the company has been. Management has under delivered and over promised time and time again. The only answer we see is an outright sale.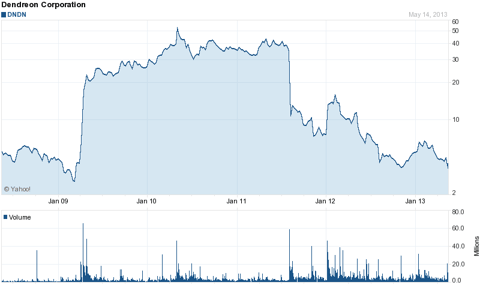 Chart courtesy of Yahoo Finance.
Disclosure: I have no positions in any stocks mentioned, and no plans to initiate any positions within the next 72 hours. I wrote this article myself, and it expresses my own opinions. I am not receiving compensation for it (other than from Seeking Alpha). I have no business relationship with any company whose stock is mentioned in this article.