Here's a quick roundup of two biotechs that I cover, that both had their earnings and conference calls last week. I covered both events, but subsequent to that have started to shift gears a bit on how I feel about Amarin, and took note of some recent insider buying by one of Celsion's Board members.
Amarin (AMRN) - $7.75
Amarin has been trading like a bat out of hell this week on the heels of their quarterly conference call last Thursday where they reported a continued increase in Vascepa sales and $2.3 million in recognized Vascepa revenues. Amarin is up almost 20% since earnings have been released last week.
Admittedly, and much to the delight of hoards of Amarin longs that loathe me, my short position got absolutely smoked over the past week, as I was holding mostly $6 and $7 puts and my recent hedge with some long-term calls saved my ass.
I've been decidedly bearish since big pharmaceutical companies have passed on buying out Amarin. I have to think that there's reasoning, money, focus groups and tons of experience behind the decision to not acquire Amarin. Conversely, the little man telling me to go bullish in my head has never been louder. Like I said in a previous article, "I want to believe."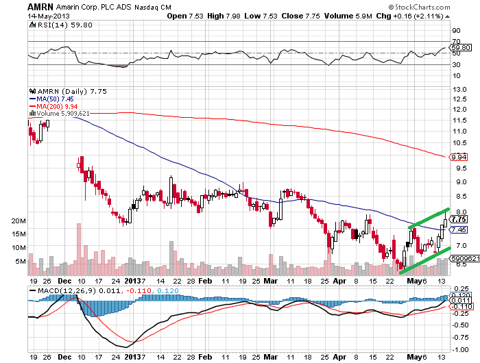 From a technical perspective, if Amarin can hold the $7.75 region, we might be looking at the very beginning of an uptrend, as long as Vascepa sales stay adequate. They've been growing inline, but not exceeding, expectations thus far. Amarin is currently gapping up to open Wednesday morning in the $7.80's. We'll know more when we get updated prescription information this Sunday. Soon, we're going to be able to not only get data on total scripts, but reasonable data on how many people renew and continue subscriptions.
The bearish argument for Amarin remains it's massive cash burn from the previous quarter combined with recent studies showing that fish oil isn't nearly as effective as some people think it is. They dropped $58 million last quarter, but, I'll be the first to admit that launching something from scratch is not an easy task -- and Amarin is anything but undercapitalized with a couple hundred million in the bank.
While I previously reiterated my bearish lean on Amarin post-earnings conference call last week:
The only update we received on ANCHOR was that it was going to be another seven months before we hear anything. The ANCHOR results could almost be rendered useless if the cash burn continues the way it's going. Longs don't want to hear this, but unless costs get roped in and revenues ramp up, Amarin could very well be out of cash by the end of 2013.

In addition to the heinous cash burn, nobody on the conference call wanted to offer any guidance at all about future Vascepa sales. As you recall, the excuse of "it's too early" used on the last conference call made a reprise appearance in this call as well.

Between the press that came out this morning and the financial numbers reported today, I'm still keeping my bearish lean on Amarin. I'm currently holding 3:1 puts to calls and am going to maintain this position based on my caveats failing to be met from this call. Amarin has failed to convince me that's it's a sure fire winner.
...if script growth continues to flourish and Amarin can get their spending (as well as their promotional discounts, etc.) in line, the bullish case gets a bit louder. One thing is for sure, if Amarin can live up to the expectations that they continue to meet through the fall, I want to have already bought in to catch the inevitable run-up to, and possibly through, the ANCHOR results.
I'll be adjusting my position this week, possibly moving from being about 3:1 puts to calls, to about 3:2 -- more towards an even spread.
Upcoming catalysts for Amarin:
- Updated prescription data available Sunday, May 19th.
Celsion (CLSN) - $0.95
I've been covering Celsion since the beginning of January 2012, when it was anticipating its Phase III results for ThermoDox with RFA (radio frequency ablation).
ThermoDox is a unique liposomal delivery method of getting doxorubicin to the site of cancer tumors being treated. Preliminary trials looked great and the idea behind ThermoDox was one that made sense: delivering a concentration of an often-used cancer drug to the site of the tumor by its Liposomal transport system, and using heat to activate it en masse.
Celsion has been holding steady in the .90's after their recent conference call, reported on the same day as Amarin's, had them run up through $1 and then back down to the $.90's.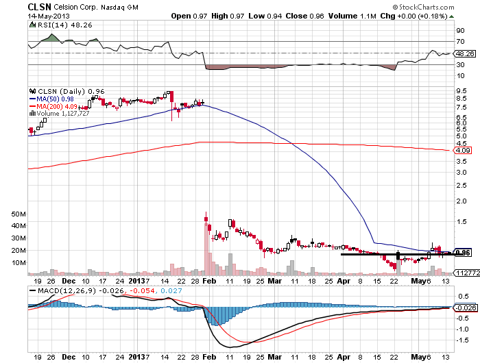 From a technical perspective, I'm hoping that we can continue to bounce off of .95 (currently .03 from the 50 DMA), making that a support level for the company from this point forward. The MACD indicates that this could very well be the reality of the situation. The RSI, finally less "out-of-whack" since the massive drop, is indicating that the stock seems to be trading in a somewhat healthy fashion in the .90's.
One other new sign this week that I really enjoyed seeing was two open market buys by Board member Alberto Martinez, each for an additional 5,000 shares, purchased at .92 and .96. Nothing says confidence more than open market buys from people that you know are privy to what's going on behind the scenes; it's like a nice warm security blanket when you and insiders are buying around the same price.
Directly after they released earnings last week, I reaffirmed my long status on Celsion:
This seemed like a pretty good call to me. Celsion executives sounded confident about the future, and I'm satisfied with the cuts they've made and the corporate strategy they're using in response to the Phase III failure earlier this year. I'm staying long Celsion for the time being, with an eye on its upcoming May 16th presentation of ThermoDox data.
With insiders buying, can't help but continue to add under a dollar. If the Board of Directors has confidence in upcoming company happenings, I do too. Also, as it states above, I have one eye on the ThermoDox subset data that are supposed to be presented (and put onto Celsion's website) Thursday, May 16th.
Upcoming catalysts for Celsion:
- ThermoDox subset data presentation on celsion.com, May 16th.
Conclusion
I currently own Celsion at a cost basis of just under a buck, and I also own some long term $1 calls. I am staying long on Celsion until what I feel is going to be an inevitable pop back over $1. I've never been closer to being bullish on Amarin, but I'm not quite there yet. For followers and investors of both of these companies, I wish you the best of luck.
Disclosure: I am long CLSN. I wrote this article myself, and it expresses my own opinions. I am not receiving compensation for it (other than from Seeking Alpha). I have no business relationship with any company whose stock is mentioned in this article.
Additional disclosure: I am long Celsion, I own the stock and calls. I own Amarin puts and calls and am weighted about 3:1 puts to calls. I plan to possibly add to my Celsion long position and my Amarin calls in the next 72 hours.