Bulls looking for some confirmation of recent better-than-expected economic data did not get it this morning from the Empire Manufacturing report (or for that matter, Industrial Production and Capacity Utilization). While economists were forecasting the headline reading to increase from +3 to +4, the actual reading came in weaker than expected at -1.4, and it represented the lowest reading since January.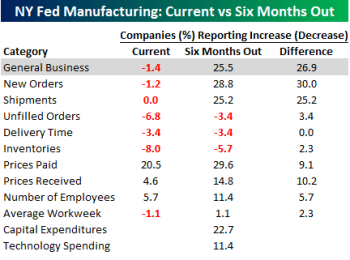 This month's reading showed broad based weakness as seven out of the 10 subcomponents were negative and none of the categories showed an increase vs. April's reading.
While Prices Paid currently has the highest reading at 20.5, it also saw the largest decline on the month as it was at a level of 28.4 last month. After Prices Paid, the next largest decline came in the Average Workweek, which fell from 5.7 in April to negative 1.1 in May. The decline in the average workweek comes on the heels of the Non-Farm Payrolls report two weeks ago, where the average workweek also showed a sizable decline. It is still early, but this could be an early indication that employers are cutting hours in an effort to stay below the thresholds that would require providing health coverage under the Affordable Care Act.
The charts below show the historical readings of the headline Empire Manufacturing report (see chart above) and the outlook for Technology and Capital Spending (see chart below) going back to 2001. As shown in the top chart, the Empire Manufacturing report has been making a series of lower highs since the initial spike off the 2009 lows. While the index seems to always bounce at similar levels (around negative 10), each subsequent bounce has been less robust. This is a trend that has also been evident in the outlook for Tech and Capital Expenditures.